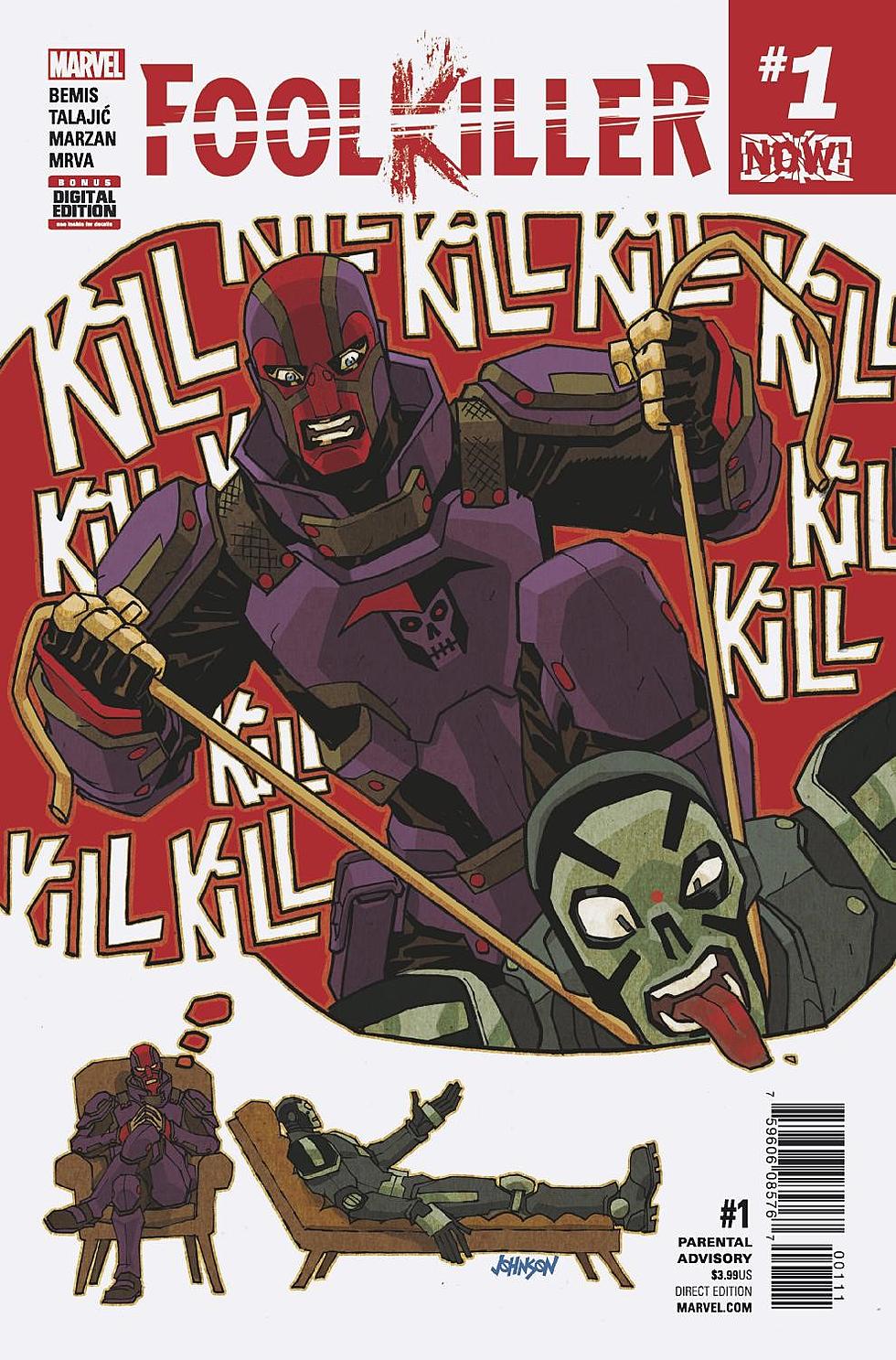 The Doctor Is Insane In Bemis And Talajic's 'Foolkiller' #1 [Preview]
Dave Johnson
Thanks to the creation of Deadpool's team of Mercs For Money, a number of D-List Marvel characters have been revitalized, reinvigorated, and spun off into ongoing series, with Foolkiller being one of the recipients. Helmed by Max Bemis and Dalibor Talajic, the new series casts Greg Salinger as a psychiatrist for supervillains and Marvel has provided an unlettered preview of the first issue.
Foolkiller was created in 1974 by Steve Gerber and Val Mayerik in the pages of Man-Thing, but the current Foolkiller is his successor who debuted in Gerber and Jim Mooney's Omega The Unknown. He used a "purification gun" to kill people he deemed as "fools" for their materialism and was eventually stopped by Spider-Man and institutionalized in Indiana.
He appeared briefly to give advice to his own successor Kurt Gerhardt and spent decades in obscurity before being revitalized in the pages of Gerry Duggan's Deadpool. Having made a recovery, Salinger has now recently completed his degree in psychiatry which will be the hook of his new ongoing as SHIELD recruits him to serve as a therapist to supervillains, if he can resist the urge to kill them.
Check out the preview below:
Here's the full solicitation:
FOOLKILLER #1

 

Written by MAX BEMIS
Art by DALIBOR TALAJIC
Cover by DAVE JOHNSON

Variant Covers by ROB LIEFELD (SEP160973)

And RON LIM (SEP160972)

Hip-Hop Variant by JEFFREY VEREGGE (SEP160975)

Divided We Stand Variant by DALE KEOWN (SEP160976)

Liefeld Sketch Variant Available (SEP160974)

FOC – 10/10n/16, On-Sale – 11/02/16
Greg Salinger was just your typical merc for hire – FOOLKILLER – killing those that he deemed to be "foolish." And for money. But that life is behind him now. Today, he's a psychiatrist, trying to help others. But now S.H.I.E.L.D. wants him to try to rehabilitate super villains. The catch? If these "patients" don't make enough progress, they're dead!
32 PGS./Parental Advisory …$3.99