This Week's New Releases and Recommendations
If you read the comic books, you know what happens on the Wednesday. Bow down before the power of the Wednesday!
COUNTDOWN TO ADVENTURE #1
Soooo.... we're already counting down to FINAL CRISIS with COUNTDOWN, but now we have to count down to adventure as well?! Just give me my adventure up front! Actually, this is a comic about the space-faring characters from 52 with a back-up story featuring newcomer Forerunner. Forerunner?! DC is all about the anticipation.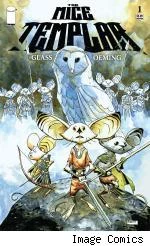 MICE TEMPLAR #1
A lot of people are unfairly comparing this book to MOUSE GUARD. They're all, like, "Oooh! It's about mice with swords! I'm so cool and I know everything!", but really it's...oh...wait. I'm hearing from my team of blogging assistants that it IS about mice with swords. But I'm seeing a bow and arrow as well. Completely different! Oh well, at least it's not COUNTDOWN TO MICE WITH SWORDS. Plus, it still looks pretty awesome.
MEAN GN
Steven Weissman is rad. His comic, YIKES, is a crazy look at youth as lived by little monster people. The new collection, MEAN, collects some of the early comics which have been compared favorably to the likes of PEANUTS and LITTLE LULU. WITNESS! Pull Apart Boy pull himself apart! BEHOLD! as Lil' Bloody kills time. SEE! Chubby Cheek...in general. Poor "Sweet" Chubby Cheeks. All he wants is a butter and jelly sandwich.
Man, a butter and jelly sandwich sounds pretty good. But first! Click on more to see the rest of the stuff coming out this week.
DARK HORSE COMICS
MAR070083 CLASSIC PEANUTS CHARACTER #8 WOODSTOCK $39.95
JUN070023 CONAN #43 (MR) $2.99
JUN070029 EMILY THE STRANGE VOL 2 DEATH ISSUE #1 $3.50
JUN070018 HELLBOY DARKNESS CALLS #5 (OF 6) $2.99
MAY070061 HELLSING ULTIMATE ZIPPO LIGHTER $29.99
APR070056 SHAMAN WARRIOR VOL 4 TP $12.95
JUN070035 USAGI YOJIMBO #105 $2.99
JUN070158 52 AFTERMATH THE FOUR HORSEMEN #1 (OF 6) $2.99
JUN070173 ACTION COMICS #855 $2.99
JUN070152 AMAZONS ATTACK #6 (OF 6) $2.99
JUN070262 AMERICAN VIRGIN #18 (MR) $2.99
JUN070164 BATMAN ANNUAL #26 HEAD OF THE DEMON $3.99
MAY070143 BATMAN SECRETS OF THE BATCAVE TP $17.99
JUN070230 CARTOON NETWORK BLOCK PARTY #36 $2.25
MAY070230 COMPLETE BITE CLUB TP (MR) $19.99
JUN070145 COUNTDOWN 35 $2.99
JUN070146 COUNTDOWN TO ADVENTURE #1 (OF 8) (CD) $3.99
MAY070158 DC TOP COW CROSSOVER CLASSICS TP $14.99
MAY070203 EMPTY EMPIRE VOL 5 $9.99
JUN070242 EX MACHINA MASQUERADE SPECIAL (MR) $3.50
JUN078190 HELLBLAZER #234 (MR) $2.99
MAY070178 MANHUNTER VOL 3 ORIGINS TP $17.99
JUN070248 NINJA SCROLL #12 $2.99
MAY070218 NINJA SCROLL TP $19.99
JUN070163 OUTSIDERS FIVE OF A KIND WEEK 5 GRACE WONDER WOMAN $2.99
JAN070400 REACTIVATED SER 3 BATMAN SOLID PACK PI
JAN070399 REACTIVATED SER 3 SUPERFRIENDS BATMAN AF PI
JAN070398 REACTIVATED SER 3 SUPERFRIENDS FLASH AF PI
JAN070395 REACTIVATED SER 3 SUPERFRIENDS INNER PI
JAN070394 REACTIVATED SER 3 SUPERFRIENDS MASTER PI
JAN070396 REACTIVATED SER 3 SUPERFRIENDS SUPERMAN AF PI
JAN070397 REACTIVATED SER 3 SUPERFRIENDS WONDER WOMAN AF PI
JAN070402 REACTIVATED SER 3 SUPERMAN SOLID PACK PI
JAN070403 REACTIVATED SER 3 WONDER WOMAN SOLID PACK PI
MAY070186 TANGENT COMICS VOL 1 TP $19.99
JUN070219 TEEN TITANS #50 (NOTE PRICE) $3.99
JUN070226 TEEN TITANS GO #46 $2.25
JUN070220 TEEN TITANS VAR ED #50 $3.99
JUN070249 WETWORKS #12 $2.99
FEB070375 WOMEN OF THE DC UNIVERSE DONNA TROY BUST $45.00
JUN070154 WONDER WOMAN #12 (AA) $2.99
JUN071907 AMORY WARS #3 (OF 5) $2.99
JUN071874 BOMB QUEEN IV #1 (OF 4) (MR) $3.50
JUN071871 BRIT #1 $2.99
MAY071909 KISS 4K #3 $2.99
JUL071921 MICE TEMPLAR #1 $3.99
MAR071857 TRUE STORY SWEAR TO GOD IMAGE ED #8 $3.50
MAY071883 WALKING DEAD #41 (MR) $2.99
JUN071942 WITCHBLADE TAKERU MANGA MACK CVR B #7 $3.99
JUN071941 WITCHBLADE TAKERU MANGA SUMITA CVR A #7 $3.99
JUN072162 AVENGERS INITIATIVE #5 CWI $2.99
JUN072140 BLACK PANTHER #30 CWI $2.99
JUN072226 CABLE DEADPOOL VOL 7 SEPARATION ANXIETY TP $17.99
JUN072235 ESSENTIAL DAREDEVIL VOL 4 TP $16.99
JUN072150 FANTASTIC FOUR #549 CWI $2.99
JUN072220 HULK AND POWER PACK PACK SMASH DIGEST TP $6.99
JUN072151 LAST FANTASTIC FOUR STORY $4.99
JUN072209 MARVEL MASTERWORKS CAPTAIN MARVEL VOL 2 HC VAR ED 82 $54.99
JUN072208 MARVEL MASTERWORKS CAPTAIN MARVEL VOL 2 NEW ED HC $54.99
JUN072120 MARVEL SPOTLIGHT HALO (MR) $2.99
JUN072184 SILVER SURFER REQUIEM #4 (OF 4) $3.99
JUN072129 SPIDER-MAN ONE MORE DAY SKETCHBOOK OMD $2.99
JUN072161 WORLD WAR HULK X-MEN #3 (OF 3) WWH $2.99
JUL073170 WIZARD MAGAZINE HEROES PHOTO FALL TV CVR #192 $5.99
JUL073171 WIZARD MAGAZINE SPIDER-MAN ONE MORE DAY QUESADA CVR #192 $5.99
JUN073809 2000 AD #1549 $4.10
JUN073810 2000 AD #1550 $4.10
JUN073675 30 DAYS OF NIGHT EBEN & STELLA #4 (MR) $3.99
JUN073371 ANGEL FIRE GN UPDATED ED $18.99
JUN073883 ANIMA VOL 5 GN (OF 10) $9.99
MAY073712 ASIADDICT GN (MR) $15.00
MAY073713 ASTHMA GN (MR) $17.00
JUL073572 AUNTS IN YOUR PANTS (A) $3.95
JUL073544 BANANA GAMES VOL 1 (O/A) (A) $10.95
JUN073894 BATTLE CLUB VOL 5 GN (OF 5) (MR) $9.99
JUN073889 BECK MONGOLIAN CHOP SQUAD VOL 9 GN (OF 19) (MR) $9.99
JUL073811 BEOWULF TP (O/A) (MR) $15.95
JUN073320 BIG BANG COMICS PRESENTS AGENTS OF BADGE #6 $7.95
JUL073964 BILL MAULDINS UP FRONT GN $24.95
JUN073886 BLAZIN BARRELS VOL 9 GN (OF 18) $9.99
JUN073827 BLAZIN BRANDY #2 $2.99
JUL073738 BONEYARD VOL 4 TP (MR) $9.95
MAY073646 BOY PRINCESS VOL 8 GN (0F 9) $9.99
MAY073611 BREATHE CVR C SGN ED #4 (OF 4) $5.00
JUN073845 BUZZBOY ROBOY RED BUZZ & BOT VAR ED #0 $2.95
JUN073380 CAPTAIN CANUCK UNHOLY WAR #4 (OF 4) $3.99
JUL073709 CELINE FULL TIME SLAVE SC (O/A) (A) $10.95
JAN073615 CHANCE IN HELL HC (MR) $16.95
JUN073493 CHINESE HERO VOL 1 TALES O/T BLOOD SWORD HC $26.95
JUN073494 CHINESE HERO VOL 2 TALES O/T BLOOD SWORD COLL ED HC $26.95
JUN073884 CHRONICLES OF THE CURSED SWORD VOL 19 GN (OF 27) $9.99
JUN073896 DAZZLE VOL 6 GN (OF 9) (MR) $9.99
JUN073544 DEE SNIDERS STRANGELAND SEVEN SINS #1 (OF 4) (MR) $3.99
MAY073427 DF ALL STAR BATMAN #6 SGN $29.99
APR073670 DF AMAZING SPIDER MAN #542 SGN $19.99
MAR073417 DF CIVIL WAR FALLEN SON CAPTAIN AMERICA SGN $29.99
JUL073533 DF CIVIL WAR SKETCHBOOK SGN $5.00
APR073674 DF JUSTICE #12 ALEX ROSS & JIM KRUEGAR SGN $49.99
JUN073527 DF SPIDER MAN RED SONJA SGN #1 $49.99
MAY073227 DOKTOR SLEEPLESS SIGNED POSTER ED #1 (MR) $5.99
JUL073965 EMMA GOLDMAN A DANGEROUS WOMAN GN $17.95
APR073495 ENIGMA CIPHER #2 (OF 5) (RES) $6.99
MAR073363 ES VOL 5 GN (MR) $10.95
JUN073431 ES VOL 6 GN (MR) $10.95
JUN073880 FAERIES LANDING VOL 17 GN (OF 18) $9.99
APR073496 FALL OF CTHULHU MAVILLAIN CVR A #5 $3.99
APR073497 FALL OF CTHULHU WALPOLE CVR B #5 $3.99
JUN073688 FALLEN ANGEL IDW #19 (MR) $3.99
JUN073453 FORGOTTEN REALMS HALFLINGS GEM SEMEIKS CVR A #1 $5.50
JUN073454 FORGOTTEN REALMS HALFLINGS GEM WALPOLE CVR B #1 $9.50
JUL074107 GARFIELD GOES BANANAS TP $11.95
JUN073652 GENE SIMMONS DOMINATRIX #1 $3.99
JUN073888 GET BACKERS VOL 20 GN (OF 37) (MR) $9.99
JUN073895 GIRLS BRAVO VOL 9 GN (OF 10) (MR) $9.99
JUN073899 GOOD LUCK VOL 3 GN (OF 5) $9.99
JUN073902 GOOD WITCH O/T WEST VOL 4 GN (OF 5) $9.99
JUN073897 GOTHIC SPORTS VOL 2 GN (OF 3) $9.99
JUN073533 GRAPHIC CLASSICS VOL 7 BRAM STOKER NEW PTG $11.95
JUN073908 GREATEST STARS O/T NBA VOL 11 GREATEST GUARDS GN $7.99
JUN073909 GREATEST STARS O/T NBA VOL 12 GREATEST FORWARDS GN $7.99
JUN074121 GREG RUCKA PATRIOT ACTS HC $25.00
JUN073469 HACK SLASH SERIES HAUN CVR B #4 (MR) $3.50
JUN073468 HACK SLASH SERIES SEELEY CVR A #4 (MR) $3.50
JUN073566 HOT MOMS #10 (A) $4.95
JUL073569 HOUSEWIVES AT PLAY LEZ BE FRIENDS GN (A) $9.95
APR073503 HUNTERS MOON #3 (OF 5) $3.99
JUN073881 IMMORTAL RAIN VOL 8 GN (OF 8) (MR) $9.99
MAY073774 INCREDIBLE CHANGE BOTS GN $15.00
JUN073890 INNOCENT W VOL 3 GN (OF 3) (MR) $9.99
JUN073340 JEREMIAH HARM VOL 1 TP $14.99
JUN073256 JUGHEAD #184 $2.25
JUN073911 KAT & MOUSE VOL 3 GN (OF 3) $5.99
JUN073727 KNIGHTS OF THE DINNER TABLE #130 $4.99
JUL073339 LADY DEATH ABANDON ALL ROYAL BLUE CVR #1/2 $75.00
JUL073340 LADY DEATH ART OF JUAN JOSE RYP BIKINI CVR $5.99
JUL073341 LADY DEATH DARK HORIZONS UNDER ATTACK CVR $5.99
JUL073342 LADY DEATH MASTERWORKS RUBY RED FOIL CVR $19.99
JUL073343 LADY DEATH QUEEN O/T DEAD CRACKLING CVR $5.99
JUL073344 LADY DEATH SACRILEGE HARD BODY CVR #1 $5.99
JUL073345 LADY DEATH SHI DIVINE CVR #0 (OF 2) $5.99
JUL073346 LADY DEATH VS PANDORA PRISM FOIL CVR #1 $12.99
MAY073689 LEATHERJACK GN $23.99
MAY073648 LET DAI VOL 8 GN (0F 15) (MR) $9.99
JUN073891 LIFE VOL 6 GN (OF 9) (MR) $9.99
SEP063510 LOCAL #10 (OF 12) (MR) $2.99
JUL073475 LOOKING GLASS WARS HATTER M PX HC $24.99
APR073531 MAMMOTH BOOK OF BEST WAR COMICS $17.99
JUN073435 MAMOTTE LOLLIPOP VOL 3 GN $10.95
JUN073552 MEAN GN $16.95
FEB073233 MORE THAN MORTAL #0 $3.99
FEB073234 MORE THAN MORTAL BATTLE CVR #0 $3.99
FEB073237 MORE THAN MORTAL PREMIUM CVR #0 $9.99
FEB073236 MORE THAN MORTAL RYP CVR #0 $3.99
FEB073235 MORE THAN MORTAL WRAP CVR #0 $3.99
JUN073437 MY HEAVENLY HOCKEY CLUB VOL 2 GN $10.95
MAY073649 NARRATION OF LOVE AT 17 VOL 4 (RES) $9.99
JUN073905 NECK AND NECK VOL 6 GN (OF 8) (MR) $9.99
JUN073438 NEGIMA VOL 15 GN (MR) $10.95
MAR073134 NHS HAWAII POCKET MANGA VOL 4 TP $14.95
JUN073580 NIGHTMARE FACTORY GN $17.99
JUL073469 NOTHING BETTER VOL 1 TP $15.00
JUN073882 PHD PHANTASY DEGREE VOL 10 GN (OF 10) $9.99
JUL073751 POISON THE CURE VOL 1 GN $9.00
JUN073440 PRINCESS RESURRECTION VOL 2 GN (MR) $10.95
MAY073614 PROJECT EON TP $14.95
MAY073402 PUNKS THE SUMMER COMICS SP (MR) $4.99
JUN073742 RASHI A LIGHT AFTER THE DARK AGES HC $16.95
JUN073887 RAVE MASTER VOL 25 GN (OF 35) $9.99
MAY073332 RED SONJA BLOOD RED PX FOIL CVR #25 PI
JUN073869 RG VEDA VOL 10 GN (OF 10) $9.99
JUN073295 ROMERO NOTLD HUNGER SIGNED POSTER ED (MR) $24.99
MAY073617 SCATTERBRAIN VOL 1 TP $14.95
JUN073441 SHIKI TSUKAI VOL 1 GN $10.95
JUN073442 SHUGO CHARA VOL 2 GN $10.95
JUN073885 SHUTTERBOX VOL 4 GN (OF 4) $9.99
MAY073410 SNK VS CAPCOM VOL 6 SVC CHAOS TP $13.95
JUN073259 SONIC THE HEDGEHOG #179 $2.25
JUN073878 SORCERER HUNTERS VOL 8 GN (OF 13) (MR) $9.99
JUN073879 SORCERER HUNTERS VOL 9 GN (OF 13) (MR) $9.99
JUN073904 SOUL TO SEOUL VOL 5 GN (OF 5) $9.99
JUL073503 SPELL GN $12.95
JUN074113 SQUIRRELLY GRAY SC $12.99
JUN074173 STAR WARS LEGACY OF THE FORCE INFERNO MMPB $7.99
MAY073612 STARSHIP TROOPERS ONGOING CVR A #4 $3.50
MAY073613 STARSHIP TROOPERS ONGOING CVR B LTD SKETCH ED #4 $9.95
JUL073505 STOLEN HEART GN $12.95
JUN073169 STRANGERS IN PARADISE BOOK 3 PART 8 HC $49.95
JUN073568 SUBMIT #1 (A) $3.95
JUL073506 SUNFLOWER GN $12.95
JUN073913 SUPER SPY GN $19.95
JUN073443 SUZUKA VOL 5 GN (MR) $13.95
JUN073266 TALES FROM RIVERDALE DIGEST #23 $2.49
JUN073792 TALES FROM THE CRYPT #2 $3.95
JUN073753 TALES OF RAPHAEL BAD MOON RISING #2 (OF 4) $3.25
JUN073850 TALES TO DEMOLISH #1 (MR) $3.00
JUL073813 TANK GIRL VOL 1 GN (O/A) (MR) $16.95
JUN073362 TAROT WITCH OF THE BLACK ROSE VOL 5 TP (MR) $24.99
APR073856 TEMPLAR CHRONICLES THE HERETIC CVR A #3 (OF 6) $3.50
APR073857 TEMPLAR CHRONICLES THE HERETIC CVR B LTD SKETCH ED $5.95
APR073681 TOKYO IS MY GARDEN GN (RES) (MR) $18.99
JUN073671 TRANSFORMERS MOVIE PREQUEL #1 WWLA EXCL ED PI
JUN073664 TRANSFORMERS SPOTLIGHT OPTIMUS PRIME $3.99
JUN073898 TSUKUYOMI MOON PHASE VOL 8 GN (OF 12) (MR) $9.99
JUL073710 TWENTY (O/A) (MR) (A) $14.95
JUL073188 UNCANNY DAVE COCKRUM TRIBUTE REMARQUE HC $125.00
JUL073740 UNHOLY KINSHIP GN (O/A) $9.95
JUN074102 VELVET LOVE VOL 2 GIRL ON GIRL #0 (O/A) (A) $14.95
MAY073615 VENGEANCE OF THE VAPOR CVR A #2 $3.50
MAY073616 VENGEANCE OF THE VAPOR CVR B LTD SKETCH ED #2 $4.95
MAY073218 WALKIN BUTTERFLY VOL 1 GN (MR) $10.95
APR073511 WARHAMMER 40K DAMNATION CRUSADE CVR A (OF 6) $2.99
APR073512 WARHAMMER 40K DAMNATION CRUSADE CVR B (OF 6) $2.99
APR073516 WARHAMMER FORGE OF WAR CVR A #3 (OF 6) $2.99
APR073517 WARHAMMER FORGE OF WAR CVR B #3 (OF 6) $2.99
JUN073778 WASTELAND #11 (MR) (NOTE PRICE) $3.50
JUN073314 WITCHBLADE VOL 4 TP (BANDAI) (NOV068377) $9.99