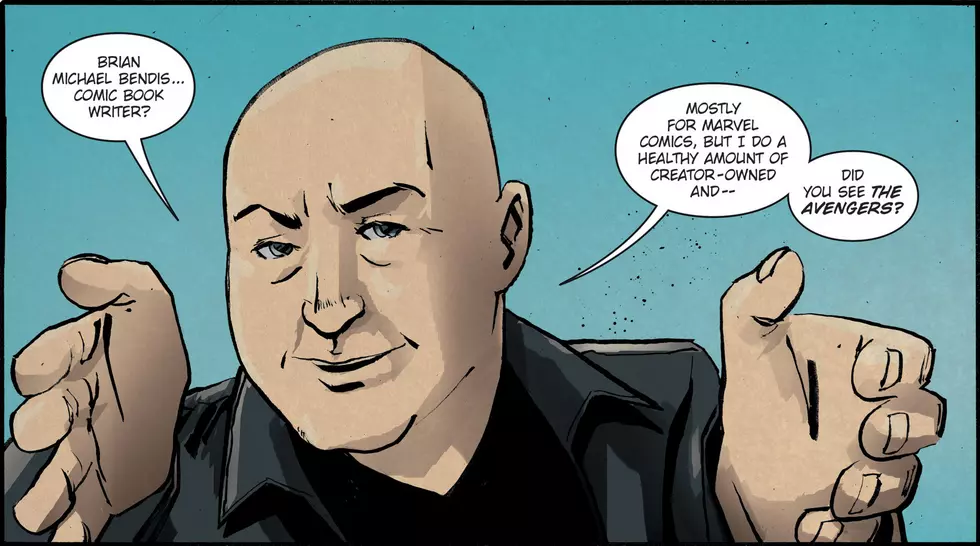 Game Changer: Celebrating The Career Of Brian Michael Bendis
Mike Henderson (Art from Nailbiter #7)
Born on this day in 1967, Brian Michael Bendis is one of the most important and influential figures in western comics in the 21st century. From indie comics wunderkind to top dog at Marvel Comics, Bendis' career has been expansive and occasionally revolutionary, so today we're taking a moment to celebrate his achievements.
While especially known for his writing and distinctive dialogue style, Bendis actually broke into comics first as an artist, providing illustrations for local magazines and newspapers, which led to the creation of independent crime comics such as AKA Goldfish, Jinx and Torso. Around this time at the turn of the century, he was picked by Todd McFarlane to work on a number of Spawn spin-off titles at Image Comics, notably Sam and Twitch.
It was at Image that Bendis, along with Michael Avon Oeming, introduced the world to Powers, a police procedural set in a superhero universe. Powers was first launched in 2000 and continues to see publication today, with two seasons of a television series adapted exclusively for Sony Playstation.
Bendis first joined Marvel as the writer on Ultimate Spider-Man, which at the time seemed to be out of his comfort zone. Set in a new "shared universe" continuity, Ultimate Spider-Man gave Bendis free-reign to build a world from the ground up, and introduced many fans to what came to be known as the "decompressed" style of writing, where stories that may have taken one issue decades earlier are expounded upon and explored in more detail.
As more comics were collected into trade paperbacks and hardcovers, more creative teams begin producing comics in the decompressed style, often in six-issue arcs. Bendis' David Mamet-influenced dialogue style was also a huge game changer in the 2000s, as superheroes moved away from bombastic dialogue toward a more naturalistic style.
It was on Ultimate Spider-Man that Brian Bendis and artist Mark Bagley set the record for an unbroken run of collaboration on a comic, reaching one-hundred and ten total issues together. Bendis carried on Ultimate Spider-Man with artists such as Stuart Immonen, David LaFuente, Sara Pichelli and David Marquez, eventually killing off Peter Parker and introducing a new Afro-Latino Spider-Man in Miles Morales.
Concurrently to Ultimate Spider-Man, Bendis showed superhero fans his crime comics chops first with Alias with Michael Gaydos, and then in the pages of Daredevil with Alex Maleev. Alias featured the original creation Jessica Jones as a former superhero turned private investigator struggling to get by in a world full of superhumans, and was Marvel's first foray into mature reader's comics under its MAX imprint.
Throughout his career at Marvel, Bendis has been responsible for a number of event comics and huge shake-ups to the line, starting with "Avengers Disassembled," where he and David Finch killed The Vision, Ant-Man and Hawkeye and left the franchise in disarray. The pair resurrected the team in New Avengers, which kicked off another lengthy run for Bendis, and along with titles such as Mighty Avengers, Dark Avengers and Avengers, he turned the team into Marvel's premiere franchise years before the characters came together on screen.
When Bendis left the Avengers titles, he transitioned onto a smaller but notable run with Marvel's X-Men, writing All-New X-Men and Uncanny X-Men side-by-side. He introduced a number of new mutants for the first time in nearly a decade and brought back the original five X-Men in their teenage incarnations to contrast them with the adults they had become.
While known predominantly for his superhero work, Bendis has never stopped work on creator-owned comics. Through Marvel's Icon imprint, Bendis has been free to scratch that itch with comics such as Scarlet, Brilliant, and United States of Murder Inc.
Brian Michael Bendis has been a superstar presence in the comic book industry throughout his career, and there are some specific shifts in the industry that can be ascribed to him directly. His is a career that is undeniably worth celebrating, and today we wish him a very happy birthday.