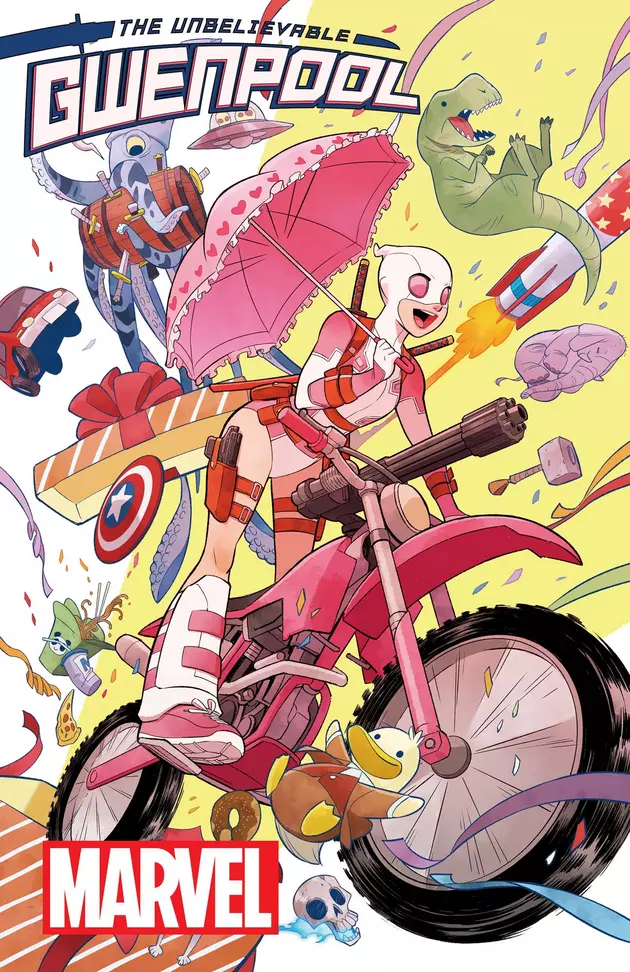 Do What You Like: 'The Unbelievable Gwenpool #1′ [Preview]
Variant Cover by Gurihiru
Because somebody apparently demanded it, the character that Marvel Comics describes as "2015's overnight sensation" is getting her own series by Christopher Hastings and Gurihiru. The Unbelievable Gwenpool #1 comes out April 13.
Despite what you might have reasonably assumed, Gwenpool is neither Gwen Stacy nor Deadpool. She's a girl named Gwen Poole, who comes from a mundane, non-superhero Earth just like ours, where she was way into Marvel Comics and video games. So when she finds herself in the Marvel Universe, she figures she can do whatever she wants, and it turns out she's right.
Whether you're interested in Gwenpool or not, it's undeniable that the art by Gurihiru is unrelentingly adorable, and the story seems like a lot of fun. So check it out maybe. Marvel is convinced you'll be very excited about it, if you aren't already.
Here's the official word from Marvel:
Wait, really? Yes, really! 2015's overnight sensation is slicing and dicing her way into hearts and minds as well as her very own ongoing series! Hold on and hang tight world, because she's THE UNBELIEVABLE GWENPOOL – and her first issue is coming at you this April from writer Christopher Hastings and artist Gurihiru!

Gwen Poole used to be a comic book reader just like you…until one day she woke up INSIDE the Marvel Universe. Now all the characters she read about are real! But they can't be really real, can they? This has got to be some kind of dream or something, right? Well you know what that means – NO CONSEQUENCES! First order of business, get a costume and start fighting crime. Why? Because that's what everyone who has a solo series does!

"Ms. Poole basically thinks she's been transported into a video game," says writer Christopher Hastings, in an interview with Marvel.com. "It's a world where hundreds of super powered citizens shoot each other with eyeball lasers and grenades that are painted to look like pumpkins for some reason all the time. But the series will be about showing her that no, she's not completely right. There are consequences to her actions. "

No power. No responsibility. No rules. No limits. The Marvel Universe  has a new player, and she'll shoot and stab her way through anyone and everyone. Could she truly be Marvel's least role-modely and least responsible character to date? She can if she tries! Find out this April as this marvelous mercenary makes her explosive entrance in THE UNBELIEVABLE GWENPOOL #1!