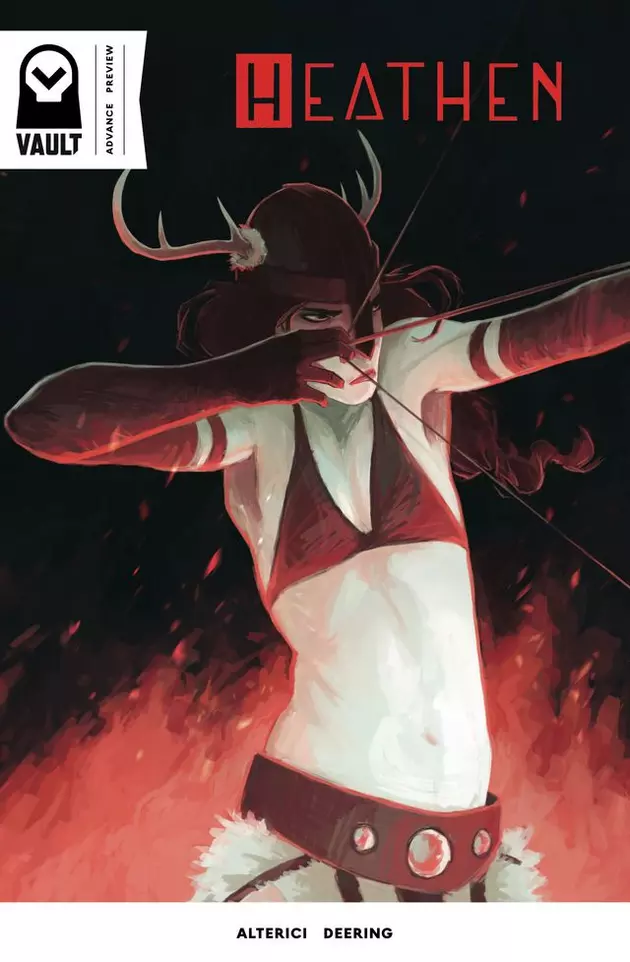 Giants, Vikings And Monsters: Vault Comics Reveals Six Debut Titles For 2017
Cover by Natasha Alterici (Vault Comics, via AVClub)
Vault Comics, an all-new comics publisher, first made themselves known at San Diego Comic-Con in 2016, and the co-founders, publisher Damian Wassel, art director Nathan Gooden, and editor-in-chief Adrian Wassel, gave an interview to CBR back in November. But now it's time to get specific about what's coming this year from Vault.
A.V. Club has exclusive previews from its first six launches, and we have covers and info about the books below. As Vault has previously made clear, its focus is on sci-fi and fantasy --- but the publisher has found a lot of variety within those genres.
First up in February comes Natasha Alterici's Heathen, a queer Viking fantasy that previously existed as a self-published comic, but making it part of this launch will bring more attention to Heathen, while also getting Alterici's fan base interested in Vault. It's a good move for all involved. The comic itself is about a young Viking woman who is trying to take down Odin, which sounds pretty daunting, but definitely worth a look.
Fissure also arrives in February. Written by Tim Daniel, with art by Patricio Delpeche, it tells the story of a sinkhole that opens in a racially divided Texas town, and the strange supernatural events that follow. It looks like it's using fantasy to talk about real world issues, which is a great idea if it's done well.
Following in March is Powerless, from writer David M. Booher and artist Nathan Gooden. It's a sci fi story set in a world where there are no superheroes, because everyone has superpowers. Except that a newly emerged virus is erasing those powers, and it's up to one quarantine agent to figure out what's really going on.
March also brings Karma Police, written by Chris Lewis, with art by Tony Gregoria, which is about a young woman who's also a reincarnated Buddhist monk, and fights monsters and other supernatural threats in a Buddhist sort of way. For a book rooted in Buddhism, it seems pretty light and humorous. The preview includes a literal spider-baby.
Writer Ricardo Mo and Artist Alberto Muriel launch Colossi in April. It's a retro sci-fi adventure that seems to share most of its premise with the 1968 TV series Land of the Giants, in which a spaceship from Earth lands on an other-dimensional planet that seems much like our own, except that everything is absurdly huge. But the preview of Colossi features a nun getting killed by a giant scorpion, which I'm pretty sure never happened on that show.
And the final launch of the six is Failsafe, co-written by F.J. DeSanto and Todd Farmer, with art by Federico Dallocchio. Failsafe is a noir science fiction spy story in which a grizzled mercenary investigates fugitive nano-enhanced super-soldiers while losing faith in the government that's sent him on this mission.
The A.V. Club has previews for all of these titles, so definitely head over there to learn more. 2017 is shaping up to be a year for new things in comics, and a whole new publisher on the scene is definitely something to be excited about.