Chip Zdarsky's 'Watchmen 2′ Pitch Goes 'Full-On A**hole'

We last wrote about Steve Murray in the midst of his ultimately unsuccessful (and fake) bid for Mayor of Toronto, when he campaigned on such dubious platforms as abolishing the plastic bag surcharge at cafés and delegating the city's considerable sanitation needs to his friend Gary's small trash collecting business. Also known as Chip Zdarsky, the cartoonist authors a decidedly reckless advice column for The National Post in which he opines topics of the heart. Also a gifted draftsman and the creator of Prison Funnies, Zdarsky's work occasionally appears in ComicsAlliance's Best Art Ever (This Week).
Zdarsky's latest release is an excerpt from what he says is an in-progress autobiography entitled Are You There, God? It's Me, Supergod (I Am Here to Destroy You). Published on the website of comics writer Warren Ellis, Zdarsky's text details in exhaustive and frequently sickening detail the loathsome events leading up to his (not really) being invited to pitch a Watchmen sequel to DC Comics, a pitch based around unspeakable violence, depraved sex, and superhero anuses.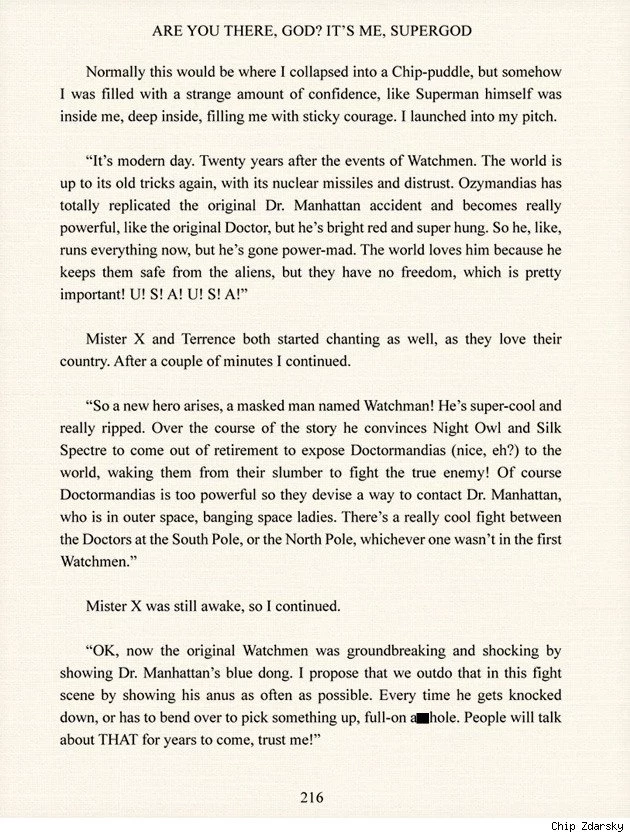 The preceding was but a preview. Read the complete and uncensored text and see the NSFW images at warrenellis.com. For more Chip Zdarsky, check out our interview with former Toronto mayoral candidate Steve Murray.