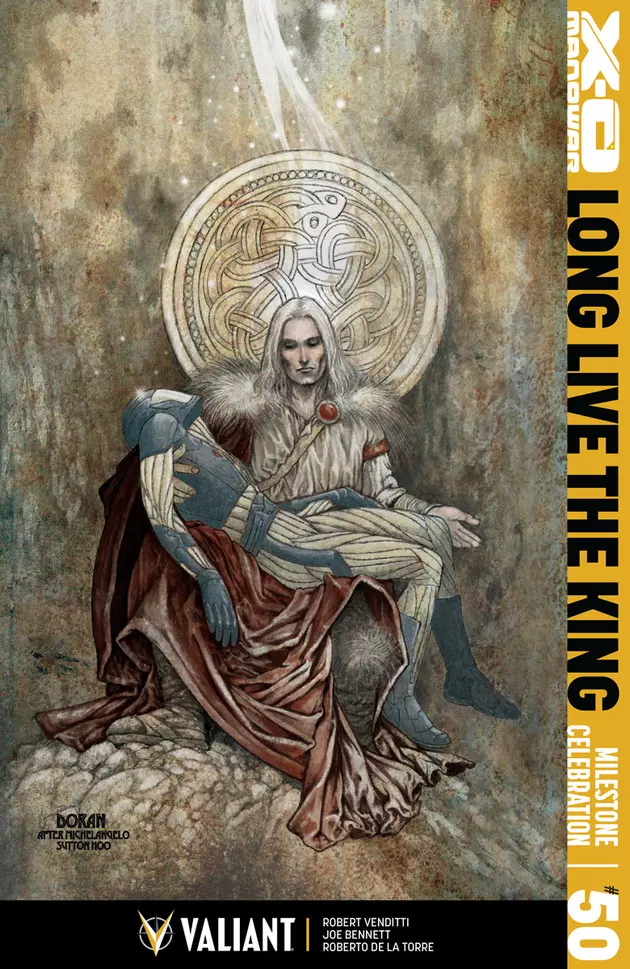 'X-O Manowar' #50 Features Art by Colleen Doran and Many More [Preview]
Variant Cover by Colleen Doran
Legendary comics artist Colleen Doran is contributing a gorgeous variant cover to the landmark 50th issue of Valiant's X-O Manowar. Her cover, seen above, is an homage to Michelangelo's sculpture The Pietà, with the titular armor in place of Jesus Christ. The mix of sci fi and Celtic fantasy imagery (not to mention the androgynous white-haired figure), while appropriate for X-O Manowar, is also reminiscent of Doran's own magnum opus, A Distant Soil.
X-O Manowar #50 also features covers by Paolo Rivera, Marko Djurdjevic, Marcos Martin, Mico Suayan, Francesco Francavilla, Shane Davis, Pere Perez, Chip Zdarsky, Philip Tan, Kaare Andrews, and Phil Jimenez. For the interior art, primary artists Joe Bennett and Roberto de la Torre are joined by Cary Nord, Doug Braithwaite, Diego Bernard, Rafa Sandoval, and Robert Gill. The issue is written by series writer Robert Venditti, and completes the "Long Live the King" story arc.
From Valiant's press release:
For the first time anywhere, Valiant is proud to reveal that Eisner Award-winning artist Colleen Doran – best known for work on some of comics' most acclaimed series including The Sandman, Wonder Woman, and, most recently, FAITH – will contribute an all-new cover to X–O MANOWAR #50, the massive 64-page anniversary milestone arriving in stores this September! Springing off her Valiant debut in the pages of July's FAITH #1, Doran joins a formidable roster of comics all-stars – including New York Times best-selling writer Robert Venditti (Hal Jordan & The Green Lantern Corps), X-O MANOWAR visionaries Cary Nord (Conan), Doug Braithwaite (ARMOR HUNTERS), Diego Bernard (NINJAK),Rafa Sandoval (Green Lantern), and Robert Gill (BOOK OF DEATH), series artists Joe Bennett (52) and Roberto de la Torre (Daredevil), and special guest stars galore – for Valiant's biggest blockbuster milestone of all time!

Since debuting in 1992, X-O Manowar has sold more than 8 million copies and featured work by a distinguished roster of comics luminaries including current Marvel Chief Creative Officer Joe Quesada, former Marvel Editor-in-Chief Jim Shooter, and comics legends Barry Windsor-Smith and Bob Layton.

Two decades later, as the lead title of "THE SUMMER OF VALIANT" relaunch in 2012, X-O MANOWAR #1 by New York Times best-selling writer Robert Venditti and Eisner Award-winning artist Cary Nord firmly established the Valiant resurgence with four sold-out printings and the single highest sales for any new comics publisher in more than a decade. With a single run totaling 56 issues, X-O MANOWAR has gone on to become one of the longest running superhero series of the modern era, earn a multitude of awards, nominations and critical accolades from some of the industry's most prestigious outlets, and form the backbone of Valiant's superhero universe along the way. Now, join one of the greatest legends in comic book history as Aric of Dacia faces his deadliest test yet…in the colossal X-O MANOWAR #50 anniversary milestone!

For centuries, the sacred X-O Manowar armor has stood unrivaled as the universe's most powerful weapon. Today, will it equal Earth's doom? An unthinkable alien race known only as The Torment has come to our world in search of the armor's secrets. Now, they stand opposed by Aric of Dacia – former slave, noble warrior, resolute king, and current master of the armor's near-limitless capabilities. But is one man…and one weapon…enough to repel a force capable of leveling a thousand civilizations?

First: the seismic final story arc, "LONG LIVE THE KING," goes out in a world-shaking blaze of glory with longtime scribe Robert Venditti (Hal Jordan and the Green Lantern Corps) and extraordinary artists Joe Bennett (52) and Roberto de la Torre (Daredevil) manning the front line, alongside an all-star battalion of artists from across X-O MANOWAR's landmark 56-issue run: Cary Nord (Conan), Doug Braithwaite (ARMOR HUNTERS), Diego Bernard (NINJAK), Rafa Sandoval (Green Lantern), and Robert Gill (BOOK OF DEATH)!

Chronicling X-O Manowar's five-year-long impact on the people of Earth, and setting the stage for galaxy-spanning adventures yet to come in 2017 and beyond, no comic book fan can afford to miss the ultimate cosmic battle for the fate of Valiant's most powerful hero!