3OH!3 Frontman Sean Foreman Likes Surprisingly Good Comics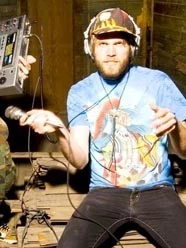 To be honest, I wasn't sure what to expect when I saw the AOL Radio Blog headline "3OH!3's Sean Foreman Reveals His Favorite Comics."
Don't get me wrong, I'm an unabashed consumer of contemporary dance rock, and I've been to my share of 3OH!3 shows, I just figured Foreman might dig on comics more akin to his music's themes (dancing with chicks, boozing, making fresh beats).
That's why I was surprised to see his list is composed of A-list fare such as "Blankets" by Craig Thompson, "Black Hole" by Charles Burns, "Bottomless Belly Button" by Dash Shaw and "Billy Corrigan: The Smartest Kid On Earth" by Chris Ware.
Not to get all reverent, but the list is a pretty handy guide for young readers - especially fandom's collective preconception of 3OH!3's target demographic.
Can you imagine a world where the 14-year-old girls with "Don't Trust Me" set as their ring tone were reading half the comics on his list?