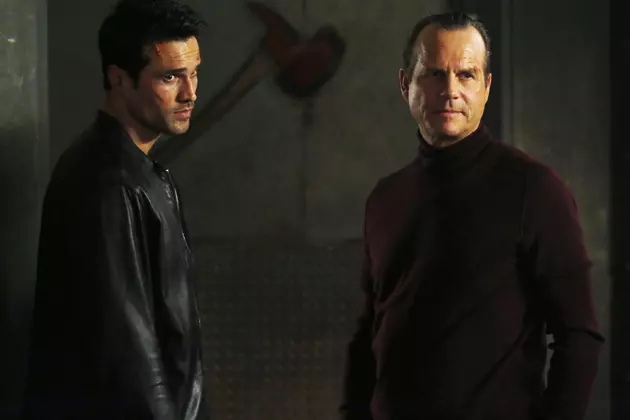 'Agents of S.H.I.E.L.D.' Bosses Debunk Bill Paxton Return Rumor
Marvel / ABC
You're warned of full Agents of S.H.I.E.L.D. Season 4 spoilers from here on out, but the most recent "Self Control" cliffhanger exposed the nature of a Matrix-like "Framework" that serves as a de facto alternate reality for the series; apparently one in which Hydra succeeded in its Winter Soldier uprising. The Marvel drama even quickly confirmed suggestions that Brett Dalton would return to reprise his role as Grant Ward, having survived in the "Framework" reality.
Those familiar with Agents of S.H.I.E.L.D.'s early years will recall that Paxton's John Garrett was exposed as the mysterious "Clairvoyant" in Season 1, having also recruited Ward from a young age as a Hydra sleeper agent. It might have stood to reason that the "What If" reality would also see Garrett alive and well (Coulson disintegrated the character in a finale stinger), though Entertainment Weekly now confirms Agents of S.H.I.E.L.D. had no plans to return Paxton's character.
All the same, both Marvel and some of Paxton's Agents of S.H.I.E.L.D. co-stars paid tribute over social media:
Agents of S.H.I.E.L.D. won't pick up with its alternate-reality endgame until April, but in the meantime, stay tuned for news on any other familiar faces returning for Season 4, and best wishes to those mourning Bill Paxton.
Check Out 100 TV Facts You May Not Know!