Alex de Campi on 'Ashes,' Comics Publishing and Selling Film Rights on Kickstarter [Interview]

Written by Alex de Campi and illustrated by Igor Kordey, Smoke was a critical favorite when it was originally released by IDW Publishing in 2005, earning an Eisner nomination for Best Limited Series. Six years later, de Campi is back with artist Jimmy Broxton to complete the slightly dystopian, deeply cynical and darkly comical poli-spy saga in Ashes, a 250-page graphic novel whose completion depends on funds raised with the Kickstarter platform. With over $6,000 of its $27,000 goal raised in just under a week and endorsements from such popular comics creators as Mark Waid, Dave Gibbons, Colleen Doran, Kieron Gillen, John Cassaday and Howard Chaykin, Ashes is a project that demands some attention. The fundraising campaign is particularly notable for making the North American paperback rights, the European paperback rights, and the film rights available as rewards for substantial pledges.
We spoke with de Campi about the sequel to her creator-owned hit as well as the Kickstarter comics trend and the publishing climate that necessitated it.

Available now in three single-issue installments from comiXology, Smoke was the harrowing adventure of Cain, a soldier-turned-assassin, and Katie, a plucky journalist with a penchant for getting herself into trouble, as they navigated danger, conspiracy and political intrigue in a dystopian world with super spies, oil billionaires and terrorists obsessed with their own good looks. The mood of the piece was something of a cross between Transmetropolitan and Yes, Minister, and earned de Campi quite a lot of praise.
A disturbed 15-year-old boy reaches out through the internet to two former heroes... but he doesn't want their help. He wants them dead.

Ashes is a bullet ride through the brain of a dystopian Britain into the dark heart of the American psyche. As soldier Rupert Cain and journalist Katie Shah are reunited five years after they brought down a government, punishment -- from an unexpected source -- looms for that good deed. Chased from London's CCTV-bristling streets to the Home Counties, they are finally brought to ground by an acquaintance's betrayal and dragged off to an army base in a high-sierra American wasteland. Their only way out is through the mind of a twisted teenager... providing they can also escape his father.
That is the teaser text for Ashes, which de Campi is hoping to fund via Kickstarter, the creative financing apparatus that's fueled such comic book projects like Tony Harris' graphic novel Roundeye for Love and, most notably, the Womanthology project that sight unseen raised over $100,000. The $27,000 de Campi aims to raise for Ashes will go primarily to paying her collaborator Broxton for his drawing, coloring, lettering and occasionally painting the story. Remaining funds will go towards production of Ashes, which will take the form of a 250-page hardback edition, signed and numbered and limited to 1,000 copies. The finished book will be made available digitally via comiXology sometime in 2013.
To encourage donations, de Campi has made 22 pages (some of which are works-in-progress) of Ashes available as a free download, and is also offering paperback reprint and media rights to anyone who wishes to make the appropriate pledges: $2,500 for the European print rights, $5,000 for the North American print rights, and $10,000 for the film rights, which is a first as far as we can figure.
The Ashes campaign offers us an unusually clear window into the business of comics publishing in the current economy, and de Campi was kind enough to provide some fascinating insight into what it can take to get a creator-owned, self-published graphic novel off the ground.
ComicsAlliance: It's been six years since the publication of Smoke. It seemed from my vantage that you'd sworn off comics in favor of filmmaking for musicians like Amanda Palmer and Art Brut. What brought you back, and why with a sequel to Smoke?
Alex de Campi: I never swore off comics. After Smoke I was tied up for a couple years on my Tokyopop and Humanoids series. Then Valentine, my webcomic (available for free on comiXology). And then, with the downturn in the economy and me losing my job, it became impossible to get big, ambitious creator-owned works made. Also, I'm a very slow writer. So I started working on a Smoke sequel in 2009 and then finished it this past June, around house moves, having a baby, jobs and no job, et cetera.
Smoke was always supposed to be a longer series (hence its sort of non-end after issue #3) but IDW even then was turning more towards licenced properties and pulled the plug on it. So it felt unfinished to me. I owed something to the characters. It took me a long time to figure out how to finish the book in a way that didn't feel like revisiting past sins. At a certain point in 2009, all the knots in the book unravelled in my head, and the story became clear. Or, at least, the beginning of the story, and the end. The middle was, as always, a thrilling high-wire act where each new 10 pages appeared only as the previous 10 were being written.
I'm not fast, and I'm not prolific. And I'm not writing any cape books like X-Men. So it's easy to think why I might not still be involved in comics. I always have been. It's just very hard.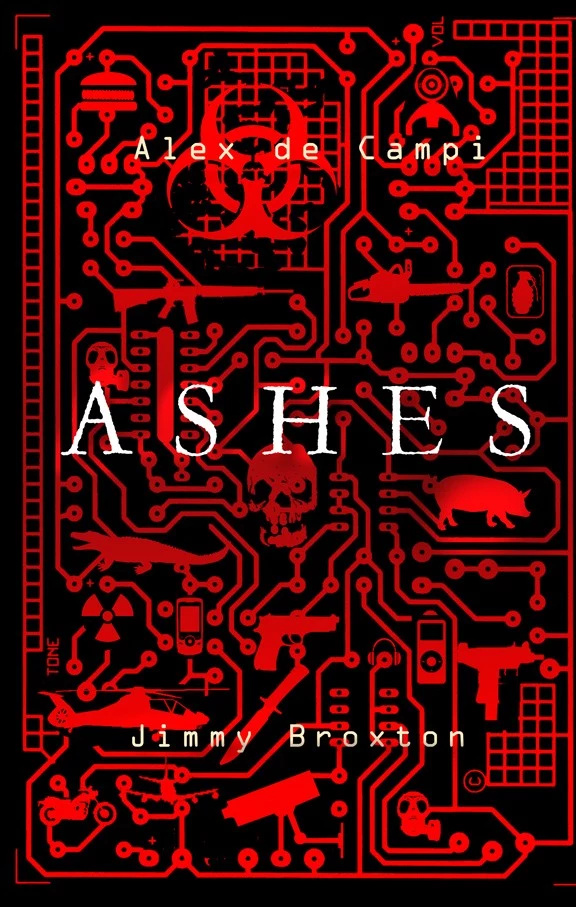 CA: Your Smoke collaborator was Igor Kordey. How did Jimmy Broxton become involved in Ashes and what can you tell us about his work?
ADC: After Smoke, Igor landed a French series called The Secret History. It became a bestseller (in part thanks to his art) and was a very long series. So basically he achieved the success he deserved and now commands big page rates. Nobody in the US can afford him anymore, and he has a big family to support so even though he has read Ashes and loves it, it's unrealistic to expect him at this time to be able to draw it.
So I posted around on various artist fora to see if I could find artists for the book. I had initially thought the only way to get such a large book done is to have a different artist on each chapter, but Jimmy said the only way he would be involved is if he could do it all. The man's nuts, clearly (my pages are really tough), but he's my kind of nuts. The collaboration has worked brilliantly so far; we're very much on the same wavelength. And it really helps having a British artist on the book, given that so much is set in the UK.

CA: With the Eisner nomination for Smoke and all the creators whose praise you've included on the Kickstarter page, it seems odd you'd need to go thie crowdsource route to get the book published. Did you bypass the traditional system altogether in favor of KS or is there more to the saga?
ADC: It is lovely interacting with fans and pledgers and I have enjoyed that tremendously but fundraising a full time job. It takes four to six hours a day, every day, to nurse the Kickstarter along. I was up until 1am last night sending emails out to 50 retailers. I really wish I could have more time to write. I haven't written a page of Margaret the Damned since starting the Kickstarter. I would adore a publisher to have taken this on.
But here's the sad reality, folks. There are only two US publishers who could have taken [Ashes] -- Image and First Second -- and only one of them, First Second, would have paid my artist a page rate. But my book has a strong genre component, which means it's not 100% up First Second's more literary street. For a 250-page, extremely challenging book, it'll just never get done if Jimmy has to do it around other projects. The new thing with comics publishers is not giving any page rate or artist support for creator-owned work, but demanding 50% ownership of everything. I think that's really crap, and won't publish through anyone who does that. I hate having to beg for money in public, but I hate more shifting 50% of my rights to some folks for the privilege of them making the call to the printers instead of us. Kids! That's why if you can afford to complete your book ahead of time, you should only ever publish through Image Comics.
CA: IDW published Smoke, why aren't they or a competing publisher involved in Ashes?
ADC: I did email IDW about Ashes as a courtesy, early on in the process, since they'd published Smoke, but I knew they wouldn't pick it up. They're more licenced properties these days; big creator-owned quasi-literary thrillers aren't their focus.
So there you have it. I'm too literary for the genre publishers, and too genre for the literary publishers. So girl gotta do it on her own. It makes me kinda wonder what would have happened if Alan Moore, as a relative unknown, tried to get Watchmen or V for Vendetta published today. I seriously don't think it would have happened... and I can't see the Mage of Northampton on Kickstarter.

CA: As you know there have been many comics-related Kickstarter campaigns in the last couple of years. It seems nearly every one of them has generated some degree of concern over money and occasionally questions about motive and contributor compensation and things like that. What steps have you taken not just to set your campaign apart from other comics projects with respect to old fashioned hype but also to avoid any appearance of impropriety?
ADC: We've put our math right up there on the front page, what the money is going towards. And in the event we do get funded (still iffy -- buy our book!) I'll happily scan and upload receipts for everything. Pretty much every pledge is actually a pre-purchase of a physical or digital object, in any case. I am not taking a penny for myself from the Kickstarter; my part -- the writing of the script -- is finished. And Jimmy is only getting $60/page for colored, lettered (and in some cases painted) art.

CA: You write on the Kickstarter page that excess funds will go to Broxton, the production of future books by you and, money permitting, a trip to Barbados. I liked that bit.
ADC: The joke I make on the project page about going to Barbados was kind of a reference to all the brouhaha over Kickstarter financial impropriety though I expect at least one person not to get it in a fairly epic way. (PEOPLE! WE'RE NOT REALLY GOING TO BARBADOS!) But I'm really doing my best to keep this as clean and upfront as possible. I am empowering my (admittedly male) artist by paying him as I am strongly against asking professionals to work for free. We have to pay the printer for the hardback edition, and we have tao cover the Kickstarter and Amazon fees [Editor's note: Kickstarter fund transfers are facilitated by Amazon]. Jimmy has worked in advertising and is extremely good at dealing with printers so I am confident he will get a great deal. The only thing that might push our printing cost up a little is that Jimmy and I are quite keen on printing the book in an environmentally sustainable manner, and we're hoping the eco-printer that Tom Humberstone uses for the Solipsistic Pop anthologies can give us a competitive quote as that's a beautifully produced anthology (and also raising money: http://www.indiegogo.com/sp4)
CA: We hear a lot about the critical nature of media rights in comic books these days, when publishers will take a substantial piece -- often 50% -- of a creator's rights as incentive for printing an original comic book property, like an Ashes. What's your take on this practice?
ADC: The practice of grabbing half the rights of a book in exchange for getting it printed is appalling, and it's a reflection on the overall insularity of the comics world that it's considered okay. You see people like Bryan O'Malley taking their next books out to the traditional publishing industry... why is that? Well as soon as people get successful, they get a literary agent, and the literary agent looks at the deal the comic publisher is trying to pawn off on them and goes, "Holy sh*t, that's a terrible deal, what is this monkey industry?", then gets them to a traditional publisher whose deals are much fairer to the creator, or moves to Image or similar. Look who is publishing the new work of veterans like Alan Moore and Paul Pope. Ask yourself why it's not their old publishers. Alan Moore knows the score, kids.
My attitude is that the secondary rights to my works are very valuable. I am happy to share them, but the publisher must then front up a significant advance to share in the risk of the book and make its creation easier. It's like they have to pay me the option value of the rights. If they want them for free, I just don't have the feeling they're going to take care of them. We're killing ourselves to get these books made. Ashes was two years of my life, and it'll be nigh on a year of Jimmy's. So I give away half the rights to someone for calling the printers on my behalf? And they give me... no money? In what Bizarro world is this a good idea? So, yeah, Jimmy's calling the printers.
And publishers who snatch those rights are not statistically more likely to get your book optioned, that's the shame. Part of the problem is that a publisher who is grabby about film rights is also likely to be grabby about the option deal, wanting points or production credit or some other deal-killing nonsense. Whereas Image books get optioned all the time. Some you hear about (Ben McCool's MEMOIR, just this past week); some you don't. I believe creators have as good, if not better, chance of getting their books optioned (if that's what you care about) by going to Image than by going to the Grabby McGrabbersons of the comics world.
CA: You mentioned "the traditional publishing industry." How do things work there, just to get a frame of reference?
ADC: The comics business is radically different in the way it works from prose publishing, from creator treatment down to retailer treatment. In all cases in the comics business, folks are still treated worse. Traditional publishing, almost always there is at least a small advance, and little to no attempt to land-grab rights. Traditional publishing, the stores get their stock on sale or return so if a publisher sends them a shit book that doesn't sell, the store can send it right on back. All of this means that less care is taken both in making comic books and in marketing them than could be.
I think if more comics publishers focused more on making the publishing side of their business work, and less on trying to land-grab IP for future film deals, the comics industry might be in a better place. They'd have to look at, you know, maybe selling fewer titles, more carefully chosen and nurtured, to a broader variety of people. They might even hire enough staff so the editors are more than traffic cops -- they have time to really work with a story to make sure it's the best it can be. And they have to start offering us a reason not to self publish.

CA: Along those lines, you are offering the Ashes film rights on Kickstarter as a reward for a $10,000 pledge. Why did you decide to make the rights to Ashes available in this way? If comics publishers covet these sorts of media rights so badly, presumably you'd want the best deal and collaboration you could get, yet here you are offering them to anybody who can afford it. What's your strategy?
ADC: Honestly, nobody's going to blow $10,000 on an option unless they have a really good plan in place. And that's why we're charging for it. We need the money to get the book made, and I need to be sure that anyone who approaches me about an option is going to have to spend enough on it that they are going to work their ass off trying to set the book up to be filmed. And if they don't get it filmed, hey, we've got $10,000 so I sorta don't care. Whereas with a shopping agreeement, your work gets tarted all around town (usually by someone not very experienced) and then when it doesn't get filmed or properly optioned and everyone's already seen it, what do you have for the trouble? Zero.
CA: The last time we spoke with you about your own work, you'd just completed the music video for Art Brut's "Lost Weekend," which came with some superhero-ish elements including a costumed appearance by our own Bethany Fong. At the time you said you were preparing a Black Francis video. What's the status with that?
ADC: In the meantime I directed this bit of pretty for The Puppini Sisters and we shot the Black Francis video. I am trying to find time to edit it but between the Kickstarter and my baby it is not easy.
ADC: My future in comics is (aside from getting the lighter, more mainstream Valentine finished) a big 200-300 page book about every five years. With Ashes done (and it really is the last book with those characters), I am starting work on the very bleak, existential horror book Margaret the Damned.
CA: Who's publishing that?
ADC: Margaret the Damned is, unsurprisingly, without a publisher -- though it does have a great artist, Sean O'Connor. I'm also supposedly doing a work for hire project for a major Hollywood action director's production company but the company packaging the comic owes me about $3,500 for the first issue which was written back in May and they keep promising, but no check due to "cash flow problems," which has, of course, caused me significant financial distress and put a lot of my other projects back.
Some of the following pages are unfinished and subject to change