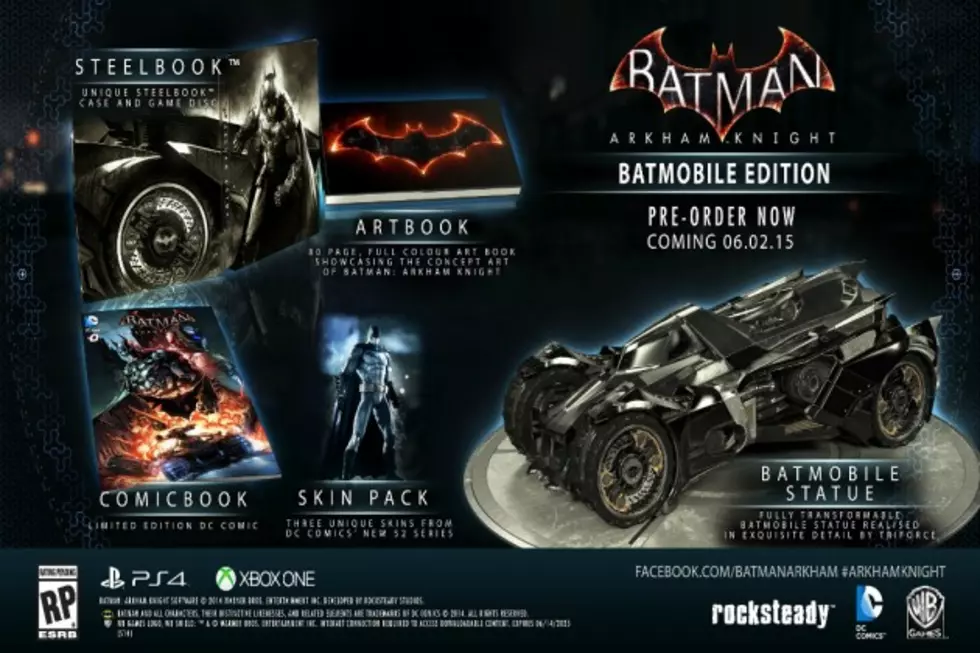 Batman: Arkham Knight Batmobile Collector's Edition Cancelled Days Before Launch
Warner Bros. Interactive
The Batmobile Edition of Batman: Arkham Knight has been cancelled just days before the game's launch and we have some new news about its DLC.
The pricey Batmobile Edition of Batman: Arkham Knight is unfortunately never going to leave the Batcave, Kotaku reports. With the game launching just a few days from now, this is both shocking and a letdown for the fans who were going to shell out the whopping $199.99 for this anticipated set. The Batmobile Edition was to feature a limited edition DC comic book, a 50-page art book, a steelbook game case, the New 52 skin pack DLC and a transformable Batmobile statue made by Project TriForce. There is also a Limited Edition of Batman: Arkham Knight still available for pre-order at $99.99 that features the same steelbook, art book, comic and skin pack along with a 12 inch statue of Batman.
As a form of apology, Warner Bros. Interactive will be offering the New 52 skin pack, which includes skins for Batman, Robin, Nightwing and Catwoman, for free. Unfortunately, this doesn't rectify the frustrations fans looking forward to the Batmobile statue may have had. Furthermore, it lowers the value of the Limited Edition by making its skin pack DLC free for everybody.
Here's what Warner Bros. Interactive representatives had to say about the cancellation:
Dear Batman: Arkham Fans,

We regret to inform you that we are not able to release the Batmobile Collector's Edition of Batman: Arkham Knight due to unforeseen circumstances that greatly compromised the quality of this extremely limited run of product. We are deeply apologetic for this unfortunate outcome. If you did pre-order the Batmobile Collector's Edition, please go to the retail location where you pre-ordered the product and you will receive a full refund of your deposit or it can be rolled over to another Batman: Arkham Knight edition or another product of your choice. We will be providing everyone who purchases Batman: Arkham Knight with the New 52 skin pack, including Batman, Robin and Nightwing, free of charge.
Based on Warner Bros' comments, it sounds like something may have been wrong with Project TriForce's Batmobile statue once it went into mass production, which is a shame because they're usually known for putting out quality products. In related news, Yorick, the community admin for wbgames.com, had the following to say about Arkham Knight's retailer exclusive DLC:
Sorry it took a bit to chime in here officially, but we wanted to get the details clear for our fans.

As I know many people have been asking about the details and content of Season Pass and if or when people will get the content. I hope the following makes things clear:

Throughout the 6 months of additional Batman: Arkham Knight content, Premium and Season Pass owners will receive all in-game content that is offered through various retail pre-order incentives. This includes the Harley Quinn and Red Hood Story Packs, as well as any Batmobile or Booster Pack that was available as early bonuses for pre-order of the game.  For those who did not receive the content with their game, these items will become available when their respective exclusivity windows expire in August/September.

The tl;dr version of this is: Premium Edition & Season Pass owners will receive all retail exclusive DLC after their respective early access periods expire.
There you have it, Batfans. All those retailer exclusive DLC packs you've been worrying about, such as the Harley Quinn and Red Hood Story Packs, will eventually be available regardless of your pre-orders, because they're just timed exclusives.
Batman: Arkham Knight will debut on June 23 for PC, PlayStation 4 and Xbox One.
Check Out These Interesting Video Game Facts: