Bat Stuck In Hell: Songs From the Lost Batman Musical As the Spider-Man's big musical debut, "Spider-Man: Turn Out the Dark," continues its uncertain march to a possible Broadway premiere, our spider-sense is warning us of a possible huge spider-flop. It sounds ridiculous from the start: A Spider-Man musical written by U2's Bono, directed by the Julie Taymor (who directed the Broadway version of "The Lion King"), with Alan Cumming as The Green Goblin and an all-new villain called "The Swiss Miss." It sounds like a bad Simpsons parody.
It might just be that all Superhero musicals are doomed to failure...after all, the uber campy "It's A Bird, It's A Plane, It's Superman," crashed and burned after less than six months on Broadway back in 1966. The 1980's "Captain America" musical, while heavily promoted in Marvel comics, never even made it anywhere near the stage.
Another super-musical that never got staged might just have been the best one ever..."Batman: The Musical," a rock opera featuring songs by longtime Meat Loaf songwriter Jim Steinman and scriptwriter David Ive, and possibly going to be directed by Tim Burton -- more on that bit later.Why do a musical about Batman? Well, you can't argue that there's isn't something suitably operatic about Batman's origin and methods. After all, Phantom of the Opera definitely proved that caped singers can bring in tons of both awards and cash. Spurred on by that and the success of the Broadway adaptations of "The Lion King" and "Beauty and Beast," Warner Brothers started a division to develop new Broadway musicals based on their properties, starting with Batman. Warner Brothers apparently first approached screenwriter Larry Gelbart (best known for creating the TV version of "M*A*S*H*") to write the musical, but he turned it down.
They next hired Jim Steinman to write the songs, who is best known for writing the Meat Loaf albums "Bat Out of Hell," "Bat Out Of Hell II: Back Into Hell," as well as Bonnie Tyler's "Total Eclipse of the Heart" and Air Supply's "Making Love Out Of Nothing At All. For the book, they got playwright David Ives, who had done musical adaptations of "The Secret Garden" and David Copperfield's magic show "Dreams and Nightmares."
There are conflicting reports on whether Tim Burton was going to direct the show; several newsources back in 2002 reported that Steinman had said Burton was had signed on to direct, but Burton was quoted in 2008 as saying that when they asked him to direct it, he thought "'Oh no -- Batman On Ice!'" which isn't the most enthusiastic response.
What was the plot going to be? The show's book has never been released and all we have are demo versions of some of the songs and this quick summary from Jim Steinman's blog:
In CATWOMAN: Selena Kyle, aka Catwoman secretly, was A WITNESS to the murder of Bruce Wayne's parents. A street urchin who happened to see it all, hidden away. The brutal murders haunt both Bruce and Selena. But both respond totally differently to their traumatic bruising. Bruce learns to vow REVENGE and becomes the avenging knight, BATMAN. But Selena is mostly mentally scarred by realizing how easily things that are precious can be taken from you. (Mrs. Wayne's pearl necklace is ripped from her throat.) So Selena grows up, CRAVING precious jewels, & obessed with HOLDING ONTO THEM! (She never wears them outside, shes a plain mousy woman, but she hoards them in chests.) Only when she transforms into CATWOMAN are her love of danger & lust for precious jewels & "crime" what dominates her. Its the secret total possession of them that drives her, not the public display.

So both "witnesses" to the crime of the Wayne's horrific murder by Joker has mutated two little "observers": Bruce became Batman, Selena became CATWOMAN. Two little "lost" children have mutated thru their own complex reactions to a numbing loss, and in fact fall in love, with a dark, somewhat "kinky" S&M like undertow. This is new to the Batman world.

Catwoman sings her song alone in a jewelry store, an orgiastic revel in the glinting glittering jewels, piled up around her. She smashes glass cases and dances as erotically as Salome with the severed head of John the Baptist. I think you'll recognize my best use of the "chorus" here": "I NEED ALL THE LOVE I CAN GET AND I NEED ALL THE LOVE THAT I CANT GET TO(O)"

Then, at the end of BATMAN, under the fiery ruins of an elevated train & track, fighting ferociously with Joker, Catwoman & Batman unite. And in the battle, Catwoman is mortally wounded, "saving" Batman's life heroically. In a climactic elegiac song, BATMAN, holding the dying Catwoman in his arms, sings "We're Still The Children We Once Were", along with the expiring Catwoman, AND with THEMSELVES as the little kids who saw the murder. It forms a hopefully thrilling, tragic quartet: Bruce as an orphan, Selena as a terrified urchin, BATMAN, as a heartshattered avenger, and CATWOMAN as a dying doomed hero. A spine tingling quartet. Batmans final act of gruesome revenge still awaits. But this is the operatic finale.
Now, that doesn't reveal the Joker story, and we don't get much from the only other source of information –demo versions of six of the songs Steinman wrote, which he has hosted on his website. (Apart from one, which is hosted on the amazing Dark Knight of the Soul fansite.)
They are (click through for audio):

-- Angels Arise/The Graveyard Shift: What's presumably the opening song features a chorus of Gotham City citizens singing about the darkness of their city, which turns into Batman singing "The Graveyard Shift" from a rooftop as the musical's characters (including Joker and Catwoman) pass beneath him. This song was later adapted for the musical Dance of the Vampires.
-- Wonderful Toys: This over-the-top (OK, goofy) high tempo rock song featured the Joker singing about Batman's gadgets. It's sung by Steinman, who apparently entirely improvised th
e ending.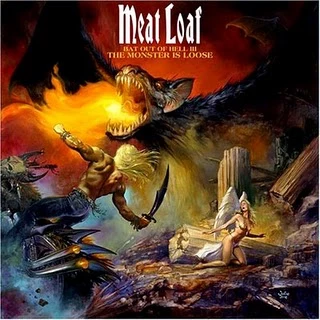 So, what happened to it? An official reason for its cancellation was never given, but many point to the failure of Steinman's musical "Dance Of The Vampires," an adaptation of Roman Polanski's "The Fearless Vampire Killers" which was popular in Germany, but closed on Broadway after only 56 performances. (Incidentally, David Ives adapted and rewrote the script from the original German.)
After that, the show faded into obscurity, although parts of it surfaced in other projects. Meat Loaf released a version "In The Land Of The Pig, The Butcher Is King" on his album "Bat Out Of Hell III: The Monster Is Loose" (although, as Steinman points out on his blog, Meat Loaf repeatedly kept mistakenly singing the "Land Of The Pigs" on the track). On the same album is "Cry To Heaven," which features part of "Angels Arise." The band Dream Engine (created by Jim Steinman and Steven Rinkoff) has covered "Angels Arise" and "We're Still the Children We Once Were" in live performances, but haven't released a CD yet (you can hear samples on their Myspace page.) And reportedly, some of the songs may be reused in an upcoming "Bat Out Of Hell" musical, so at least one Bat might make it to the stage.
Oh, and if you're still having trouble visualizing the show, well here's a fan-made trailer for it combining footage from the Burton flicks with the demos: