 Parting Shot: 'Batman: Odyssey' to Return in October with Vol. 2, ComicsAlliance Rejoices


With the release of the new DC Comics solicitations for their October books and products, we've discovered something wonderful among the many relaunched titles and associated merchandise: Confirmation that Batman: Odyssey, the mind-bending, linear narrative-defying, brilliantly insane comic written and illustrated by Neal Adams is going to continue. And we could not be more overjoyed.
To be absolutely clear, we are not kidding.As we made abundantly plain in our epic deconstruction of the first 6 issues, we love this series, and are genuinely very excited for all the absurd and unimaginable wonders we hope and this book will have in store. Remember to pre-order from your retailer if you feel the same way, because if the book ends before Neal Adams's dream is fully realized, we will all be the poorer for it.
Here's the official solicitation:
BATMAN: ODYSSEY VOL. 2 #1

Written by NEAL ADAMS

Art and cover by NEAL ADAMS

1:10 B&W variant cover by NEAL ADAMS

On sale OCTOBER 19 • 1 of 7, 32 pg, FC, $2.99 US • RATED T

Retailers: This issue will ship with two covers. See the Previews order form for more information.

BATMAN: ODYSSEY is back in a new volume from legendary writer/artist Neal Adams!

It's finally happened: Batman must kill or be killed. The threat is real and can't be stopped by man or hero. To combat it, Batman must bring time itself to a standstill so that he can embark on an odyssey of self-discovery to a place unknown to mankind, where he can find himself. But is this a place where only failure awaits?

This leaves me with so many questions: When Batman brings time to a standstill does he mean time in the story Bruce Wayne begins telling at the beginning of the comic, or time in the story Bruce then tells about himself, or time in the story Bruce tells about himself telling a story about himself?
We're also told that Batman must "be or be killed." We've already seen him violating some of the sacrosanct tenets of his character in Odyssey by not only wielding a gun but shooting it at random bystanders, so will we see Batman finally kill someone, the way he tried so very hard to kill Panamanian superstar Ruben Blade during an explicable acid trip in issue #4, only to deny it later?
Most of all where will the Odyssey take him? Only time will tell! Unless he stops it. Perhaps like that girl from the '80s TV show Out of the World, a development that I think is fully possible. As David Wolkin, my Odyssey co-annotator explained:
As a reader and lover of comics and a guy who occasionally writes about them, the absence of Batman:

Odyssey

in my life over the past few months has left a void in my heart... I don't know if it is possible to explain to you in words the joy that I felt when Laura Hudson informed me that Batman:

Odyssey

Volume 2 was being solicited. I cannot express this feeling in words because these words do not yet exist. These feelings can only be expressed in images, images drawn by the hands of Neal Adams. Images of a shirtless Bruce Wayne.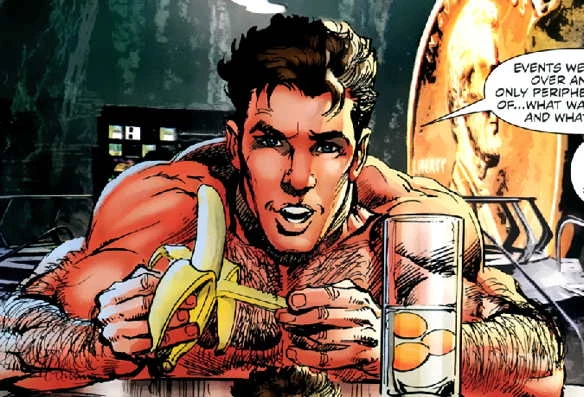 Also, while the book is initially being solicited with this cover:
It also mentioned that it will ship with a second cover, which we dearly hope is the cover that had originally been slated for the next issue in the series, back when it was called Batman: Odyssey #9, where terrifying, Medusa-haired Troll dolls attack five increasingly opaque versions of Batman with cutlery: