Beck Writing Sex Bob-Omb Music for 'Scott Pilgrim' Movie; Possible Lyrics?
Just when you thought that the news about about the
"Scott Pilgrim" movie
could not get any better, creator Bryan Lee O'Malley drops the news on Twitter that the music for the trailer -- and for Scott's band, Sex Bob-Omb, according to
Pitchfork
-- was written by Beck. Not only that, but Beck made the songs up based on some "crappy fake lyrics" that O'Malley wrote. So that is Bryan Lee O'Malley's life right now: He dashes off some lyrics that sound like they were written by an early 20-something garage band and
Beck writes a song with them
. You are living large, Bryan. So what were these lyrics? Really, there's no way of knowing. Unless, of course, they include the lyrics to the Sex Bob-Omb song we saw the band perform (with helpful guitar tablature!) in "Scott Pilgrim" Vol.1, in which case we
totally know what they are
.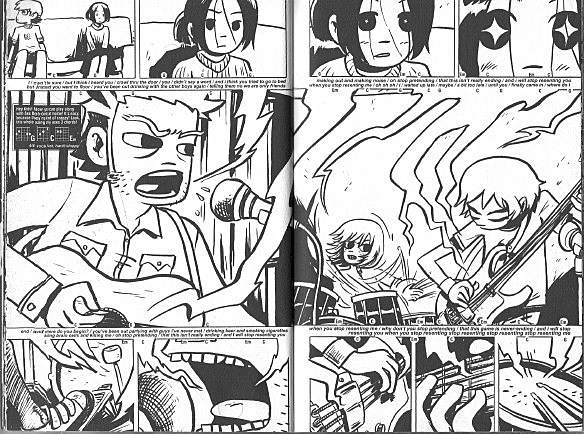 At a practice in "Scott Pilgrim's Precious Little Life," we see Sex Bob-Omb practice a song that is tentatively titled "Launchpad McQuack," and uses the chords G, C, and E exclusively. If you are a "Scott Pilgrim" fan and own a guitar, you will remember this song because you have probably tried to play it. It is totally emo, and it goes like this:
I can't be sure
but I think I heard you
crawl thru the door
you didn't say a word
I think you tried to go to bed
but instead you went to floor
you've been out drinking with the other boys again
telling them no we are only friends
making out and making noise
oh stop pretending
that this isn't really ending
and I will stop resenting you
when you stop resenting me
oh oh oh
I waited up late
maybe
a bit too late
until you
finally came in
where do I end
and where do you begin?
you've been out partying with guys I've never met
drinking beer and smoking cigarettes
killing brain cells and killing me
oh stop pretending
that this isn't really ending
and I will stop resenting you
when you stop resenting me
why don't you stop pretending
that this game is never-ending
and I will stop resenting you
when you stop resenting
stop resenting
stop resenting
stop resenting me