 Best Webcomics Ever (This Week) 1.22.12

In last week's column I mentioned that I thought traditional print publishers still had the edge over webcomics when it came to being able to distill the best material from a variety of creators. Because of a publisher's ability to hire a range of professionals, especially editors, they are often able to select and then help craft a more taught final piece of art than many individuals operating on their own online.

While creators have far more free range with their work when producing independently, that freedom can come at the expense of an objective view about pieces of the work are best, and sometimes more important, which parts should be cut out. Furthermore, print publishers are still the best place to find content in a single location that has been curated by experienced members of an artistic community, increasing standards and quality. Plus, many publishers cater to a very specific audience, providing those consumers with a recognizable brand that delivers the exact genre or style of material that those customers want.
Stay with me and I swear I'll make valid point, or at least one closely resembling a valid point. Plus, lots of recommendations for great webcomics!

A friend of mine, Damon Gentry (Sabertooth Swordsman), brought up a good question: How long would it be before the same methods that make print publishers so effective and appealing were applied to content on the Internet?
To be honest, I don't know. If I had to guess, I'd say within five years we'll hopefully see a company with a digital-first model, print-on-demand services, and most important - an unlimited content subscription option. Imagine if the best parts of iTunes and Netflix could be combined to release sequential art content. You may say I'm a dreamer...
There are some significant hurdles that would need to be figured out before that sort of model would be sustainable, let alone profitable. DC's Zuda project, for example, ended up being a failure despite releasing great material. But the tools are available, and if enough customers are willing to pay for such a thing, eventually that demand will be fulfilled. Webcomics like Cat and Girl and Achewood already do something similar with a premium subscription service for fans who want additional content.
Sure, there are services like Comixology and Graphic.ly, and within those channels you can have publisher specific apps or search functions. But most of the content isn't in an easily sharable format that you can legally trade with friends and isn't designed for a digital format, so the pages and views are still constrained to a physical book's dimensions. While I've purchased comics from both companies, they are ultimately still a distribution channel for traditional print publishers who are trying to figure out how to exist in what they see as a nebulous, uncomfortable online market.

Don't get me wrong, I'm not knocking either Comixology or Graphic.ly, I think they've made huge improvements to the comics industry and I'm grateful for their services. That said, I don't see either company, or any current print publishers for that matter, ushering in the next wave of online comic innovation. Top Shelf 2.0, as I've mentioned before, has put out some great material, and its Gingerbread Girl series by Colleen Cover and Paul Tobin went on to be published as a physical book. Still, the company is primarily focused on print.
In this week's column, instead of highlighting five recently updated, exceptional webcomics, I'm going to highlight five webcomics collectives that are helping online comics content progress into the future.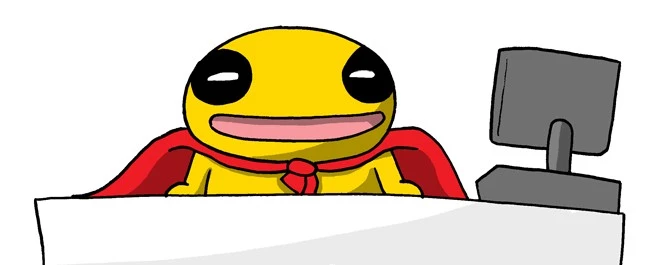 TopatoCo is without a doubt the supreme webcomics collective. Although the company doesn't act like a publisher so much as a materials producer, TopatoCo is aligned with nearly every top-name comic series on the Internet. Housing online stores for titles that range from Axe Cop to Wondermark, TopatoCo was able to provide creators a way to create and sell books, t-shirts, and other merchandise. As we recently noted, books and t-shirts are one of the primary ways webcomics creators derive their modest incomes, making any service that can facilitate that production to sale process a valuable resource. This column hasn't been running very long, and I've already highlighted over ten different webcomics that are TopatoCo. All hail Hypnotoad!

The above image is actually of the collection's recent print anthology. Limited to 500 copies, the incredibly trendy collection is reminiscent of an underground magazines like Zap Comix, but filled with a new D.I.Y. inspired creators. Recently, the group launched a new series of webcomics that were first available in print from talents like Farel Dalrymple, Malachi Ward, and Tom Neely. Although the material isn't new, it's presented in a nice, large format on a cleanly-designed site that features an easy to access "Shop" button. Things like website layout and careful curation may not seem paramount, but they can be pivotal when trying to gather a solid base of returning customers. I can't wait to see what this group does next. (Note: Be sure to check out Thickness (NSFW) if you like your comics a little more adult.)

Based out of Canada, Transmission X houses Cameron Stewart's Sin Titulo, Kukuburi by Ramon Perez (Tale of Sand), and one of the titles online, The Abominable Charles Christopher. Not all of the comics have been updating on a regular basis, presumably because many of the creators are busy with projects from print publishers, but Dream Life is still a regular schedule, and is well worth reading almost two years worth of backstory to get caught up. And yes, that is Sigmund Freud, Carl Jung, and Allan Watts fighting in the image above. Aren't comics awesome?!

Zoom Comics is the partnership between Pixie Trix Comix (home of Ménage Á 3,which we recently reviewed) and print publisher Seven Seas Entertainment (aka GoManga.com) that launched last summer. Although most of the content on the site isn't what I usually look for when in comes to webcomics or manga, titles like Vampire Cheerleaders certainly appeal to some people, and Zoom Comics is smart to try and bring that content to readers on a single site that can direct people to sales of physical books. Despite all of the advances in technology and further globalization of the market place, it still takes months for most Japanese titles to reach American shores, increasing the chance for scanlation (unlicensed, scanned and fan translated material). One way around this issue is to simply create original content and release it online immediately.

I'm highlighting both Trip City and act-i-vate since both are projects Dean Haspiel (American Splendor) and heavily feature New York creators, like Dan Goldman (Shooting War) and other critically acclaimed talent. More effort seems to be going into Trip City these days than act-i-vate, although act-i-vate did have a primer book though IDW and Jason Little's Motel Art Improvement Service was published through Dark Horse Comics. Trip City is a combination of comics, blogs, podcasts, and more, making it more of an online portal than an online publisher. Still, the website is a smart blend of Brooklyn-based writers and artists that seems to be releasing material on a consistent basis.
I hope this list has tipped you off to some interesting, new material. While it probably doesn't appeal to a large enough audience to make a big enough impact in the comic industry as a whole, the best example of a digital-first subscription service for sequential art is probably the adult website Slipshine [NSFW]. pr0n FTW.

There are probably several collectives online that I haven't even heard about yet. So, if I'm missed a group you think deserve greater attention, please let me know. Similarly, I'd love to hear what you think about the future of the comic book market, and how webcomics will fit into the industry. Next week I'll go back to the regular format of picking some excellent strips from around the web. Thanks for reading, and I look forward to having a discussion about the evolution of comics in the comment section.