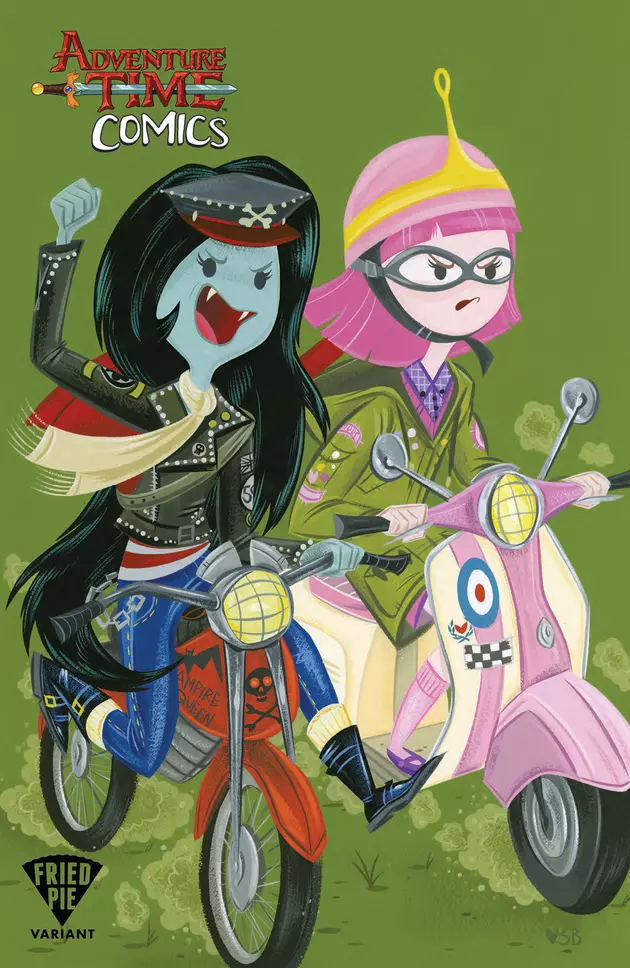 Boom Unveils 'Adventure Time Comics' Fried Pie Variant By Stephanie Buscema [Exclusive]
Stephanie Buscema
Boom Studios has been publishing a plethora of Adventure Time comics for years now, and as totallly mathematical as they are, the tone and style typically sticks close to the TV show. Now, KaBoom is launching a new ongoing titled Adventure Time Comics, which sees some of the most vibrant and unique voices in comics taking a crack at the Land Of Ooo while retaining their own styles and sensibilities.
Ahead of the Adventure Time Comics' first issue later this month, Boom has provided us with a look at all six variant covers, including an exclusive first look at Stephanie Buscema's variant, available only at Fried Pie Comics.
The first issue to Adventure Time comics looks impressive right out of the gate, with tales by three of the best cartoonists in the industry: Tony Millionaire, Katie Cook and Art Baltazar. While each creator has their own style and approach, all three fit right at home in the mad world of Adventure Time. This looks to be a promising start to an exciting creator showcase title!
Check out the other variant covers for the first issue below:
Here's the full solicitation:
Adventure Time Comics #1
Ongoing Series
Publisher: KaBOOM!, an imprint of BOOM! Studios
Writers: Tony Millionaire, Katie Cook, Art Baltazar
Artists: Tony Millionaire, Katie Cook, Art Baltazar
Cover Artists:
Main Cover: Erin Hunting
Subscription Cover: Derek Kirk Kim
Incentive Cover 1: Salty
Incentive Cover 2: Nick Pitarra
Incentive Cover 3: Tony Millionaire
Format: 32 pages, full color
Price: $3.99
On sale: July 27, 2016
Synopsis:
Oh My Glob! We've unleashed some of the industry's best cartoonists loose in the Land of Ooo to share their most algebraic stories in their own voices!
The first issue is so math thanks to Katie Cook (My Little Pony: Friendship is Magic), Tony Millionaire (Sock Monkey), and Art Baltazar (Patrick the Wolf Boy). You're lumping welcome!
Future issues of this ongoing series will feature radical stories from Jeffrey Brown (Darth Vader and Son), Terry Moore (Strangers in Paradise), Kelly Thompson (Jem and the Holograms), Box Brown (Andre The Giant), and more!