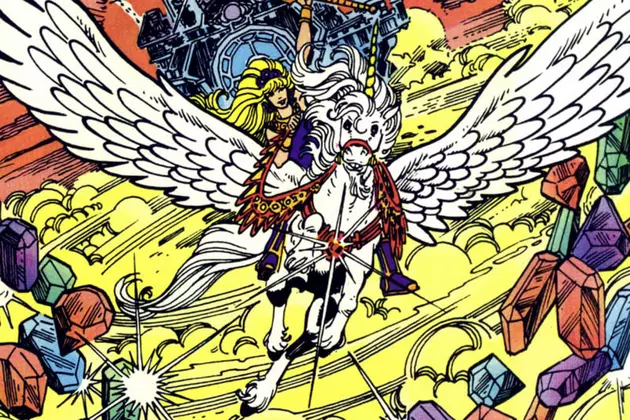 Cast Party: Who Should Star In An 'Amethyst' Movie? [Fantasy Week]
DC Comics
Welcome to Cast Party, the feature that imagines a world with even more live action comic book adaptations than we currently have, and comes up with arguably the best casting suggestions you're ever going to find for the movies and shows we wish could exist.
It's Fantasy Week, which seems like the perfect time to look at one of DC's classic fantasy properties: Amethyst: Princess of Gemworld. Created by Dan Mishkin, Gary Cohn, and Ernie Colon, Amethyst stars Amy Winston, a young girl from Earth who learns that she's actually a princess from a fantasy kingdom, where she's already grown up because time moves differently.
I hate to say it, but I think the whole age-changing aspect would have to be left out of a movie. It's often the creepiest aspect of the comics, as multiple men pursue Amethyst, who has the mind of a child. Amethyst having grown up on Earth is plenty; she can be eighteen on both sides of the veil.
Beyond that, I think you want to embrace the high fantasy of the setting. Colorful gem-encrusted costumes, fantastic monsters, and romantic vistas should be what this movie is all about. The female-led action and romance ought to appeal to the YA audience.
Dakota Fanning as Amethyst

You definitely want a star to carry this kind of movie, and Fanning can definitely handle the action princess role.

After all those Harry Potter movies, Shaw finally gets to be a witch and a good caregiver. Oh wait, she was a witch on True Blood. Okay, so she can be a witch again, since we know she's good at it.

Granch is too close to human for CGI to be effective; he should really be a man in a suit. Not only is Jones great at that, but his face is interesting enough to keep his makeup light.

Shiloh Fernandez as Carnelian

Fernandez can grow that perfect goatee worn by Gemworld's resident dirtbag.

Sardonyx isn't the main villain, but he's much more willing to show his face when the story begins. Fehr can more than fulfill the movie's villainous needs for the first half.

Jason Isaacs as Dark Opal

The actual villain of the story has a really weird look, which I'd like to see retained, and veteran of villainy Isaacs can still bring a sense of seriousness to the weirdness that is Dark Opal.

Sophie Turner as Turquoise

Fans of Turner's work in Game of Thrones will get a kick out of seeing her as a glamorous warrior woman in a fantasy world with fewer beheadings.

Simmons has that blandly handsome quality that's practically Topaz's defining feature. Hooray for male love interests!

Anozie is always a fun actor to watch, and he definitely has the physical presence to play Garnet.

Herizen F. Guardiola as Emerald

Guardiola can bring that propensity for amazing costumes and high drama that was such an asset in The Get Down.

Thandie Newton as Fire Jade

Fire Jade strikes that balance as a character between formidably dangerous and sympathetically unstable. Newton is more than capable of that level of complexity.