There's a Lot of B*tching About Catwoman in 'Arkham City'
The Batman: Arkham City video game is out, and the consensus, from all indications, is that this is a very good game indeed. While a fuller review is on the way from our own Senior Batmanologist Chris Sims, a recent article by the gaming website Kotaku pointed out an interesting issue with Arkham City involving -- wait for it -- the character of Catwoman. Notably that when you play as her character, the game spends a disproportionate amount of time calling her a "b*tch."At Kotaku, Kirk Hamilton breaks down his issue with the dialogue, and why it stands out to him even in a T for Teen-rated game that features torture, murder, and all manner of violence:
It starts at the very beginning of the game, when players (who have downloaded the Catwoman content) assume the role of Catwoman. I noticed that characters almost universally referred to her as "b*tch." I went back through the Catwoman missions and recorded some lines.

"That'll teach the b*tch to screw with Two-Face."

"B*tch deserves it. You saw what she did to him in the court. It was only a matter of time before he got a little payback."

""I'll make you meow, b*tch,"

"He sent Paulie B over to blow that b*tch's secret hideout sky-high."

"She'll come straight back here... And when she does, I want you guys to blow that b*tch apart!

"He had her just where he wanted her and that b*tch broke free."

"Ha, I only took half. The rest I gave away. I win, b*tch!"

"Help us decide if we should kill the b*tch who tried to steal from us, or let her go to do it again."

"Two guns, b*tch!"
Hamilton continues, "I like the game. A lot. But there's a fine line between edgy dialogue and forced, angry overkill."
Part of the problem is simply the rote and limited nature of these character interactions; as any gamer knows, they end up looping during the course of the game so that you hear the same lines over and over... and over. This isn't some sort of revelation, though; the creators wrote the dialogue for these games fully aware of the perils of repetition, and the fixation with calling female characters "b*tches" nonetheless stands out. And it just seems... weird.
TO REITERATE: IN THE FIRST HOUR OF ARKHAM CITY WE HAVE A SCANTILY CLAD HIGH-HEAL-NINJA-ING CATWOMAN GETTING BEATEN BY TWO-FACE AS HE CALLS HER A B*TCH. WE HAVE A GROUP OF MUSCLE-BOUND HOODLUMS ALL STANDING AROUND EXCITED TO DUMP HER INTO A VAT OF ACID. BATMAN COMES TO THE RESCUE AS CATWOMAN ESCAPES. SHE FLIRTS WITH HIM MERCILESSLY AND MAKES NOT JUST DUMB, BUT NOT-FUN SEXY PUNS. BATMAN THEN GOES OUTSIDE AND YOU OVERHEAR A BUNCH OF GUYS TALKING ABOUT HOW CATWOMAN AND AGAIN THE WORD B*TCH POPS IN. THEY ALL THINK SHE SWINGS BOTH WAYS (CAUSE THAT'S THE KIND OF THING ANY SEXY GIRL MUST BE UP FOR). AND THEN THEY'RE BASICALLY TALKING ABOUT THEIR MASTURBATORY FANTASIES OF HER... YOU KNOW, ABOUT THE SAME ONE THEY WERE CALLING A B*TCH. BATMAN THEN GOES OVER TOWARD THE JOKER'S TOWER AND YOU HOPE ALL THIS SH*T IS OVER BUT THEN YOU OVERHEAR A BUNCH OF THUGS TALKING ABOUT HOW HARLEY QUINN IS A DUMB B*TCH...

LET'S MAKE IT PRETTY CLEAR: REFRAINING FROM SEXISM DOES NOT MEAN THAT YOU CAN'T HAVE CHARACTERS IN REVEALING OUTFITS, OR THAT YOU CAN'T USE THE WORD "B*TCH," OR THAT YOU CAN'T SAY BAD THINGS ABOUT FEMALE CHARACTERS, OR THAT YOU HAVE TO BE SOME PARAGON OF GOODNESS AND PROVIDE G-RATED POSITIVE ROLE MODELS FOR EVERYONE. YOU CAN TOTALLY DO THOSE THINGS. IT'S JUST A MATTER OF HOW YOU PRESENT IT.

SEE THE REAL ISSUE IS NOT THE THINGS THEMSELVES, BUT THE TONE. WHICH MEANS IT'S ABOUT THE CONTEXT. IT'S ABOUT THE PRESENTATION AND THE FEELING. IT'S ABOUT THE REASONS FOR DOING SO AND WHY.

Hey, that's the same thing we've been saying! I think the most obvious counterargument is that since the characters constantly calling Catwoman and Harley Quinn "b*tches" are mostly villainous henchmen, it's simply in character; they're evil men saying evil things. However, if they're just bad, angry guys who like to shout profane insults at their antagonists, you'd expect to hear similarly harsh insults shouted at Batman. Except that you don't, really. He gets called a "freak" a lot, which isn't nice, but also doesn't carry the same weight as "b*tch," especially in the cultural context of men speaking to women. If it's ok to call Catwoman a b*tch, why aren't we at least hearing Batman get called an a**hole?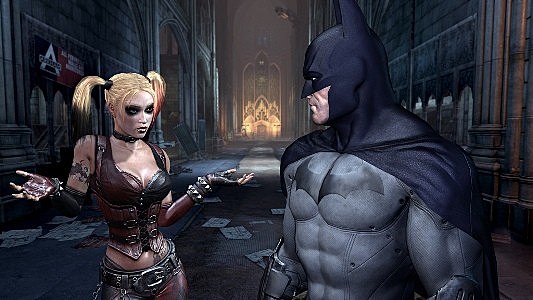 And the problem, as most people seem to be articulating it, isn't that salty (and really gender-specific) language gets used at all, it's that the "b*tching" (if you will) gets used so much. Here's yet another list of dialogue directed towards Catwoman and Harley Quinn, as compiled by Film Crit Hulk:
"Don't come any closer or this b*tch gets a hole where her head used to be!"

"That crazy b*tch!" (said by a good guy)

"She scares me. Fortunately I saw the crazy b*tch leaving!"

"Did you hear the noise that doctor was makin'" / (giggle) "I like hearing her scream like that."

"I don't know what Joker sees in that crazy b*tch."

"Yeah the boss had the Cat all chained up, but that b*tch broke free."


So yeah, it just seems... excessive.
If I were going to try and defend the dialogue in the game, I'd say that if nothing else, it's an accurate reflection of the fact that men really do tend to be jerks to women in very different ways than they are jerks to other men. And that when jerks are creepy and violent with women, it takes on a very different tenor, which very often focuses on gender and is very often sexualized. That's not to say men's insults towards other men are never sexual, but when they are it is more often about diminishing their sexuality by comparing them to women, which in and of itself is pretty sexist. Hence, one of the few truly harsh insults directed at Batman: when a character says he is going to "make [Batman] my b*tch."
In a way, I suppose you could argue that the game holds a mirror up to this gross, unpleasant truth, and is in that sense more "realistic," although I don't really think it's a nuanced social critique of gender relations so much as it is a reflection of people's innate inclinations to do and say these things. And it's very easy, particularly as throwaway dialogue in a video game, for it to fade away into the background as something ambient, unexamined or even accepted as normal, rather than something worthy of notice or reaction.
And personally, I'm a little less comfortable with playing a female character who gets called a b*tch over and over by random, creepy a**holes on the street, because like a lot of women I really have been called a b*tch by random, creepy a**holes on the street and it's just not something I'm looking to simulate in my limited recreational "me" time. In that regard, I wish this otherwise very enjoyable game about costumed heroes and their incredible adventures had involved a little more fantasy, and a little less unpleasant reality.
What did you think about the dialogue in Arkham City?
Update: Film Critic Hulk offers a strong follow-up and rebuttal to detractors who took issue with his criticisms of the dialogue.