Chris Onstad on His Indefinite Hiatus from 'Achewood' [Exclusive Interview]

Chris Onstad announced through his website on Sunday that his critically-acclaimed webcomic, Achewood, is now on indefinite hiatus. After almost a decade, the adventures of Roast Beef, Ray, and the rest of the beloved characters are over -- for now anyway. To comic fans, this is the equivalent of hearing, like we so sorrowfully did earlier this year, that The White Stripes are no longer making music.
Onstad wrote about several reasons that he's taking an undetermined break, including a lack of inspiration for new stories and a general uneasiness with the intense pressure of online reader demands. In recognition of the decade of wonderful comics Achewood gave us, we've compiled a brief history of the webcomic and an exclusive interview with Onstad about the disappointing news.Achewood started online in 2001, when Onstad was only a couple years out of Stanford University, and has since gone on to win back-to-back Ignatz Awards, be praised by TIME Magazine at the greatest graphic novel of 2007, and see three print volumes collected by Dark Horse Comics. The series is also know for its satirical How-To Guides featured in prominent publications, like "Negotiating Take-Out While In A Serious Argument with a Significant Other."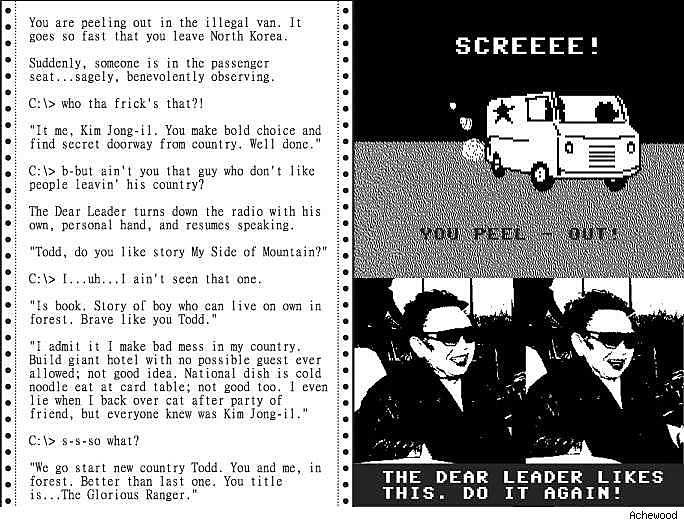 In his announcement, Onstad mentions the frustration with working on something for 15 hours that someone may only take 15 seconds to read, but he revealed that it can actually take almost 20 hours of work for a single, art-intensive update, and even longer if he's questioning the content and quality of the new strip. Other artists, like Nicholas Gurewitch of The Perry Bible Fellowship have given similar reasons for discontinuing work on projects, and certainly the comic industry is no stranger to waiting months for a new single issue delayed by creative issues, some of which are never even released.
While it's sad to see Achewood disappear for a while, it doesn't seem to be final word in the artistic life of Chris Onstad, which means the best may still be yet to come. No word yet on if Dark Horse Comics will continue to publish physical versions of the series in chronological order.
Although the news just recently broke, and Onstad seems to be looking forward to less time in the public spotlight, he was kind enough to answer a few questions via email about his announcement and the life of Achewood.

ComicsAlliance: Are you finished with the comics medium for the time, or just the Achewood characters?
Chris Onstad: After ten years of working in the medium, I don't think I'll ever lose my taste for it, but I had to admit to myself and my readers that it wasn't the only medium for me. That's difficult, because for nearly a decade we poured everything we had into it. Time to spread the wings a bit, but my hope is to return to publishing Achewood on perhaps a weekly basis.
I am certainly not finished with the Achewood characters, by any stretch. I just need to grow them a bit. I've been writing them since a time when I was a very different person, and they need to evolve to reflect that.
CA: You mention in your note that you're writing prose. Can you give fans any insight as to what it's about?
CO: I'm branching into food writing, but I won't say I've hit my stride yet. I'm fishing around for a book project.

CA: Were you disappointed that after the physical books started to hit shelves that Achewood wasn't embraced by a larger, perhaps more mainstream audience?
CO: Not at all. If it didn't light up the Internet, for free, it wasn't going to fly off the shelves at fifteen bucks. I've long known that it's a cult thing with a good fanbase, but a small one.

CA: Do you feel at all under-appreciated by online fans because the series was free?
CO: No. Our online fans supported us by purchasing tons of merchandise through the years, and subscribed to my various pay sites. It was my choice to make the strip a loss leader, and I'm still fine about that. Strips that live entirely behind pay walls -- well, I would never look into one.

CA: Was there a reader backlash toward your more experimental strips?
CO: There's a reader backlash to a comma in what they feel is a place that is "out of voice." There's a reader backlash against a dresser being the wrong shade of grey. There's a reader backlash against the strip taking half a second too long to load. I can't worry about sh*t like that. There will always be six thousand times as many things written about a strip than was written in the strip itself.
CA: Will all of your new writing be available only through the subscription service?
CO: No, I'm spreading it around. I don't want to alienate people, although that's basically an impossible task when you restructure. I'll be on many sites, and many of the pieces of the subscription site will be marked as "free" so that anyone can check them out, subscriber or no.

CA: Not too long ago you opened up the Tip Jar, something you rarely push. Did the lack of financial support impact your decision to go on hiatus?
CO: We've had decent financial support from that, actually. It can't last forever if you go on hiatus, of course. I hate putting the panhandle out, but in these straitened times, our hand was forced. I justify it by thinking of the massive archive of work that we offer for free. I think there are nearly 1,700 free strips to read, as well as all 12 blogs, which number over 1,000 entries.

CA: What are you most looking forward to now that you'll have more time for other projects?
CO: Screenwriting, food writing, lower blood pressure. Spending more time with friends. Maybe getting a job completely unrelated to this, to learn something different. Having time to think about what Achewood is and how to evolve it.
The themes and relationships, I think, have always been honest and human. It's just time to move them along. I always said I wouldn't publish something if I didn't enjoy writing it, and it got to the point where it was more of a chore than a joy, so I have to focus these characters through the lens of where my life, mind, and interests are now. I also have to figure out the answers to those three things.
CA: What's been your favorite strip or story in Achewood over the last nine years?

CA: If you could go back and do it all over again, what, if anything, would you have done differently regarding Achewood?
CO: That's not how I look at life. I think I've been lucky to get to do what I do. I am me, I worked my way, and responded honestly to what I saw and what I wanted to present. "Honesty" may not mean much coming from a guy who just took a couple months off with no explanation, but hey, that was honestly all I had to offer.