Dark Horse Presents the Return of 'X' with New Kindt, Hardman, Farinas, Lieber and More
This year's winner of the Eisner award for Best Anthology, Dark Horse Presents has been one of ComicsAlliance's favorite titles since it was relaunched in 2011 to continue the classic and influential series' tradition of showcasing emerging talent alongside some of the greatest writers, artists and cartoonists mainstream and underground comics has to offer. Each issue comes with quirky, undiluted excursions into the minds of uniquely talented creators, usually with immersive new serials or idiosyncratic short stories but also in the form of recurring, cult favorite characters and properties for which Dark Horse has served as caretaker for many years.
We've formalized our Dark Horse Presents coverage with this first installment of a new regular feature that will spotlight the latest or upcoming issues with exclusive first-look artwork and remarks from DHP creators and editors. With issue #19 on sale today, we're showing off pages by Exile on the Planet of the Apes creators Gabriel Hardman and Corinna Bechko's brand new serial, Station to Station; the return of Dark Horse's superhero X courtesy of Birds of Prey writer Duane Swierczynski and artist Eric Nguyen; and a new MIND MGMT story by creator Matt Kindt, among others.Dark Horse Presents assistant editor Jim Gibbons told ComicsAlliance a little about this issue:
Our final issue of 2012 is easily one of the best issues of DHP to date! It's chock-full of some of Dark Horse's newest, most interesting and exciting stories. Aside from the early and totally awesome chapters of X and Captain Midnight for superhero fans, this book is a bevy of wildly entertaining creator-owned fare covering genres aplenty: sci-fi, crime, horror, and espionage. If you've been thinking about getting into DHP -- buying a copy and giving it a shot -- this issue is a great place to start. The variety and talent featured in this issue is the exact type of versatility and quality you can expect from this anthology.
Dark Horse Presents #19 cover by Raymond Swanland


"X" by Duane Swierczynski and Eric Nguyen

(click images to enlarge)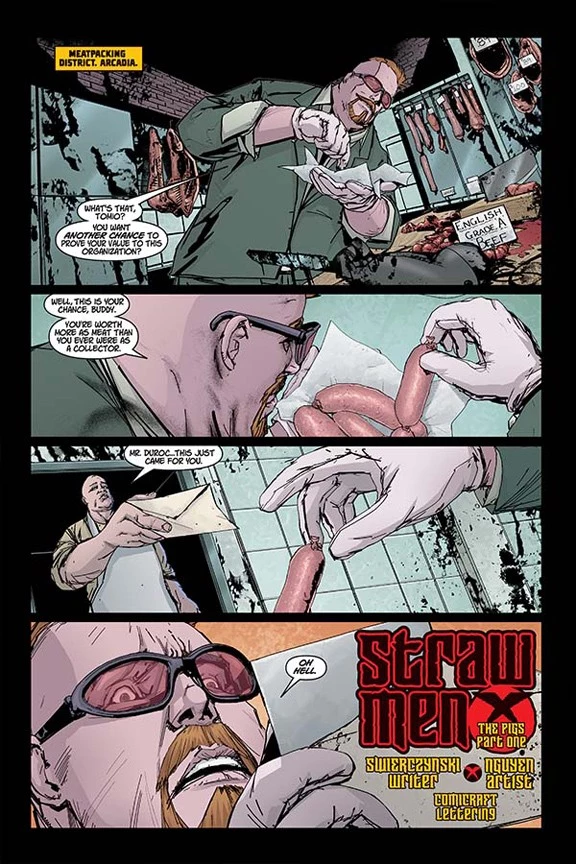 "Alabaster: Boxcar Tales" by Caitlin R. Kiernan and Steve Lieber

(click images to enlarge)


"Deep Sea" by Jimmy Palmiotti & Justin Gray and Tony akins



"Gamma" by Ulises Farinas and Erick Freitas



"Captain Midnight" by Joshua Williamson and Victor Ibáñez

(click images to enlarge)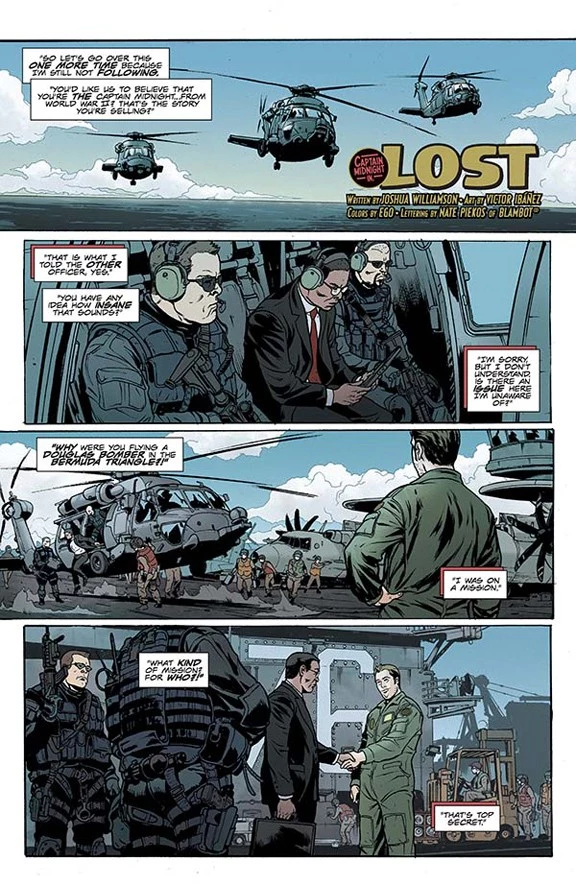 "Mind MGMT: What's the Magic Word?" by Matt Kindt



"Crime Does Not Pay" by Phil Stanford and Patric Reynolds



"Resident Alien: The Suicide Blonde" by Peter Hogan and Steve Parkhouse



"Station to Station" by Corinna Bechko and Gabriel Hardman

(click images to enlarge)



"The White Suits" by Frank J. Barbiere and Giovanni Valletta