The Batman Panel: Jason Todd's Hair Color, Batgirl's Age and Fighting Delays [Comic-Con]
Fans got their beefiest update about DC's Dark Knight yet today during Comic-Con's Batman panel as Batman Group Editor Mike Marts, Batman writer Scott Snyder, Batman and Robin writer Peter J. Tomasi, Batman Incorporated artist Chris Burnham, Batgirl writer Gail Simone, Red Hood writer Scott Lobdell, editor Rachel Gluckstern, Nightwing writer Kyle Higgins, Penguin: Pain and Prejudice writer Gregg Hurwitz, Batman: The Dark Knight plotter and artist David Finch, and Batwing and Catwoman writer Judd Winick assembled to give fans the skinny on the Caped Crusader's place in the new DC. Batman: The Dark Knight co-writer Paul Jenkins (with David Finch) sent a note that he was not able to attend due to the birth of his new child last night.
Click below the jump for news on Jason Todd's hair color, Barbara Gordon's age, the future of the much-asked-about Stephanie Brown, the oft-delayed Batman: The Dark Knight and its new writer Paul Jenkins and the tearjerker nature of the future of Batman Incorporated.On Batman: The Dark Knight: David Finch talked about how he gained a huge amount of appreciation for writers over the past year, and that having to handle both parts of the book slowed him down hugely. Paul Jenkins will be writing the relaunched version of the title, being heavily collaborative with Finch.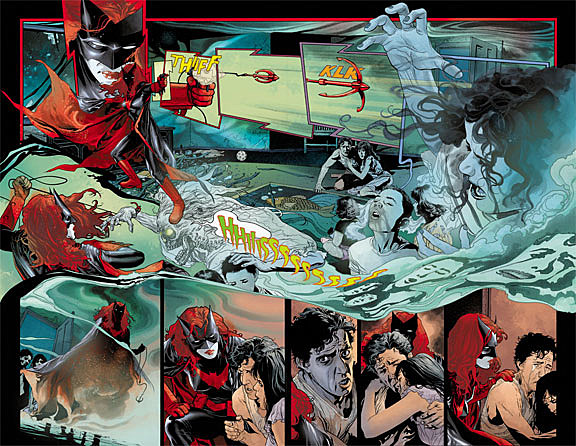 On Delays: Mike Marts said that they have four issues in from J.H. Williams III and one and a half in from Amy Reeder for the second arc, so it will ship on time. Additionally, Finch stated that bringing on Paul Jenkins to write Dark Knight has not only made him faster but also, in his words, has increased the quality of the writing, saying that it incorporates more intellectual themes.
On Stephanie Brown: Gail Simone reassured a fan that she would not disappear.
On Batgirl: Gail Simone stated he new Batgirl is a young woman who's fresh out of college, which is interesting considering previous reports that The Killing Joke and Barbara's time as Oracle was still in continuity.
On Catwoman: Winick stated that in his first interview he said "sexy" about forty-five times, and it wasn't enough -- and that it was a "dirty, dirty book." Winick described her as sexy, dangerous, prone to stealing things and very, very smart.
On Batwing: A piece of art was shown with a man getting a machete through the chest by a villain named Massacre, who writer Judd Winick described as Batwing's archnemesis, as well as mentioning that the previewed pages were actually quite spoilery, perhaps implying that the man being stabbed is in fact David Zavimbi, Batwing himself.
On Red Hood: Lobdell said he "doesn't do dark," so this is going to be a "fun" book about a bunch of damaged characters, starring Jason Todd, Starfire and Arsenal.
On Batman Incorporated: Morrison stated that the book would focus on the relationship between Bruce Wayne and current Robin Damian, his son, and that it would make you "cry and cry and cry." It will play off of things Peter Tomasi is doing in Batman and Robin.
On Red Hood's Hair Color: Scott Lobdell stated that rather than red, it'll be black, leading to Morrison proclaiming that "Gingers need a hero too! Ron Weasley is not enough!"
On The Penguin: Writer Gregg Hurwitz stated that his main attraction to the Penguin is that, unlike many other Batman villains, he's completely sane.
On Bane: When asked if he had a take on Bane, Grant Morrison stated that while he didn't really have one, he had a great amount of respect for the Mindless Ones's article about the subject, shouting them out explicitly.
On Starfire: Lobdell stated that he wants to shift Starfire away from being fully integrated into human society, and show her more alien side. He also said that her history with Dick Grayson remains intact, and she wants to learn more about humanity, but may have chosen questionable teachers in Jason Todd and Arsenal.
On Writing Dark Villains: When asked about how he writes such twisted villains as James Gordon Jr. despite seeming like such a nice guy on Twitter, Snyder explained that the idea came out of realizing Gordon's worst nightmare. Gordon's a man whose life is dedicated to empirical evidence and dealing with having a son without a conscience is inexplicable to him.
On Batman's Appeal: Morrison stated that the great appeal of Batman to him was his adaptability, that he works in almost any type of story.
On Catwoman's Daughter, Helena, From Will Pfeifer's Run: Winick indicated that Helena no longer exists in the new DC Universe.

See art from the Batman panel below: