ComicsAlliance Demos Converse's Customizable DC Comics Sneakers [Fashion]

As the latest installment in the DC Comics x Converse collection, Converse launched today its Design Your Own DC Comics Chuck Taylor All Star shoes campaign, featuring mix-and-match custom shoe design options that include Batman, The Joker, Catwoman, and The Riddler. This exclusive feature allows the customer to design their own shoe by offering a selection of customizable parameters, including the color/print of the canvas, emblems, rubber soles, lining, and even a personalized heel strip.
Converse offered me the opportunity to demo the entire Design Your Own DC Comics Chuck Taylor All Stars process early, and I tweaked every single design parameter to utter purrfection. Check out my review of the product and process and the un-boxing photos of my combative kicks after the jump!When it comes to personal style, I'm admittedly not really a sneakers kind of girl; I really only wear sneakers to the gym (which is a seldom activity in itself). Regardless, I love the art and culture of sneaker fashion over the past few decades, which is especially apparent with the evolution and throwback of Converse's designs. While many of my friends collect sneakers in an array of colors and designs, I feel like I have yet to find that one perfect pair of sneakers that fit my ridiculously picky needs.
When Converse announced its Design Your Own DC Comics sneakers feature, I immediately jumped on board in hopes that I would be able to create a pair of sneakers to suit my tastes. Unlike the customization specs on Converse's classic sneakers, the design parameters of the DC Comics sneakers include printed canvas motifs of Batman, The Joker, Catwoman, and The Riddler, as well as matching emblems on the outer ankles. Other custom options include matching shoelaces, stitching, lining, eyelets, and even a personalized ID heel strip, allowing the customer to create the ultimate shoe for their own unique idiom. The design process was incredibly easy to navigate, and the zoom and rotate features allow the customer to fully visualize and modify the mockup of their shoes with ease.
Screenshot of design process on Converse website

For my custom Cat-kicks, I selected the allover classic Catwoman print for the outer body, inner body, and the tongue, with a solid black heel strip. Being mindful of the busy design, I opted for plain black for the rubber sidewalls, toe cap, lining, and detailing (stitching, eyelets, and laces). After completing this meticulous internal process of deciding on the final specs of my shoes, I submitted my order and my shoes arrived shortly.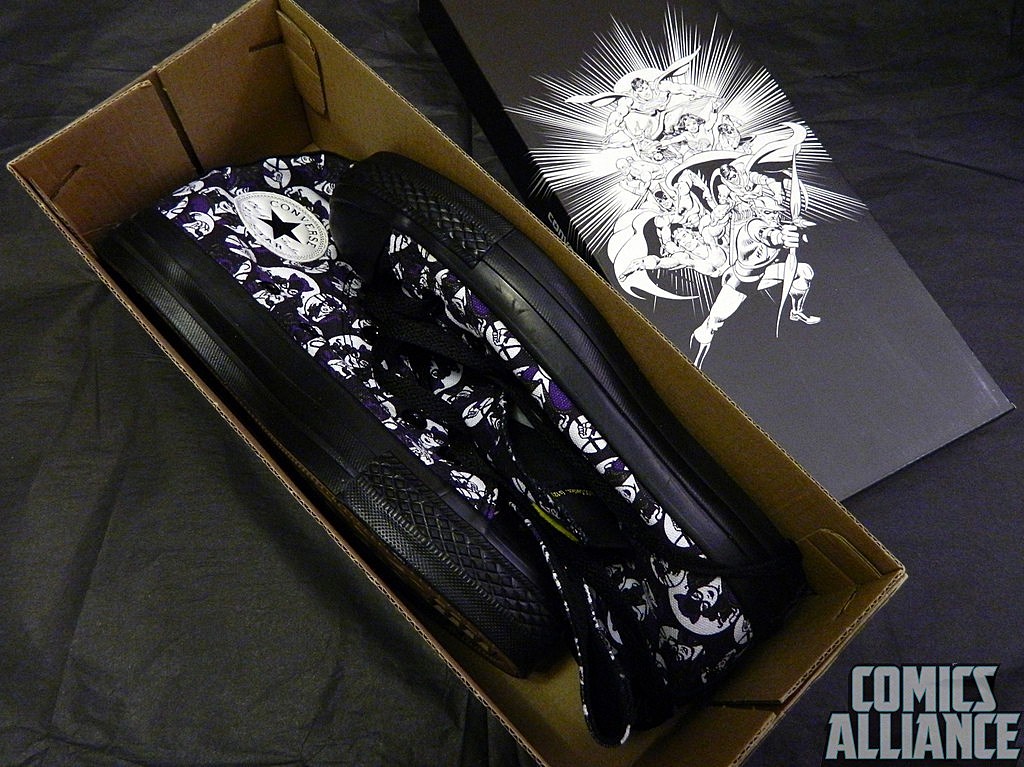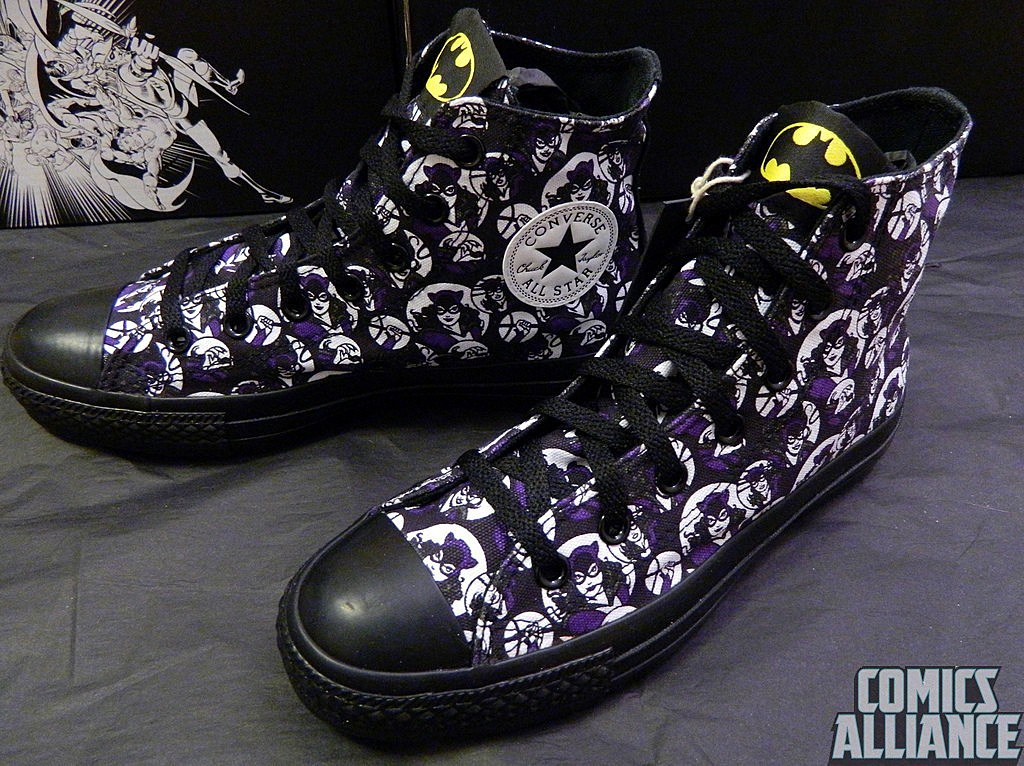 I'm really quite pleased with my Catwoman sneakers; the print is even more stunning in person, and I'm thrilled that all of my customized specifications exceeded my expectations. After a few simple steps, I was able to create the perfect pair of sneakers that fit in suitably with my wardrobe and with my overflowing collection of Batman memorabilia. I may even further modify my shoes by swapping in black leather laces instead, to better resemble Catwoman's whip.
Although Converse already offers a multitude of customization options for their classic shoe styles for years, the Design Your Own DC Comics Chuck Taylors are literally tailor-made for fans of both comics and Batman and prove to be a unique addition to Converse's catalog of DC Comics merchandise. With the inevitable popularity of this feature, I can only hope that this feature will expand with more character motifs and superheroic options beyond the Bat-Universe.
The Design Your Own DC Comics Chuck Taylor All Star shoes are available in both adult and youth sizes, and run for $75 and $55 respectively. Head over to Converse to start designing your own combative kicks!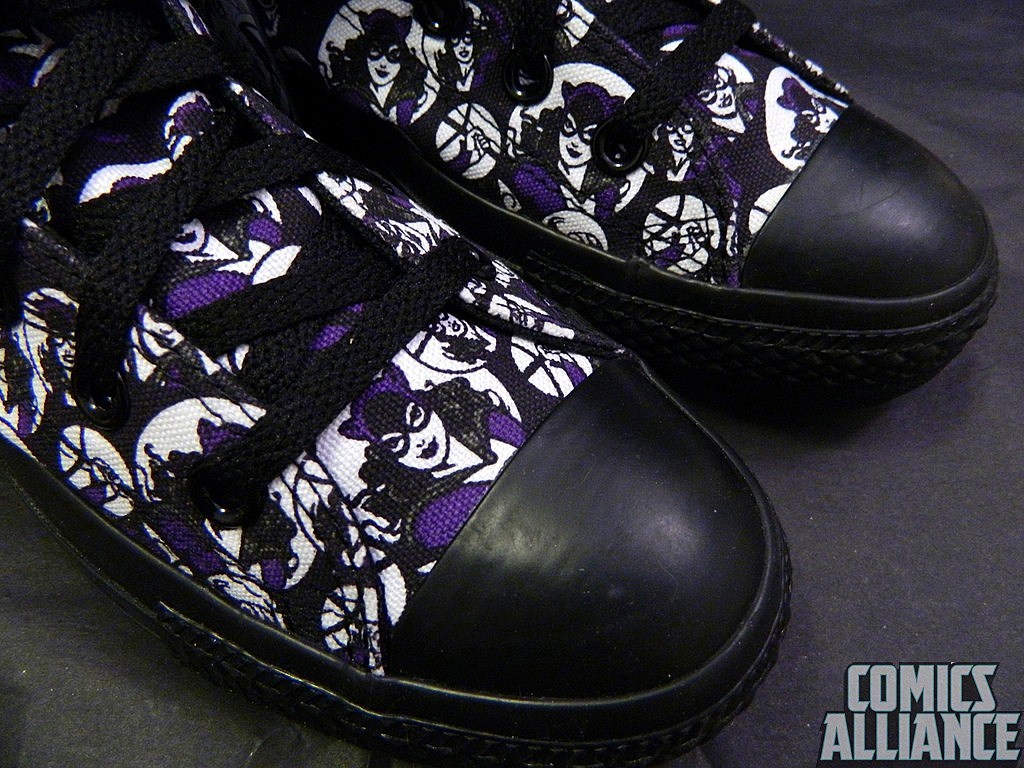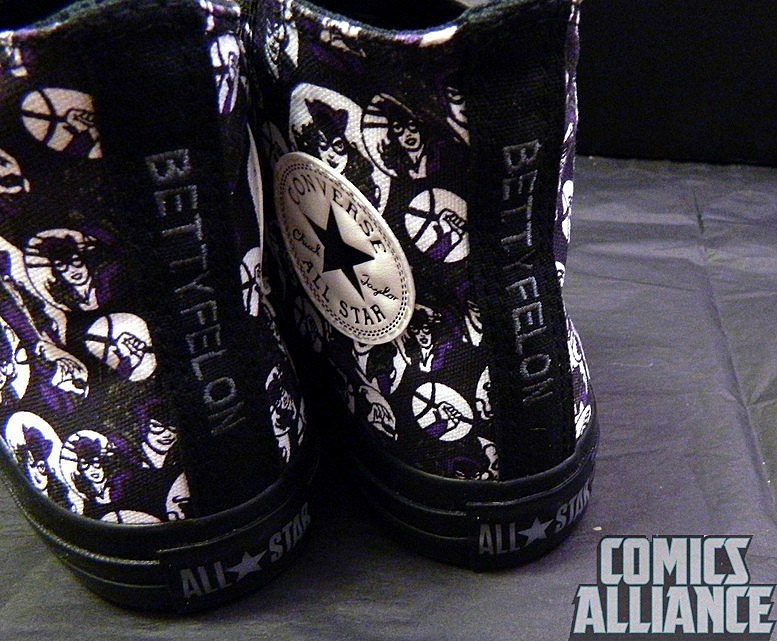 NOTE: I was heavily debating whether or not I should get the embroidered personalized ID heel tag, but my alter-ego (and my inner Tom Haverford) ended up winning the battle.