DC Comics Goes Digital: Why This Is a Big Deal
Up until today, whatever plan DC Comics had for dipping their toe into the world of digital comics was completely unknown. When questioned at conventions, their answers rad from the reasonable ("Wait and see") to the ridiculous ("You can't read digital comics when a plane is taking off"). Many fans, journalists, and retailers started to come to a conclusion: DC Comics is dragging their feet and in danger of being left behind.
Today, DC not only showed that they were playing their cards close to their vest, but they were waiting for an appropriate time to go all-in. DC has now partnered with comiXology, the foremost digital comics gateway, and the PlayStation Network for a two-pronged distribution deal. This puts their comics in front of the more than fifty million users of PSN and onto Apple's iPad, iPhone, and iPod Touch, currently the trendiest of digital comics devices.
The current plan is to put an issue of Neil Gaiman's "Sandman" online a week at Comixology, along with adding over one hundred issues of other DC titles a month to their digital library. Releases for the launch include perennial fan-faves like "Batman: Hush," "Fables," and "Planetary," and alongside the release of archive material there will will be day and date digital releases of "Justice League: Generation Lost," a currently ongoing lseries.
This is kind of a big deal. Marvel has, at best, flirted with the idea of day and date publishing. Their upcoming "Iron Man Annual" is going to be released in stores and online at the same time, but that is currently all they've announced. DC, by announcing a continuing series as their step into the day and date arena, and a bi-weekly one at that, has instantly upped the ante, and it's a move that suggests that "Justice League: Generation Lost" is just the first of several ongoing day and date releases.
DC's pricing structure is also a fascinating choice. Rather than going with a flat fee of two dollars per issue, like Marvel has (which has sometimes resulted in a digital issue that costs more than the printed copy), DC is using a tiered pricing structure. Day and date releases will cost a full $2.99, but prices will range from $.99 up to $2.99.
Digital comics have been in a state of flux for the past few years, with several companies competing to become the leader in digital comics distribution. Three companies were soon identified as being the most likely to succeed: comiXology, Graphic.ly, and Longbox Digital. Right now, Longbox Digital promises a launch "on Macintosh and PC computer systems in Fall of 2009, with handheld devices, eReaders, and game systems to follow." Graphic.ly offers Mark Millar and J.G. Jones's "Wanted" as one of their featured titles, along with Mark Waid and Peter Krause's "Irredeemable." Beyond that, most of their offered titles tend to be marginal Top Cow or Devil's Due books.
Simply put, Graphic.ly doesn't have enough titles that people want to read and Longbox Digital is still about as real as a unicorn. comiXology, on the other hand, has had a comics app on the iTunes Store for a little under a year now, allows users to adjust their pull lists online, and built up a website that integrates with retailers. They've proved that they have what it takes to make digital comics work in a user-friendly way, and consequently have seen publisher after publisher sign up with them. On comiXology's Comics app, you can now find content from companies as varied as Marvel, Boom! Studios, Dynamite, Dark Horse, SLG, and AdHouse.
Now, with the addition of DC Comics, comiXology wins almost by default. They have the depth of catalog and variety of content needed to genuinely and truly make themselves a powerhouse in the world of digital comics. On the same note, it's fair to say that DC's digital comics initiative is a shot directly across Marvel's bow. DC is leaping into the digital arena feet-first, and making the kind of splash that makes people turn their heads. They may not have moved as quickly as some would have liked, but when they did move, they moved big.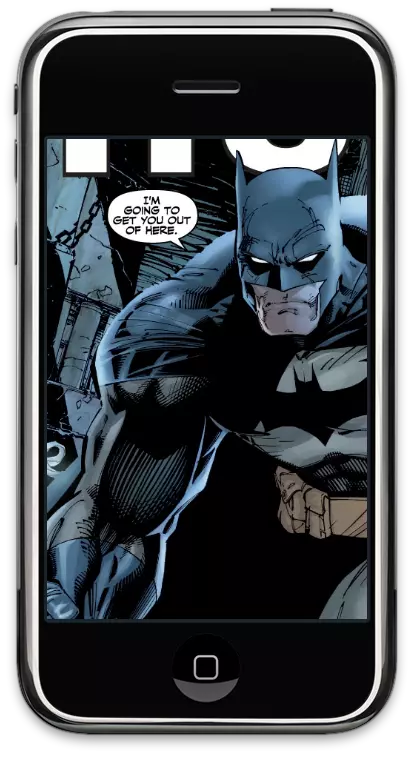 While their first stab at day and date releases is promising, it is also going to force Marvel to make a play. The relationship between DC and Marvel in the direct market has largely been one of constant and desperate one-upmanship. This "Let's Be Friends Again" strip is pretty close to accurately depicting their relationship. Now that DC has one-upped Marvel's digital comics strategy by going further with day and date and pricing, Marvel is going to have to rise to the challenge. It may be a month from now, it may be around the time New York Comic-Con begins in the fall, or it may be the top of next year, but it's soon. Inside of a year, Marvel is going to have to take the plunge and meet DC's challenge. After that, we'll really see what the digital landscape will look like.
For now, though... DC has scored a major win. They put the doubters in check, put the ball back into Marvel's court, and set the stage for expansion, not to mention opening the archives to a whole host of new fans.
There's also this quote from DC co-publisher Jim Lee:
""As both a comic book creator and Co-Publisher, it was incredibly important that our plan includes not only creator incentive payments, but also an innovative component that supports comic shop owners. We see digital as an opportunity to grow our entire business.""

The focal point of this statement is the phrase "creator incentive payments," particularly given the questions about whether Marvel pays royalties on digital comics. By specifically mentioning "creator incentive payments" and support for comic shop owners, Lee has not only positioned DC as the better man, but he has also quietly criticized Marvel.
Are we seeing a return of the classic Marvel and DC rivalry? Now's definitely the time for it.