Deadpool Crashes The Marvel Video Games Panel To Announce His Own Game [SDCC] Deadpool literally stole the show during the latter portion of today's Marvel Video Games panel at San Diego Comic-Con by busting open the back doors of Ballroom 6 and announcing his own Deadpool video game developed by Activision's High Moon Studios coming in 2013 (and not a solo Hit-Monkey game, as an early website launch teased). Armed with a megaphone, an actor portraying the Merc With A Mouth evicted the High Moon Studios representatives from the panel table with some trademark witty banter and sent them to debut the game's trailer to the delighted fans. You can read the full panel report and watch the new Deadpool video game teaser trailer after the cut. Beware, though, it's definitely NSFW.


Prior to Wade Wilson's entrance, the panel, moderated by Marvel Games' Javon Frazier, included Marvel Games' TQ Jefferson and Chris Baker, Ubisoft's Pierre Leroux (Producer) and Dan Vargas (Art Director), Gazillion's David Brevik (President and COO) and Jeff Lind (Executive Producer), and High Moon Studios' Sean Miller (Game Director) and Terry Spier (Lead Designer). They were all on hand to talk about their respective Marvel video games in development.
TQ Jefferson talked about Marvel Games' philosophy in working with other game developers and publishers on licensed video games, which centers around three core pillars: fun gameplay, compelling stories, and true-to-character experiences. With those qualities, they hope to create successful games based on their characters.
After recapping Marvel's currently released titles, TQ revealed that the recently released Avengers Alliance Facebook game now has more than 15 million installed users and 2 million daily active users. Given the successful reception, Marvel will be releasing a lot of new content in the future including a smorgasbord of new character costumes. The panel audience was treated to a slide show of these costumes which include New Defenders Dr. Strange and Iron Fist, Classic Cyclops, Daredevil Yellow, and Future Foundation Thing, Spider-Man, Invisible Woman, and Mr. Fantastic. Among the new playable characters are Rogue, Tigra, Valkyrie, Emma Frost, Quicksilver, Beast, Gambit, and Havok. Finally, Avengers Alliance will be getting an Avengers vs. X-Men content module in the near future, complete with four of the "Phoenix Five" X-Men: Emma Frost, Colossus, Cyclops, and Magik (newly playable).
The Ubisoft contingent was on hand to show a brief gameplay trailer from Avengers: Battle For Earth, which culminated in an ominous shot of Skrull Captain America. Producer Pierre Leroux gave the audience a quick explanation of the motion-based fighting game, but did not offer any new gameplay details that were not covered in our E3 preview of the game from earlier in the year. He did, however, confirm that a Wii U version of the game is development when a wheelchair-bound fan asked if he would be able to play the game.
Marvel's Chris Baker talked about Marvel vs. Capcom Origins, an Xbox Live and PlayStation Network title releasing later this fall that is a bundle of arcade-perfect ports of the beloved original Marvel vs. Capcom and Marvel Super-Heroes fighting games. The game will feature smoother, HD filtered graphics and will have a new persistent side-challenges feature on screen that will challenge gamers to complete certain achievement requirements as they play. Marvel vs. Capcom Origins will also have modern game features such as an 8-player lobby, spectator mode, and match recording/playback. Baker also treated the audience to a reimagining of classic Marvel covers, such as Infinity Gauntlet #1 with Capcom characters incorporated.

David Brevik (referred by the moderator as "Mr. Diablo") was on hand to explain details on Gazillion's Marvel Heroes action-RPG MMO title. After showing a gameplay trailer, David confirmed that Black Panther would be a playable character within the free to play game. Unlike other "free" titles, Brevik reinforced that Marvel Heroes will be completely free to play from start to finish without "nickel and diming" players. Fans were then shown a Brian Michael Bendis scripted motion comic introducing Act 2 of the game. Brevik explained that portion of the game as Gazillion's "take" on the iconic Mutant Massacre storyline.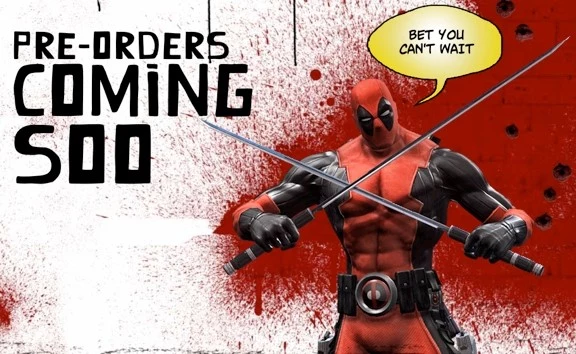 As the High Moon Studios folks prepared to talk about a Hit-Monkey game in development, shouts of "Boring!" were heard from the back of the hall as Deadpool burst through the doors accompanied by a camera crew. Deadpool appropriately let loose a number of jokes, like announcing that he was, in fact, a hologram and that he shot Tupac. While the gameplay trailer shown did not make clear what kind of game Deadpool would exactly be (even the Marvel Games executives were at a loss to explain it), it seemed very true to the character with lots of very NSFW violence, humor and action. Deadpool then directed fans to go to www.deadpoolgame.com to see the website that he made "After three months in community college." After demanding to replay the trailer one more time, he got up on the table, yelled "That! Just! Happened! Mic Drop!" dropped his mic, and left the room to raucous applause from the mesmerized audience.