Diesel x DC Comics Boxers Feature Superpowers of Their Own! [Video]
Design company Diesel collaborated with DC Comics to create a selection of men's boxers for their Spring/Summer 2012 collection, featuring some of DC's finest. However, unlike standard comic apparel, these boxers go beyond simple screenprinted designs and appear to have superpowers of their own, from heat-activated images to armor detailing that appears after multiple wears and washes. While some of the special features may seem a bit superfluous for underwear (especially at $34 a pop), almost all of the boxers have sold out on the Diesel site within mere days of the Diesel x DC Comics launch.
Click the jump to check out the complete collection (along with a trailer) of Diesel x DC Comics super-scivvies!

Batman Boxer
, $34 [available at
Zappos
]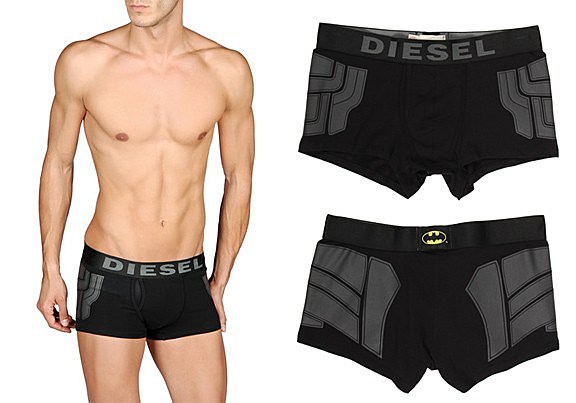 "The Batman™ boxer contains a carbon effect Diesel logo jaquard waistband and a special print, which by using, washing and scratching will reveal a black armour over time."

[

Diesel

]
While I do like the idea of clothing resembling Bat-armor after the battle damages of normal wear-and-tear (note: I would love a pair of black leggings or a jacket that had this feature), I like how the wearer is encouraged to scratch their junk. I do think that these are the most creative and clever pair of boxers within this collaboration, and perhaps even durable enough for Bruce Wayne.
The Flash Boxer
, $34 [available at
Zappos
]
"The Flash™ boxer contains a thermosensitive print, which makes the red superhero come to live through natural body heat."

[

Diesel

]
I don't know exactly what The Flash has to do with heat-activation per se, but I used to love heat-activated decals on clothing back when I was a kid. Honestly though, I think that heat-activated Flash graphics would've worked perfectly on a pair of running shorts - you could work out on the Cosmic Treadmill and reboot the Universe in style.
Green Lantern Boxer
, $34 [available at
Zappos
]
"The Green Lantern™ boxer received a fluorescent treatment. A print becomes visible after exposure to light."

[

Diesel

]
Glow-in-the-dark Green Lantern apparel isn't new by any means, but it is one of the more sensible and logical features within this collection. My only grievance is that the image looks like it may be too finely detailed to view in the dark.
"The Joker™ boxer contains a photo print acid effect, inspired by the world famous acid-spewing flower, which the superhero wears on his lapel."

[

Diesel

]
Aside from the fact that Diesel refers to The Joker as a "superhero," I think that the acidic stain impression of The Joker may be more problematic. The faintly washed graphic of The Joker is actually a pretty cool looking effect that is more fit for a t-shirt, however I'm not sure how many people would be keen on wearing a pair of white undies with a sadistic stain on them (especially judging from the fact that these are the only pair of boxers that are still in stock on Diesel).
And without further ado, the Diesel x DC Comics boxers trailer:
Personally, I think that Diesel dropped the ball on creating a pair of Aquaman boxers that could also double as swimwear.