Fraction Moves to 'Mighty Thor', Gillen 'Journeys Into Mystery' and Goes Solo on 'Uncanny'
The Spring of 2011 is going to be an especially eventful one for Marvel Comics fans, particularly those fond of writers Matt Fraction and Kieron Gillen and their work with the X-Men and Thor franchises. Fraction and Stuart Immonen's Fear Itself storyline begins in March, while April sees not just the premiere of Kenneth Branagh's Thor film but also new ongoing Thor comic books in the form of Fraction's The Mighty Thor and Gillen's Journey Into Mystery, as well as a shakeup in the X-Men line whereby Fraction leaves Uncanny X-Men and Gillen takes over the flagship X-title.
It's exciting, to be sure -- but potentially confusing, so we've got all the details for you after the jump.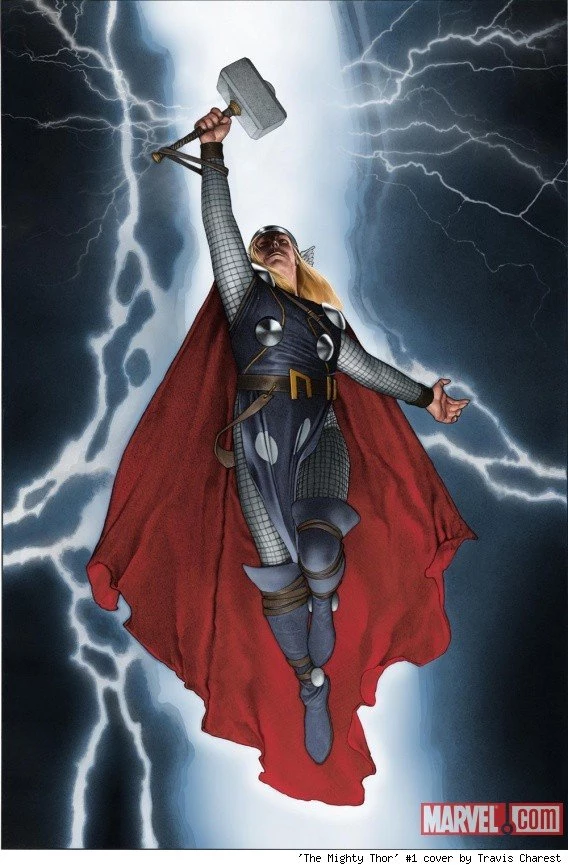 Announced earlier this week, The Mighty Thor debuts in April with the explicit intention of providing new readers whose interest in Thor will have been piqued by the movie with an easy starting point for the character's comic book adventures. The series will be penned by current Thor writer Matt Fraction, who will be joined on the inaugural arc by Oliver Coipel, the artist who helped writer J. Michael Straczynski return the hero to prominence in the last decade. Called "The World Eaters," the opening storyline finds Galactus with a hankering for Asgard. In an interview at Marvel.com, Fraction promised that readers will see Thor battle Galactus' herald, the Silver Surfer.
"The God of Thunder ain't never been mightier than now!" exclaims writer Matt Fraction. "Everything is going beyond-epic in The Mighty Thor and I couldn't be more thrilled to have Olivier onboard for the book's maiden voyage. Look up - think big - fight hard!"
Current Thor artist Pasqual Ferry will reunite with Fraction on The Mighty Thor following the events of "The World Eaters" and Fear Itself.
Also in April, the existing Thor series will be retitled Journey Into Mystery, which was of course the name of the classic Marvel Comics title in which the thunder god first appeared in the 1960s. That series will be written by Kieron Gillen with artwork by Doug Braithwaite. The pair previously collaborated on Thor, and their work is collected in Thor: Siege Aftermath. In a press release, Marvel hyped Journey Into Mystery as a "blood and thunder-fueled epic" that will focus on Thor's brother Loki.
"My year on Thor was just glorious hyperspeed chaos, from start to end," said Gillen. "[When] I was asked to do Journey Into Mystery...my first thought is exactly what we're doing with it. Put it like this: I couldn't be more excited if I had an invite to go drinking in the halls of Valhalla."
In related news, Fraction will depart Uncanny X-Men and Gillen, who has been co-writing the series since December's issue #531, will take over the title himself. In an interview with Marvel.com, series editor Nick Lowe indicated that Fraction's responsibilities with Invincible Iron Man, The Mighty Thor and Fear Itself necessitated the move away from Uncanny. The relay-style handoff mirrors that executed by Fraction and Ed Brubaker in 2008, whereby Brubaker wrote Uncanny X-Men alone for a time before collaborating with Fraction and ultimately passing the book off for good.
Gillen, who also writes X-Men title Generation Hope, begins his solo run with Uncanny X-Men #534.1 which, according a press release, is to be a jumping-on point for new readers. Illustrated by Carlos Pacheco, issue #534.1 will detail the public's reaction to discovering that longtime X-Men villain Magneto is presently an active member of the team. Artists Terry and Rachel Dodson return in issue #535 for Gillen's first solo arc in which the X-Men encounter aliens from Breakworld, and there will be some juicy drama between Colossus and Kitty Pryde as well.
"When I joined Matt [Fraction] on Uncanny, I believe I said I couldn't be any more excited. I've been proved a shameful liar." explains Gillen. "I'm even more excited now. When I look at what we've got planned, and knowing that I'm going to be writing it, I just lean back in my chair and cackle until my fiancée starts worrying about me."

Uncanny X-Men #536 also goes on sale in April, making that three issues of the title in just one month.
Fear Itself

What: New Marvel event miniseries

Who: Matt Fraction and Stuart Immonen & Wade von Grawbadger

When: March
The Mighty Thor

What: New ongoing series

Who: Matt Fraction and Olivier Coipel

When: April
Journey Into Mystery

What: New ongoing series using with numbering from existing Thor series

Who: Kieron Gillen and Doug Braithwait

When: April
Uncanny X-Men

What: Existing ongoing series

Who: Matt Fraction out, Kieron Gillen solo, plus Carlos Pacheco and Terry & Rachel Dodson

When: Three issues in April
Everybody got that? Good!