The G.I. Joe Cosplay of G.I. Joe Con
The G.I. Joe cosplay community is one dedicated bunch, as evidenced by the wide variety of characters on display on and around the show floor. (Of course, there were plenty of Snake Eyes-es (Snake Eii?) and Cobra Commanders patrolling the scene as well.) Take a look at some of the costumed fans from this year's Joe Con who prove that "half the battle" is knowing how to get out of your B.A.T. getup when nature calls.
A killer B.A.T. (Battle Android Trooper) costume worn by one A.G.I.F. (Awesome G.I. Joe Fan).
The Baroness literally puts herself on a pedestal with a homemade action figure stand. We hope to God she didn't drill holes in her boots for the foot pegs.
Boy, is she going to be disappointed when she reads the '80s "G.I. Joe" comic and finds out he's actually just a failed used car salesman and deadbeat dad.
Quick Kick-- giving fans an excuse to walk around shirtless since 1985.
"G.I. Joe" comic book writer extraordinaire Larry Hama, flanked by a Viper and female Cobra Officer.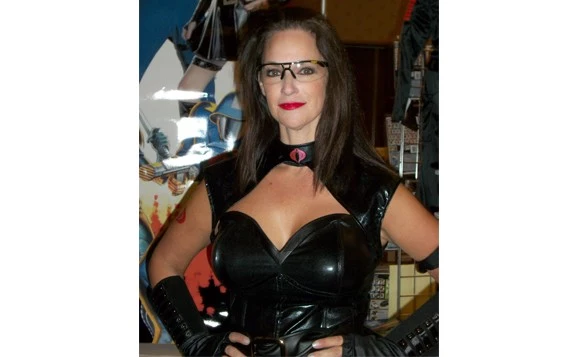 This nice lady is wearing one of the "sexy" Cobra costumes coming this Halloween from the folks at Disguise. It's kind of The Baroness, kind of a Cobra solider, and mostly a cleavage-delivery system.
Iron Grenadier and Viper, keeping the Westin hotel chain safe from terrorist attac--- Uh oh.
Snake Eyes, Shipwreck, and Storm Shadow on a quest to locate Shipwreck's parrot Polly before it pecks someone's eyes out.
Don't mess with Lady Jaye. She'll stab ya with her giant arrowhead on a stick.
Scarlett, Baroness, and Snake Eyes. Wouldn't the orange cap on Snake Eyes' Uzi give him away during night missions?
Cobra Commander and Crimson Guardsman in Crimson Strike Team gear, as featured in last year's convention exclusive.
Zartan and brother Zandar, who briefly toured with Cold Slither Poison for a time during the late '80s.
Snake Eyes, gunning for whoever decided to give him rubber lips in the movie.
"Bah! Who does a guy have to disintegrate around here to find a loose Battle Armor Cobra Commander?"
[Photos by Nick Nadel and Tim Finn]