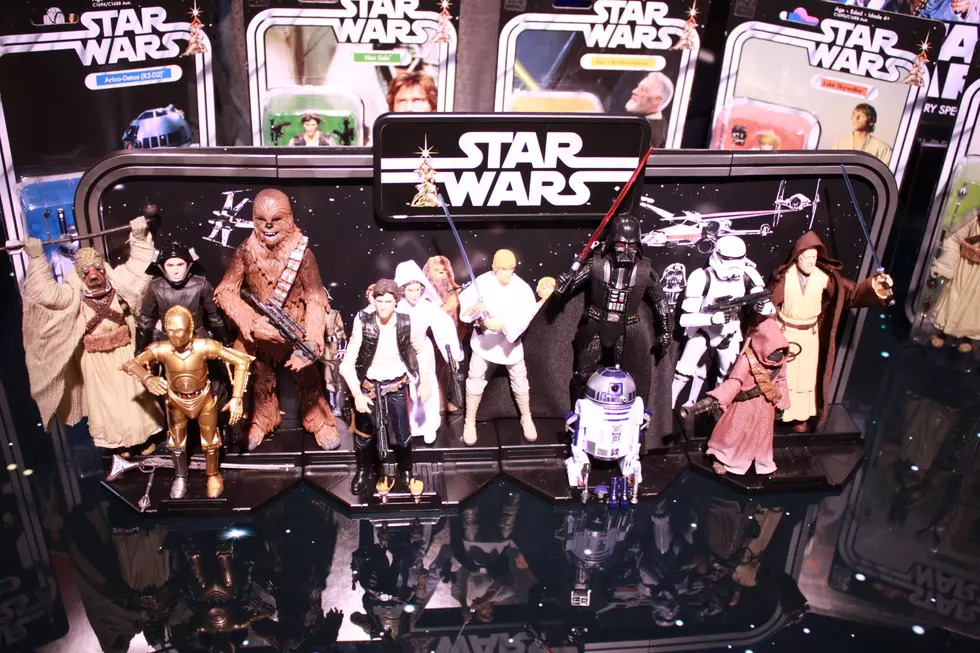 Hasbro Looks to the Past for Star Wars Black's Future [Toy Fair 2017]
Photography by Luke Brown, Townsquare Media
Given that the Star Wars film franchise is between movies at the moment, it wasn't surprising to see Hasbro's offerings for the Star Wars Black Series dialed back just a bit. The Last Jedi is still 10 months away, and with Force Friday II coming in September, it's going to be a few more months until we learn everything about this year's Star Wars Black plans. However, 2017 is the 40th anniversary of the celebrated sci-fi franchise, and Hasbro isn't letting that go unnoticed.
To commemorate the anniversary of A New Hope's release, Hasbro is putting out a collection of the original 12 figures that launched toy collecting as we know it today. The "12 back" figures are coming back in 6" Black Series style, and they're coming in blister packaging that calls back to that Kenner design of old. Many of the figures are going to be re-releases of previous Black Series toys, but the Jawa and Death Squad Commander will finally be making their grand appearance in this new wave.
In addition to the "12 back" figures, a special Darth Vader Legacy set is being offered. This includes the final figure in the original collection, Darth Vader, as well as a figure stand with a backdrop that recalls the Early Bird Special mail away offer given when Star Wars toys were first announced. This time of course, there won't be any empty boxes with IOUs inside.
You might notice Princess Leia is included in the 40th Anniversary figure wave, but you'll be glad to know this is a revised version of the New Hope Leia that just released. This new Leia has another new head sculpt, which looks miles above what's been released this year. It's a bit of a bummer the only way to get this new Leia with the improved portrait is in this special series, but there'll also be chances to get figures long out of circulation like R2-D2 without having to pay a secondary market premium.
The most interesting pieces shown off this past weekend however were the new Black Series Centerpieces. These larger, statue-like pieces feature iconic characters in poses and situations that fill the gaps in cinematic history, so to speak. Luke is running back to Echo Base after taking down the AT-AT and Vader is breaching a door on the Tantive IV. Both feature light-up displays, and poses that would be otherwise impossible with the standard figures. Each base also includes enough space or footholds for additional Black Series characters. Hasbro envisions these as actual centerpieces for your collection display, which will give you more to do with your figures than have them standing around by themselves on a shelf.