Head to 'Gravity Falls' with We Love Fine's New Collection & Design Contest [Fashion]
We Love Fine has launched their latest t-shirt collection featuring designs from Disney's Gravity Falls. The cartoon series, which started airing in Summer 2012, has drawn an immense fan following with its quirky, crytozoological themes and has quickly become a favorite cartoon amongst the ComicsAlliance staff. Indeed, two of our occasional contributors, Chris Haley and Eugene Ahn, host The Gravity Falls Gossiper, a podcast dedicated entirely to the show. So obviously we're pleased to see We Love Fine's new Gravity Falls collection and new t-shirt design contest, which will be judged by series creator Alex Hirsch and series art director Michael Rianda!

Trust Me
, $25.00 [
link
]
Grappling Hook, $25.00 [link]


Rainbow Gnome, $25.00 [link]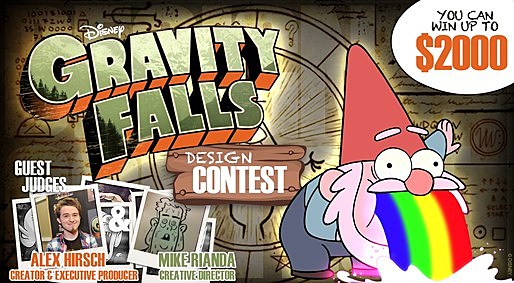 Disney's Gravity Falls Design Contest [link]
ABOUT THE CONTEST

Welcome to Gravity Falls, where everything's a little bit weird and wonderful... and WeLoveFine is completely delighted to bring this highly acclaimed Disney Channel hit to our site, kicking off with our very first Gravity Falls design contest! Fans of all ages are wild about this funny, irreverent and adventure-packed series and we just bet there are some amazing fan artists out there with some pretty awesome ideas. Have you got a super-cool t-shirt design featuring Dipper, Mabel, "Grunkle" Stan and all the wild and wacky happenings around the Mystery Shack? We can't wait to see where your imaginations take you with this truly imaginative show as inspiration. Start sketchin' and help us solve the mystery of who will win some amazing prizes; you could win up to $2,000 in our grand prize, and have your design made into official Gravity Falls merchandise available right here at WeLoveFine.com! Good luck!

ABOUT OUR GUEST JUDGES

Alex Hirsch is the creator and executive producer of Disney Channel's Gravity Falls, an animated comedy series inspired by real-life summer adventures he and his twin sister shared while visiting relatives as kids. Hirsch graduated from California Institute of the Arts (CalArts) in 2007. During his college years, he created the short "Off the Wall" which garnered attention from notable animation blogs including "Drawn!," "Cartoon Brew" and "Cold Hard Flash." Hirsch also plays the voices of Grunkel Stan, the twins' penny pinching great uncle, and Soos, the portly, lovable employee who loves to be in the middle of all the action. Shortly after graduating, he worked at the digital entertainment studio JibJab and was a writer/storyboard artist on The Marvelous Misadventures of Flapjack. He also served as a creative consultant and helped develop the hit Disney Channel animated series, Fish Hooks, and voices the character Clamantha in the series. Hirsch chose Oregon as the setting for Gravity Falls after spending a summer there during college working for the animation studio Laika. Born and raised in Piedmont, California, Hirsch currently resides in Los Angeles, California.

Michael Rianda is creative director of Disney Channel's animated comedy series Gravity Falls. Rianda studied animation at California Institute of the Arts (CalArts), and further pursued his love of cartoons and animation, holding positions at Pixar and JibJab Media. A native of Salinas, California, Rianda currently resides in Burbank and enjoys singing karaoke in his free time.
-Submissions must be received by 11:59:59 PM (PST) on January 31st, 2013.
-You may submit up to 5 entries per person
-All entries must be in one of the following file formats: GIF/PNG/JPG.
-By entering the contest ("Promotion"), you indicate your full and unconditional agreement to, and acceptance of, (a) the Official Rules and (b) Mighty Fine's ("Sponsor") decisions, which are final and binding. Winning a prize is contingent upon fulfilling all requirements set forth herein.
Grand Prize: Up to $2,000! We will start the grand prize at $1,000. We will track the number of ratings in the contest; for every 100 new ratings after 100,000 ratings, the dollar value of the grand prize will go up $1. Be sure to tell ALL your friends, family and internet pals to rate every design! With enough rates, the prize could reach a maximum of $2,000 cash! ALSO grand prize winner will win an original signed drawing by the creator, Alex Hirsch (Subject to availability).
Guest Judges' picks (2): Our guest judges will each select their personal favorite design, and those artists will win $400 cash!
Runner-Up (2): Two runner-up will receive a $150 gift certificate for WeLoveFine.com
Honorable Mention (5): Five honorable mentions will receive a $50 gift certificate for WeLoveFine.com
*All winning designs will be put into consideration for printing (Subject to Licensor Approval)

Deadline to submit: 1/31/2013 11:59PM PST