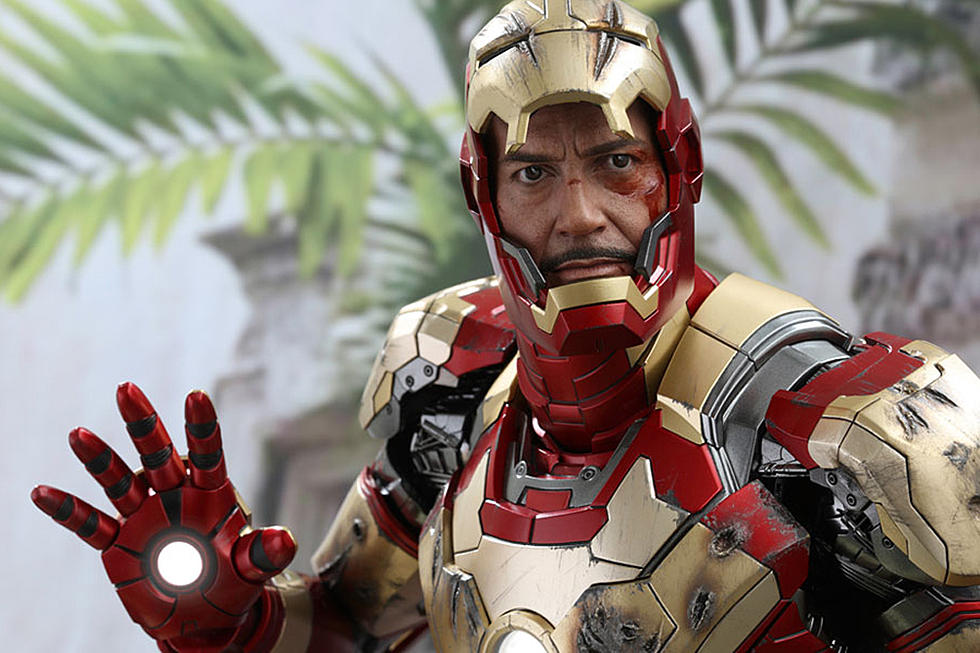 Hot Toys Goes Back to the Iron Man 3 Well for Its Latest Quarter-Scale Figure
Hot Toys
With this latest entry in the Hot Toys' quarter-scale line, the Hong Kong company is certainly trying to go toe-to-toe with Tony Stark's very own Hall of Armor. We're well beyond the half-century mark with regards to the number of Iron Man pieces in Hot Toys' catalog, and that's only counting the actual sixth- and quarter-scale figures. We might be approaching nearly 100 different figures if we start throwing in the Cosbaby and Artist Mix lines as well.
But I've since come to embrace Hot Toys' Iron Man favoritism. Iron Man sells, and if putting out another half-dozen Tony Stark figures over the course of the next year means we'll get more interesting characters from other licenses, so be it. It's not like they're bad figures either. This Iron Man 3 MK XLII is pretty damn impressive, even if it's a suit that's been done a few hundred times by Hot Toys and a number of other toy companies.
The MK XLII armor is just the seventh quarter-scale figure Hot Toys has produced --- the last three of which have all been Iron Man, including the MK XLIII from Avengers: Age of Ultron. Having that armor set already made makes the transition to the earlier, color-reversed version a bit easier, but there's still some newness to this latest figure. It's not just a straight up repaint, and to be fair, reusing assets like this is fairly common in toy manufacturing. Hot Toys gets a bit more guff than the average company though because its products are typically so exorbitantly priced.
This figure comes with two new head sculpts, featuring a beaten Tony Stark face that's been designed just for this figure, and a more traditional close helmet with LED lights. Both use interchangeable face plates, so you can mix and match your clean and damaged Iron Man looks at will without having to change the head completely. Unless of course you want to swap between the Tony head and the light-up head. The level of detailing surpasses what you'd normally expect from a Hot Toys figure, as the larger size gives the sculptors a bit more to work with. We've seen a lot of Robert Downey portraits over the last decade, but you'd be hard-pressed to find a more accurate likeness than the last few quarter-scale Iron Man figures from Hot Toys.
I do enjoy a good scarred up paint app, and the MK XLII has that in spades. Iron Man gets his butt kicked thoroughly in the film, and that's reflected quite nicely here in the figure. The scoring and damaged metal work really pops against the crisp metallic paints. The addition of a blue LED to illuminate the undercarriage areas is a nice touch too, and brings just a bit more realism to the figure than the 1/6 scale version. These are the kinds of small inclusions you can get away with on the larger figures, and that go a long way in making them stand out from Hot Toys ever-so-slightly more affordable options. Relatively speaking of course.
The standard version comes with a plain old figure stand (that looks an awful lot like the current Star Wars stands), but the deluxe edition includes a light-up gantry base with a bigger etched nameplate. It too lights up, and calls back to the Iron Man 2 suit-up gantry set Hot Toys released even if it's only a stand and not quite as detailed and articulated. Getting the deluxe version will set you back $30 more, but everything else included is identical. If you're already dropping nearly $550 on a figure, you might as well go all the way and get a dramatic diorama base to pose it on.