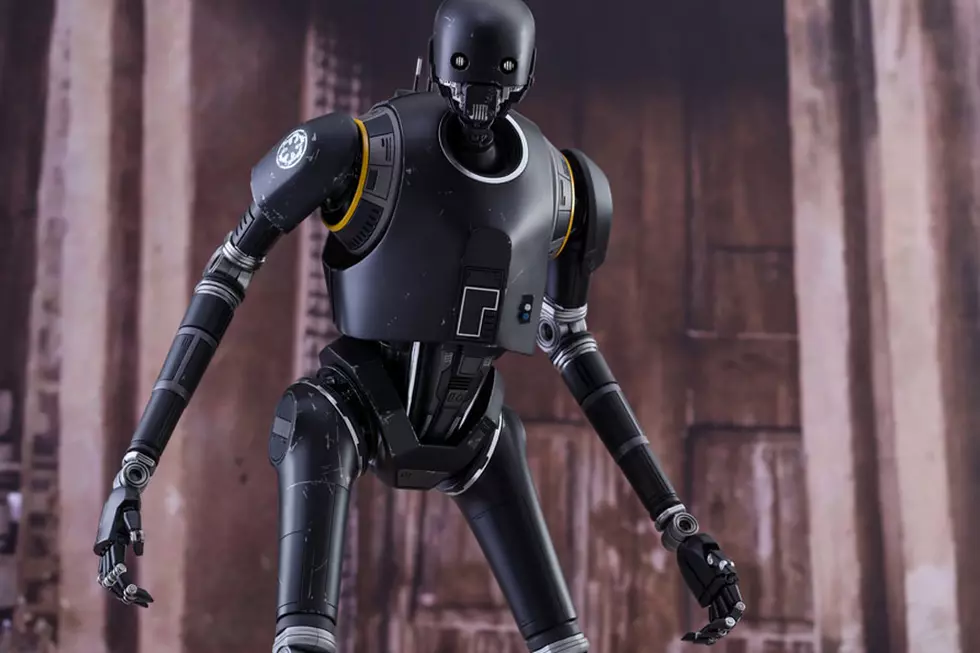 Hot Toys' Star Wars: Rogue One Figures Are K-2SO Hot Right Now
Hot Toys
As expected, K-2SO was indeed announced as the next figure in the Hot Toys Star Wars: Rogue One collection. The former Imperial droid now joins several types of Stormtroopers and Deathtroopers, Jyn Erso and Chirrut Imwe, in the rapidly expanding line, which will only continue to grow in the coming weeks and months. We already know there are several other human characters planned, as well as some more Empire forces, but we're getting ahead of ourselves. Right now the focus should be on K-2SO, who will hope to join the short list of memorable droids in Star Wars movies.
What I like about the figure is that the design is unlike almost anything we've seen in a Star Wars droid before. Sure you have your C-3POs, GNKs and your 4-LOMs, but droids with this kind of frame are rather a rare sight. Most fit into the standard frames and forms from the original trilogy, but with the expansion of the lore into new features comes the need to explore some new designs. K-2SO's a bit more elaborate than we've seen in the past from the Empire, and his elongated humanoid design brings with it a great silhouette.
As an action figure, there's also plenty of room for articulation here, unlike in some of Hot Toys' other robotic figures for characters like Ultron or Appleseed's Briareos. The thin arms and legs mean there aren't a lot of elements preventing his arms and legs moving accordingly, though I am a bit worried about how he might balance given how stout his torso is compared to his lower half.
There's not a lot of accessorization, but K-2SO does come with a pistol and grenade. He also has light-up eyes, which can rotate. That's something Hot Toys doesn't often include in its more standard figures, but given how you can hide the articulation tooling inside K-2SO's droid head, it makes sense. Additionally, despite being a rather plainly colored figure, the paint app is nicely detailed. There's some terrific weathering effects, and the matte black style is a nice way to differentiate Kaytoo from the typical glossy black sheen associated with the Imperial forces.