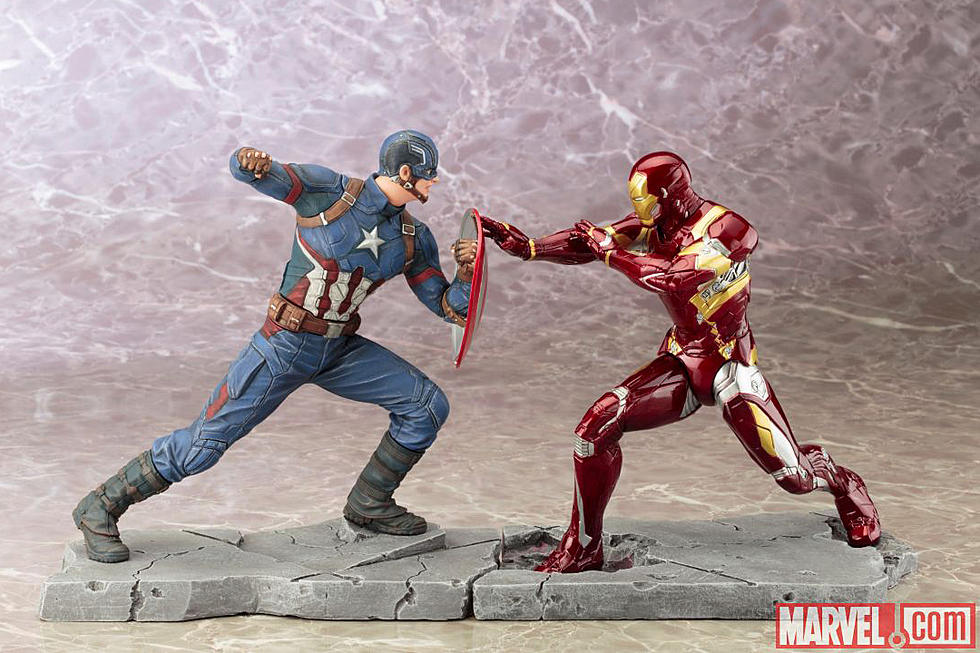 It's Captain America vs Iron Man in Kotobukiya's Latest Statue Series
Kotobukiya
In a few weeks, all the lead-up to Captain America: Civil War will finally come to a head. Long after the movie's release however, Kotobukiya will still be celebrating the big throwdown between the heavyweights late into the fall. Following up on the Hulk vs Hulkbuster and Batman vs Superman ArtFX+ statue series done previously, both Captain America and Iron Man will get new pieces meant to connect together to form one larger statue.
As with the previous works Kotobukiya has released in this style, Cap and Iron Man will be made available separately, with each captured in a pose that works well enough on its own. If you manage to snag both however, you get to create a nifty little diorama of Steve and Tony facing off in extremely close quarters.
Each statue was sculpted by Junnosuke Abe, and will stand at 7" tall. On his own, the Captain America statue looks like he's leading the Avengers into battle. There's a lot of great detail present, even at this scale, and the piece manages to capture Cap's intensity without making him look crazed like the Hulk. Even in this early prototype stage, I'm not wild about the paint app though. It's so washed out, it looks like Cap is headed to a Neil Diamond concert instead of a big fight with his best friend. The bold of that blue needs to be cranked up immensely.
Iron Man fares much better in that department, but it's not surprising given how well Koto's done with previous Iron Man pieces. The stand-alone pose gives the impression of some action happening in the scene, the crumbling ground beneath his feet gives the impression of just how heavy Iron Man is in real life. The MK XLVI armor being the focal point isn't surprising, but it will be interesting to see if that's the only suit Tony wears in the actual film.
Both Captain America and Iron Man will be available this October. No price point has been set yet, but Kotobukiya will likely have more details later this year.
Brush Up on Your Civil War Knowledge With These Videos