 The 10 Top Marvel Comics Coming in March 2011
Another month, another batch of solicits from Marvel! Who's going to die in Fantastic Four? What series is too hyped up? What is a dirty, dirty trick to get you to buy comics you don't want? We can't answer any of those questions, but we can tell you the ten best Marvel books worth picking out and pre-ordering. After the jump, we've got X-Men, space gods, Punishers, Crossgen revivals, and a little bit of David Bowie, just for you.

10. ICEMAN AND ANGEL #1



Writer by BRIAN CLEVINGER

Art by JUAN DOE

Cover by ROGER CRUZ

Nothing ruins spring break faster for Iceman and Angel than a giant monster stomping through the streets of their city. But what are two young mutants to do when all the "real" superheroes are too busy to help? And why is GOOM, The Thing from Planet X running amok in the first place? It's a superhero mutant monster spring-break bash! Woo!

32 PGS/Rated A...$2.99
One of the best things we don't see much of any more is the relationship between the original X-Men. The modern series is all about hard decisions, hard edges, and hard core self protection, but back in the day, they were just a bunch of kids who hung out together. Iceman and Angel in particular were pretty fun together, because one was a goofball and the other was a self-styled ladies man. Brian Clevinger has proven that he can do stories like this, where he takes a slice of time and expands on it in a meaningful way, and Juan Doe is a pretty great artist. Add in GOOM, a classic Marvel villain, and you've got a story that I think is going to be a pretty good read. X-Men First Class may be dead in name, but these one-shots are doing a pretty good job of keeping the feeling alive.

9. 5 RONIN #1 - # 5



Written by Peter Milligan

Penciled by Tomm Coker, Dalibor TalajiC, Laurence Campbell, Goran Parlov & Leandro Fernandez

Covers by John Cassaday, Mark Brooks, Giuseppe Camuncoli, David Mack, Ed McGuiness & David Aja

5 Books, 5 Heroes-1 unforgettable story of heroes pushed to their limits. It is 17th century Japan, a time and place of violent upheaval, wandering Ronin, and mysterious Geisha. Into this strange and dangerous world come Wolverine, Psylocke, Punisher, Hulk and Deadpool. Five of Marvel's greatest heroes...as you've never seen them before. Each has been wronged by a powerful tyrant. Each has taken a solemn vow...of vengeance!

5 Books, 5 Heroes, 5 Weeks...1 spell-binding story.

32 PGS./Parental Advisory ...$2.99
In anyone else's hands, I would even remotely want to recommend 5 Ronins to you, but this creative team is hard to deny. When Peter Milligan is on, he's one of the best writers in the business. When he's off... X-Men happens. Regardless, this sounds like something Milligan could knock out of the park in his sleep. He's at his best when working with matters of identity, and transplanting this motley crew of heroes to an all-new, but familiar, setting sounds right up his alley. I hope that it's better than the summary makes it sound, but I have faith. The artists are very good, too, made up of artists who have done a number of very readable Punisher MAX one-shots over the past few years. Tomm Coker in particular is a dude who could use a ton of more work. He's fantastic. Check out that amazing cover for the Punisher issue by Giuseppe Camuncoli. That's one of the best Punisher covers in ages, including Dave Johnson's stellar work on Jason Aaron and Steve Dillon's Punishermax. A clever idea executed well counts for a lot. Great colors, too.

8. SIGIL #1 (of 4)



Written by MIKE CAREY

Penciled by LEONARD KIRK

Cover by JELENA KEVIC-DJURJEVIC

Variant Cover by ED McGUINNESS

In the war for forever, time is only an obstacle. Warriors jump from century to century, their battlefields span all of history but have led them to a stalemate. But now a 16 year old girl from present-day South Carolina will turn the tide. The symbol on her chest makes her part of this war, but will she save us or damn all of creation? New York Times best-selling scribe Mike Carey (Age of X, The Unwritten) and Leonard Kirk (New Mutants) begin the next great comic epic.

32 PGS./Rated T+ ...$2.99


Written by Mark Waid

Art by MIRCO PIERFEDERICI

Cover by BUTCH GUICE & MIKE PERKINS

Variant Cover by MITCH BREITWEISER

Renowned as the Victorian world's greatest detective, Simon Archard is the most intelligent of men. But when he crosses paths with the mysterious and enchanting Emma Bishop, has the smartest man in the world met his equal? Brought to readers by superstar writer Mark Waid (Amazing Spider-Man) and red-hot artist Mirco Pierfederici (Tron: Original Movie Adaptation), this is the new comic series that'll leave you breathless.

32 PGS./Rated T+ ...$2.99
These two resurrected Crossgen titles belong together, despite being standalone tales. Back in the day, Crossgen had some pretty well done series that theoretically all tied in together. Marvel must've agreed, because before and after Crossgen went bust, they scooped up a ton of their talent to produce their own comics. An actual, true-blue Crossgen revival was a pipe dream, though, since their IP had been sold off to other companies, including Disney. Until Disney bought Marvel, of course, and suddenly Crossgen was on the table again. Rather than just pumping out a few cheap sequels, Marvel seems to be going about the revival the way they should: with top flight writers and artists. The first solicits are a little hype-y, but I think that these will end up being a couple of good miniseries. The cover to Sigil #1 is fantastic, too. Top notch work from Jelena Kevic-Djurjevic, especially in the eyes.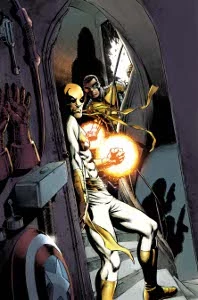 6. POWER MAN AND IRON FIST #3 (of 5)



Written by FRED VAN LENTE

Penciled by WELLINTON ALVES

Cover by MIKE PERKINS

Want super powers to make yourself a Black Ops wetwork specialist overnight? Need an ultra-tech weapon to take down the local government? If you have money to burn we have the ultimate illegal auction web site for you: TWILIGHT IDOL, where the equipment and DNA of great heroes of the Golden Age and today go to the highest anonymous bidder. Power Man and Iron Fist follow the clues to Crime-Buster's clues here, but to go any further they'll have to get past its owner, the world's greatest--and deadliest--gambler, POKERFACE! (Hold 'em like they do in Texas, please...)

32 PGS./Rated A ...$2.99
Shadowland: Power Man was an extremely bright spot in the otherwise dismal Shadowland event. Fred Van Lente and Mahmud Asrar created a character that was almost instantly interesting, viable, and vibrant. Power Man and Iron Fist looks to be more of the same, but with a focus on establishing the all-new Power Man in the Marvel universe. Judging by the solicit and cover, this means taking him on a trip through the more obscure, or brand-new, areas of the universe. At this point, Van Lente can practically do no wrong as far as character-based comics go, and Alves made a name for himself working on Marvel's cosmic books. This series seems like a sure bet.

5. STRANGE TALES II HC

Written by VARIOUS

Penciled by VARIOUS

Cover by RAFAEL GRAMPA

The critically acclaimed indie anthology returns as the best, most exciting cartoonists working today re-imagine Marvel's greatest characters! Get excited, folks. Comics absolutely do not get more awesome than this! Don't miss out on what's guaranteed to be one of the best reads of the year! Collecting STRANGE TALES II #1-3.

152 PGS./Parental Advisory ...$24.99

ISBN: 978-0-7851-4822-7

Trim size: oversized
At $24.99 the price is a bit much (Strange Tales II was three issues for five bucks a piece, which means you're paying ten dollars plus tax for a few sketches and a hardback), but Strange Tales II was fantastic. Every issue had three or four stories that were worth your time, minimum, and that included stand-out work from Kate Beaton, Los Bros Hernandez, Jeffrey Brown, and a ton of others. The creators involved in the project clearly had a ton of freedom to create their stories, so the number of stories that are just regular old Spider-Man tales are more or less on par with the number of stories that are wacky takes on your favorite characters. It makes for a book that's a weird, but enjoyable, mix of hilarious disrespect and something approaching solemnity.

4. ANNIHILATORS #1 (OF 4)



Written by DAN ABNETT & ANDY LANNING

Penciled by TAN ENG HUAT & TIMOTHY GREEN II

Covers by ALEX GARNER & MIKE MIGNOLA

Because you -- yes,you! -- demanded it: Marvel's all-star cosmic team – and cult faves Rocket Raccoon & Groot – in one massive mini! The Silver Surfer! Beta-Ray Bill! Gladiator! Quasar! Ronan! When the Dire Wraiths strike, Cosmic Masters DnA (THE THANOS IMPERATIVE, THOR/IRON MAN) and Tan Eng Huat (SILVER SURFER, THOR: FIRST THUNDER) assemble the heaviest hitters in all the universe to save the day! And there's more! Plus: the demented duo of Rocket Raccoon and Groot return for their own, new-reader-friendly adventure! What do you do after you've saved the galaxy? DnA and the fabulous Timothy Green II (STAR-LORD) answer that with madcap SF combat and swashbuckling, space-faring mayhem!

48 PGS./Rated T+ ...$4.99
As it turns out, DnA and Marvel's cosmic comics were just too good to go away. While the Rocket Raccoon & Groot half of the book was originally intended to be a standalone miniseries of its own, but this packaging is probably a better idea. Now, we get both the undoubtedly high impact cosmic action that the Annihilators bring to the table and the smart-mouth antics of Rocket Raccoon and Groot. This is sure to be a weird book, but DnA have proven that they can juggle weird ideas just as well as anyone else. This might be the last hurrah for Marvel's cosmic line or just the first of several miniseries exploring the new status quo, but it's definitely gonna be worth checking out.

3. PUNISHERMAX #11



Written by Jason Aaron

Penciled by Steve Dillon

Cover by DAVE JOHNSON

"BULLSEYE, CONCLUSION"

The final epic confrontation between Frank Castle and Bullseye, as the maniac assassin hits Punisher with everything in his arsenal, including a dark secret that cuts Frank to his core. Even if Frank survives, he will never again be the same.

32 PGS./Explicit Content ...$3.99
Speaking of dependable creative teams... Steve Dillon is a legend for a reason. While people poke fun at his faces, what they're missing is that the guy knows how to stage an action scene, absolutely kills on facial expressions, and draws people that look like real people. He's also made the Punisher his character with his work over the past ten years, and finally seeing him on a mature readers take has been awesome. Aaron's story does a good job of blending Marvel universe ideas with the hard-edged world the MAX version of Frank Castle lives in. The title of the series still kinda sucks, but once you get past that... these're good comics.
2. ASTONISHING X-MEN: XENOGENESIS PREMIERE HC



Written by WARREN ELLIS

Penciled by KAARE ANDREWS

Cover by KAARE ANDREWS

The superstar team of Warren Ellis and Kaare Andrews (SPIDER-MAN: REIGN) take the X-Men into the Heroic Age! Something's happening in the tiny East African city of Mbangwi. Something that requires immediate investigation. A newborn sprouts metal electrodes and explodes, taking out an entire hospital. Is this the first wave of mutant rebirth that the X-Men have been praying for - or something very, very different? Something sinister? Collecting ASTONISHING X-MEN: XENOGENESIS #1-5 and material from ASTONISHING X-MEN: XENOGENESIS #1 DIRECTOR'S CUT.

160 PGS./Rated T+ ...$24.99

ISBN: 978-0-7851-4491-5

Trim size: standard
Talk about polarizing. You're either going to love or hate Kaare Andrews's art in this one. Put me firmly in the camp of loving it. It's off-model and weird and easily the most interesting thing to happen to the X-Men in years. What's amazing is how he perfectly nails the personality of all of these characters through his art. Wolverine is your classic cowboy gruff dude, Beast walks that line between monster and man, Cyclops is a total stick in the mud, and Emma is absurdly sexed up. It's not traditional, but for my money, give me something new and fresh over tradition every time. Ellis's story is okay, but if you're picking this book up, you're going to get it based off the strength of Andrews's work.

1. DEADPOOL #34



Written by Daniel Way

Penciled by Carlo Barberi

Cover by DAVE JOHNSON

Captain America 70th Anniversary

Variant Cover by ED McGUINNESS

"Space Oddity," Part 2 of 3

Deadpool, intent on re-establishing his rep as the best there is at what he does, has taken on his biggest gig yet: he's gonna kill a planet! Well, not quite a planet. Introducing: Id the Selfish Moon! You're gonna hate this guy.

32 PGS./Parental Advisory ...$2.99
Look, I realize that it's a Deadpool comic and there are too many of those. I get it, I really do. But, when you put a concept like "Id the Selfish Moon" in front of me, and then let Dave Johnson draw the cover? And the story arc is called "Space Oddity?" Well, Ground Control to Major Tom: Take your protein pills, put your helmet on, and just sit back and enjoy the experience.