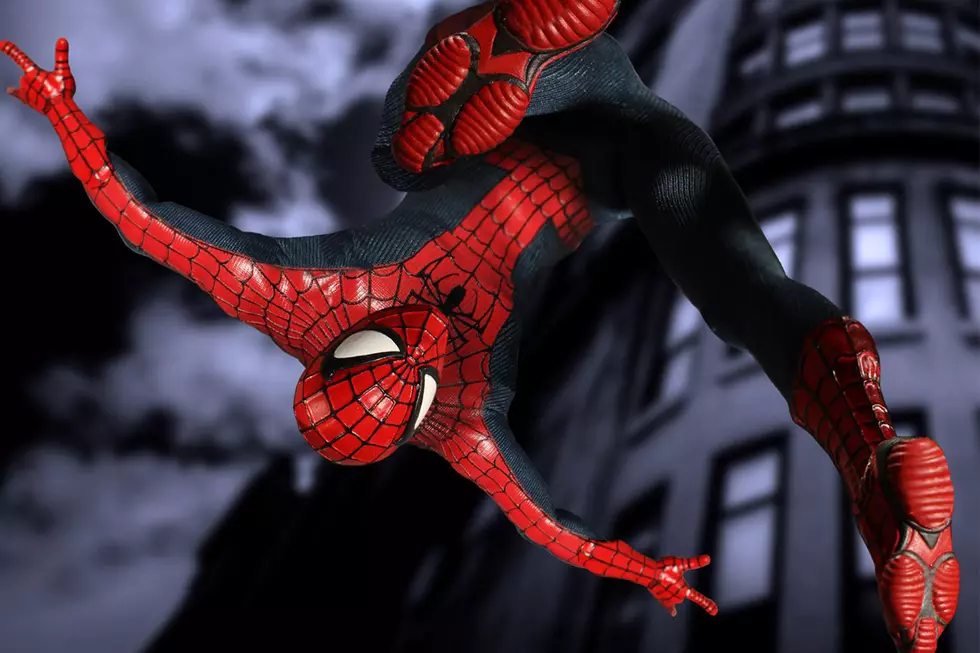 Look Out, Here Comes Mezco's One:12 Collective Spider-Man
Mezco
If there's one truth about comic book toys, it's that there's never a shortage of Spider-Man figures in the wild to add to your collection. From mass market figures for adult and kid collectors to bigger, more elaborate pieces, it's hard to find a way to stand out from the crowd in this modern era of Spider-indulgence. Mezco's been working very hard at setting itself apart from the rest of the competition with its One:12 Collective, and its new Spider-Man figure has just the right mix of classic sensibilities with modern design to make it a promising toy.
The use of the non-hyphenated version of his name on the promotional materials notwithstanding, Mezco's new Spider-Man figure looks incredibly strong. There's yet to be any true duds in the One:12 Collective across the line, and Spidey here looks to keep that trend going strong. We caught a glimpse of him at the summer conventions this year, but the final version of the red and blue iteration is looking spiffy as ever now that it's finally available for pre-order.
Unlike some of the other One:12 Collective masked characters, Spider-Man doesn't come with an unmasked alternate portrait. Instead, you can have the classic Ditko eyes, or the more popular McFarlane/Bagley eyes that are so synonymous with the character these days. I like the narrow-eyed look, particularly with this darker palette used for the red and blue elements of the costume. I do wish we got a Peter Parker head though, just because I always like the look of Peter in the suit but without his mask.
In addition to a number of different hands to pose him with, Mezco's also included a handful of web accessories for multiple poses. I'm curious to see how they affect the balance of the figure when attached, but the variety in the webbing designs is certainly a welcome touch. The balance may not be a factor at all anyway, as Spider-Man has a whole new body built specifically for this figure with 30 points of articulation. Judging by these promo shots, we'll be able to get the webhead in nearly any pose we can think of.
The One:12 Collective Spider-Man is available for pre-order now for $80. It's expected to arrive between May and July 2017.