Oni Announces Webcomics Content, New Titles For 2013 [NYCC 2012]
In January comic book and graphic novel publisher Oni Press will relaunch its website as a new webcomics hub, featuring free comics every week day. The material will include at least two brand new serials a week and a mixture of previously published comics. After the serials conclude they will be released in print as graphic novels. This long-in-the-works initiative was made official at Friday's Oni Press panel at New York Comic Con, where Editor-in-Chief James Lucas Jones spoke more about the publisher's new projects from creators including Cullen Bunn, Joëlle Jones, Joe Harris, Brian Churilla... and Chris Sims.
What was referred to as Season One of the new OniPress.com will launch with two serials, Buzz and A Boy & A Girl. The former is created by Ananth Panaguiya (Johnny Wander) and Tessa Stone, and invites readers into the cutthroat world of professional spellers. In the story, spelling bees are as popular as football and basketball, and its characters work their way up the ranks through illegal back-alley spelling matches. Panaguiya said he spent a month watching spelling bees on television and found something "weirdly brutal" about the behavior of the 10-year-old competitors. Because the story necessitates that words play a very important role, Tessa Stone was the writer's first choice to draw it, on account of her strong use of type in other comics.
A Boy & A Girl comes courtesy of Jamie S. Rich and Natalie Nourigat, and was described by Jones as a science fiction romance set in a Blade Runner-style world. "How do you find human connection when so many people are androids?"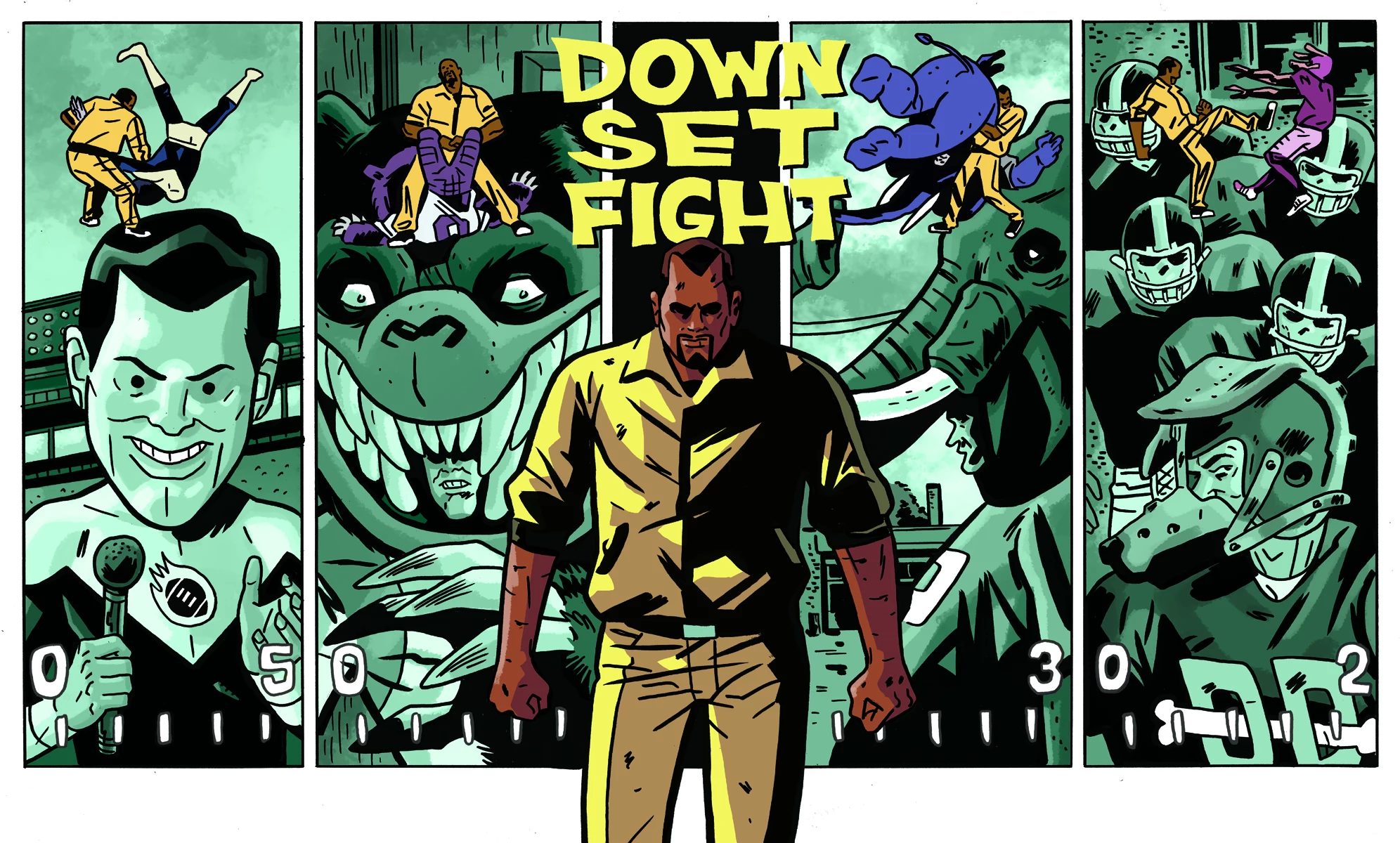 Season Two begins with April's Down Set Fight, created by writers Chris Sims and Chad Bowers and drawn by Scott Kowalchick. Sims, who is of course ComicsAlliance's Senior Writer, said the story follows a football star who was once considered a prodigy but whose career collapsed after a run in with an unruly mascot that resulted in a massive brawl by which the hero beat up that mascot, that mascot's entire team, and his own mascot and team. Fifteen years later, he teaches high school football, but a chance encounter with another mascot sets him off on a quest of romance, fighting and football. Sims and Bowers also said Down Set Fight has a strong father/son dimension to the story.
In the print realm, next summer Oni debuts Wars in Toyland by writer Joe Harris (Ghost Projekt) and artist Adam Pollina. The writer described the series as a "dark, dark children's story" about a psychic realm where a child's toys are alive and locked in a violent civil war. The main character finds himself a pivotal figure in the struggle before discovering that his own brother is also trapped in the same nightmarish world. The artwork by Pollina looks excellent.
Helheim is the latest from Cullen Bunn, whose The Sixth Gun series has been a critical hit for Oni. The book is illustrated by Joëlle Jones and in a style distinctly different than the generally more "cute" one she's been known to employ. Described by Bunn as "Frankenstein in the viking era," the book is a dark fantasy series that follows a great hero whose honorable death and journey to "paradise" is undone when he's brought back and thrust into a war between two witches, a war that "corrupts everything" in the world to the degree that the warrior questions whether he deserves the peaceful afterlife for which he yearns so deeply. The six-issue series launches in March 2013.
In other Bunn news, The Sixth Gun will see its first spinoff in the form of The Sixth Gun: Sons of the Gun, which reveals the origin story of the four lieutenants seen earlier in the series. Co-written with Sixth Gun artist Brian Hurtt and drawn by Brian Churilla, the book will depict how the titular gun changes those who possess it, and was described as "a story of villains... of really horrible people."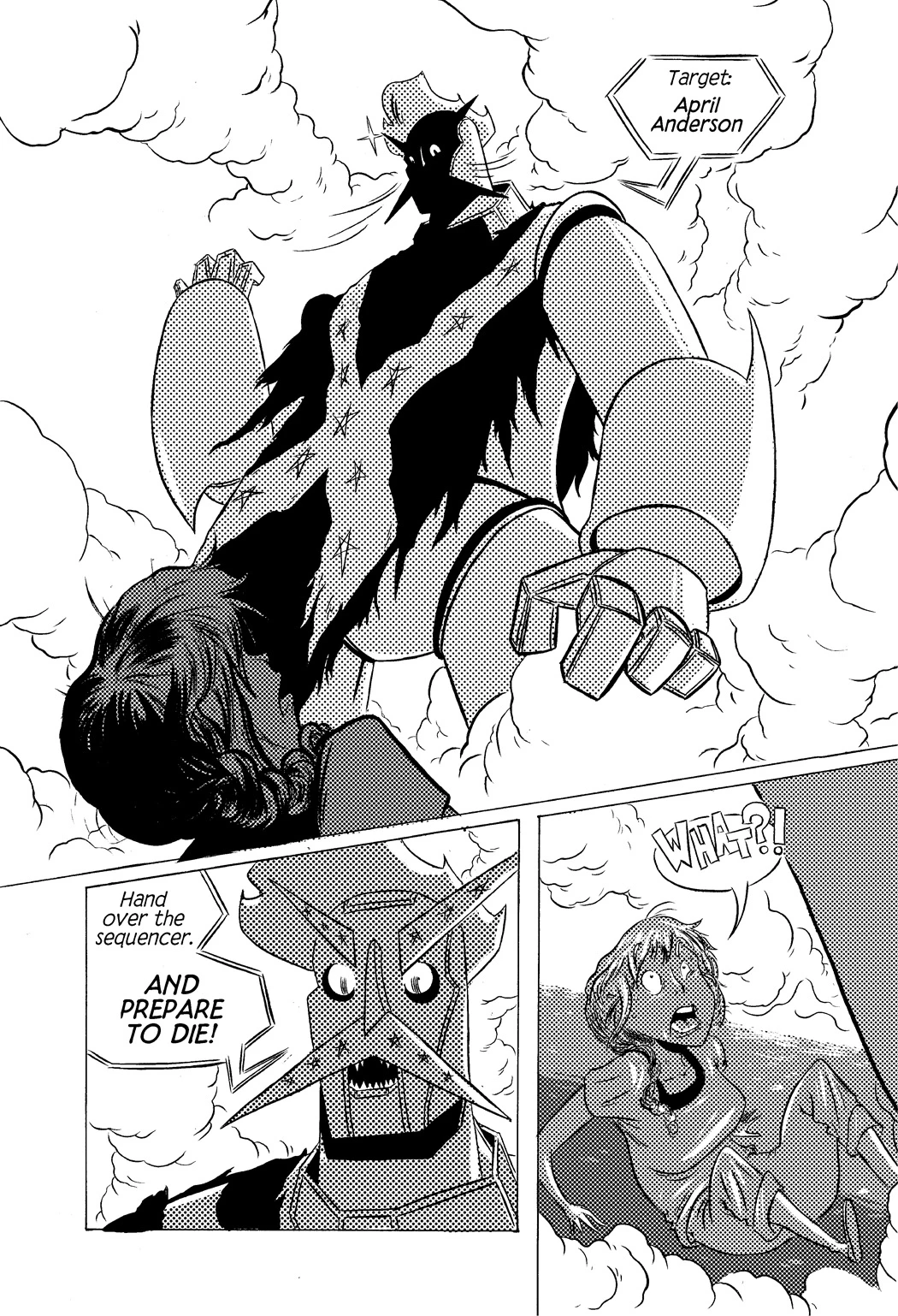 Also on the way from Oni is Wook-Jin Clark's Megagogo, "an American Shonen story featuring a super sentai style team operating out of Atlanta, Georgia" that combines the artists love of tokusatsu with his hatred of bigotry.
The panel also confirmed that a deluxe hardcover edition of The Sixth Gun is tentatively scheduled for late spring. The oversized book will collect issues #1-11 and include substantial supplemental material. In the meantime, former Lost executive producer Carlton Cuse is developing a Sixth Gun live action TV pilot episode for NBC.