Comics Artist Francesco Francavilla Calls Out TeeFury For 'Ripping Off' Artwork [Updated]
"I don't usually use the F word, but this is unF@#%ingbelievable," wrote Francesco Francavilla on Twitter early Monday morning. The comic book artist with a long list of credits including Zorro and Outlaw Territory awoke to discover that TeeFury.com, an apparel website specializing in geeky pop culture T-shirts that are made available for only one day, was selling a product featuring artwork that appears to be based on a piece he created back in 2006. An illustration of author H.P. Lovecraft and his creation Cthulhu, Francavilla's work, which referenced an old photograph, is strikingly similar to a new piece by Jimi Benedict aka Jimiyo, who is also the Art Director of TeeFury.
Francavilla is not credited in any way for the work, which is selling for $10 a shirt, and has of this writing been unable to establish communication with TeeFury. A resolution seems unlikely given a May 31 blog post entitled "STFU Comparison Police," in which Benedict made his views plain:
Screw other people's opinion about whether you ripped an idea or not. They don't know what's in your heart, and even then, art is a business, it's competitive, and barring any infractions of actual executable law, all is fair in love, art, and war.
A great deal of the artwork used to sell t-shirts, swimsuits and other clothes from companies like TeeFury, Threadless, Black Milk and David Goliath tends to be of the pop-cultural-remix variety, whereby two or more familiar components from famous films, comics, television series or popular Internet memes are combined to create something that's typically very cute and, more crucially, legally distinct from anyone else's intellectual property. Nevertheless, these companies and others like them have always been criticized for trading in material that is obviously indebted to someone else's work and precariously close to copyright infringement, if not outright theft (as was the case with
Jess Fink and David and Goliath's Todd Goldman
).

The artwork used on these kinds of T-shirts is typically submitted by customers and other individuals who wish to see their designs and illustrations made into clothes and get paid for their work. Unfortunately, user-generated content makes thorough vetting for copyright infringement very difficult. The problem is compounded by the fact that the clothes are usually made available only for an extremely brief amount of time, giving offended artists very little recourse should they discover their work has been pilfered. Essentially, there is no built-in oversight nor a functioning mechanism by which creators like Francesco Francavilla can seek injunctions and reparations, not outside the costly and tedious legal system, anyway.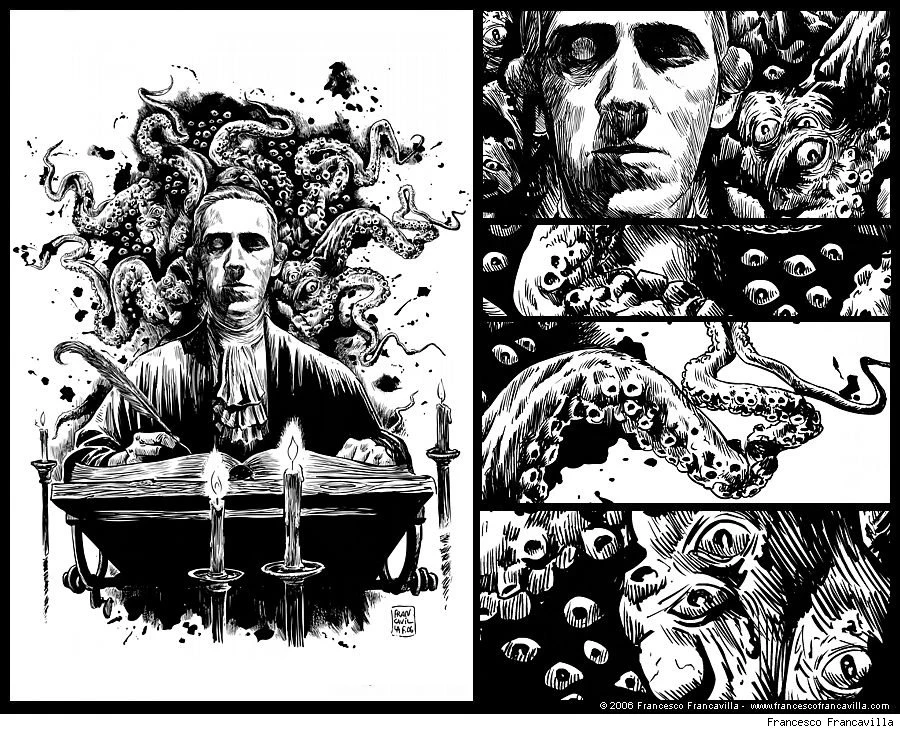 In preparing this post ComicsAlliance consulted with Brendan P. McFeely, an intellectual property attorney at Kane Kessler, P.C., who confirmed that in the United States, the law is such that the creation of a new work inspired by another work has to be sufficiently "transformative" -- i.e., it has to create an entirely new work -- in order to qualify for the "fair use" defense against copyright infringement. For the Lovecraft T-shirt to fall under "fair use," it would have to employ very little of the original Francavalla work and that use would have to be transformative. The end use of the material would also be factored in -- in this case, profit.
McFeely believes that TeeFury's version of the Francavalla image may not sufficiently transformative, and that Francavalla or his attorney could draft a letter to TeeFury setting forth at least five points of similarity between the two images. Among them, the figure of Lovecraft himself, who is identical right down to the artist's shading (although his clothing has been modified). The unusual right eye has also been maintained in the TeeFury version.

UPDATE: Shortly after publishing this post, we learned that Francavilla's piece references an old photograph of Lovecraft in which the figure and shading are also similar. McFeely said that "definitely complicates things" and makes the argument that TeeFury infringed upon Francavilla's work that much harder. "It's entirely possible that they could have been inspired by the same photograph to create two very similar pieces," he said.
However, it would seem that Francavilla innovated the creepy right eye element of the piece, which is also present in TeeFury's version.

As you can see in his portfolio, TeeFury's Art Director Jimi Benedict has created a number of works with similarities to other people's illustrations, designs and photographs. He is credited with the Lovecraft design for September 26's TeeFury offering, and addressed the question of artwork similarities and theft in a blog post back in May. In the post, entitled "STFU Comparison Police," Benedict detailed the creation of another piece that was similar to the work of other artists. He concluded that no ideas are original and that "marketing" is the critical factor in these matters.
IMO, it's easy to get butthurt when you're so vain that you think you've come up with a wholly original idea, but let's face it, everyone's inspired by someone else, and to get butthurt about getting ripped is more about you inability to market and be successful with your own art than the one succeeding in marketing it. So get your ass out there and market.

As Voltaire once stated, "Originality is nothing but judicious imitation."

As Picasso once stated, "Bad artists copy. Good artists steal."

As Olly Moss once stated, "Bad artists copy. Good artists steal. - Olly Moss"

As I stated centuries ago before anyone else did, "Originality is nothing but judicious stealing. - jimiyo"
Neither Benedict nor another TeeFury representative responded to inquiries from ComicsAlliance.
For those interested in purchasing a t-shirt with Francavalla's Lovecraft image, the artist has been selling an authorized version on Zazzle for the last several years.