Robert Crumb's 'Genesis' Exhibit Comes to Portland [Pics]
"The Bible Illuminated: R. Crumb's Book of Genesis," a touring exhibit of original art from Robert Crumb's 224-page graphic retelling of the first book of the Bible, has finally arrived in the Northwest comics mecca of Portland, Oregon at the Portland Art Museum where it will be on display until September 19th, and local comics artists like Steve Lieber, Erika Moen, Jesse Reklaw, and Craig Thompson will be on hand every Sunday from 2-4 pm to either discuss his work with patrons or demonstrate their own.

"The Book of Genesis Illustrated" stirred up some controversy after it was first published in 2009, with some complaining that the visualization of the religious text (and the incest, rape, and murder within in its pages) sensationalized its R-rated elements. Despite Crumb's well-deserved reputation as a counterculture satirist, however, "Genesis" is unblinkingly faithful to the original text. It was, as he explains in a hand-lettered introduction blown up to something like 8 feet tall on a museum wall, "a straight illustration job, with no intention to ridicule or make visual jokes."
It's easy to see how the exhibit of 207 identically-sized black and white pages could have been a sterile, monotonous affair, but instead it is a visual delight, alternating plain white walls with vivid, dramatic shades of red, green and blue, and oval portraits of Biblical characters hung like cameo pins over the art. "I broke it up into chunks and put some color behind it, and gave it a chance to flow," said Bruce Guenther, the chief curator of the Portland Art Museum and Crumb.
Check out more pictures from the exhibit after the jump.

A life-sized cut-out of Crumb greets museum-goers at the entrance to the exhibit.
Cain and Abel as cameos.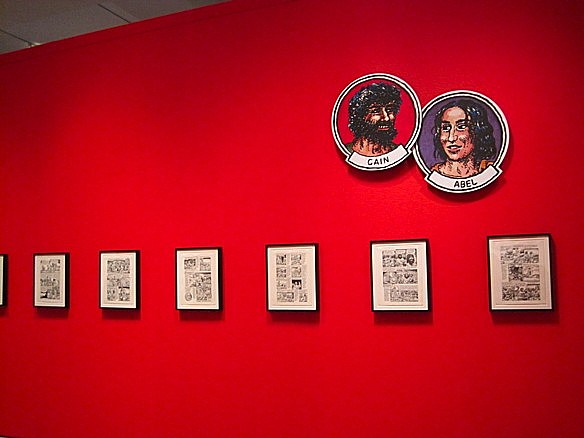 Crumbs hangs with museum patrons.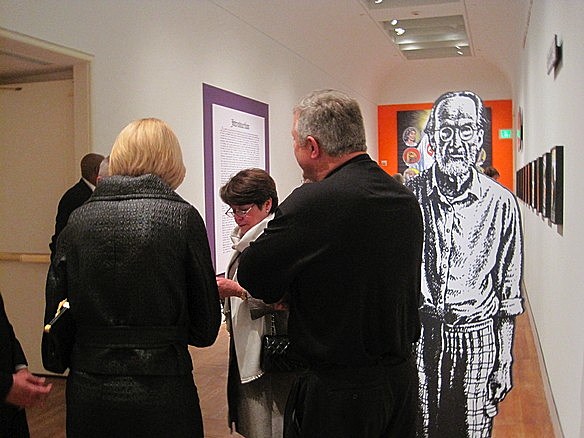 Crumb's source materials and photo references.


A sketch of God, as he appeared to Crumb in a dream.


More source materials and photoreference, particularly of camels.


Skinny cows.


The evening festivities to celebrate opening night, complete with oversized Crumb characters.