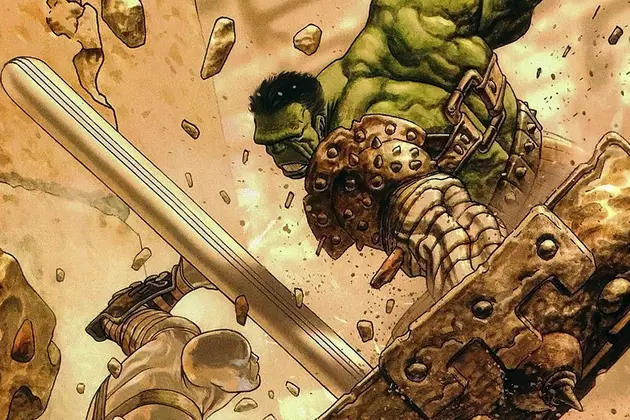 Rumor: 'Thor: Ragnarok' Adds a Little 'Planet Hulk' to the Mix
Marvel
Typically, we approach rumors with a healthy amount of skepticism, as so many of them ultimately turn out to be false. But the latest report on Thor: Ragnarok echoes a very similar rumor from earlier this year, which reveals how Mark Ruffalo's Hulk is introduced in the sequel and what brings him together with Chris Hemsworth's mighty thunder god. It also suggests that the previously abandoned Planet Hulk story line may have found its way into Ragnarok — if only just a teensy tiny little bit. Potential spoilers ahead, obviously.
According to JoBlo's sources, Thor first runs into Hulk on an unnamed planet, where he discovers that the big green guy is being forced to participate in gladiator-style games, which are being overseen by Jeff Goldblum's Grandmaster character. Hulk will allegedly sport a costume like the one he wears in the Planet Hulk comics, with a single armored shoulder. It's here that Thor and Hulk team up, with the former in pursuit of a weapon that will help him defend Asgard.
What makes this rumor seem a bit more plausible (aside from the fact that it just sounds plausible) is a report from January of this year, which also suggested that Hulk and Thor would be involved in a gladiator-style series of games on some distant planet. Per that report, Cate Blanchett's villainous Hela destroys Thor's hammer, which might also explain why he's looking for a mightier weapon.