Art Students Give Superheroes a Patriotic Redesign, American Panther Style
As you might expect if you've spent more than a few minutes reading about comics on the Internet, Marvel's recent announcement that the Black Panther would be undergoing a red, white and blue makeover as American Panther was pretty divisive. For students at the Savannah College of Art and Design's Sequential Art department, though, it wasn't just an opportunity to debate whether this was the best or worst thing to ever happen in the recorded history of man, it was a chance to hone their skills at the fine art of character redesigns!
Green Lantern as American Lantern, by Falynn Koch:
Led by Chris Schweizer -- creator of Oni's Crogan's Vengeance and Crogan's March -- SCAD students applied the principles of patriotic redesign to a whole slew of characters, and ended up with some pretty great, and pretty hilarious, pieces. Check out a few of our favorites below.


Black Bolt as American Bolt, by Chris Schwiezer:
Green Arrow as American Arrow, by Luigi Anderson:
Black Canary as American Canary by Rachel Ordway (complete with a set of fantastic star-spangled fishnets and an appropriate use of her powers):
Omega Red as Omega American, by Jay Peteranetz:

The Green Goblin as the American Goblin, riding what I genuinely hope replaces his traditional Goblin Glider, by Robin Holstein:
Hank Pym as Yellowjacket as American Jacket, by Nick Zamudio:
Blue Beetle as American Beetle, by Thaddeus Draheim:

Black Manta as American Manta by Nicolas Palmer: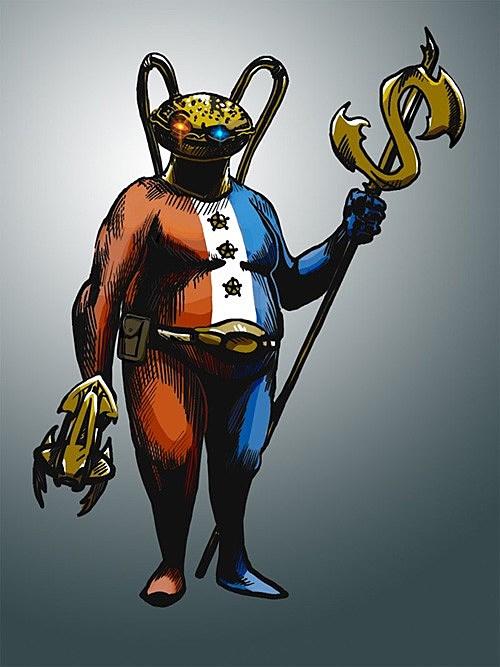 Red Sonja as American Sonja by Julie Godwin, which is a book I would read every single issue of, no joke:

And finally, my personal favorite, The Red Skull as American Skull, by Jackie Lewis, with colors by Falynn Koch:
It's the star-shaped pupils that really do it.