'Scott Pilgrim' Fangirl Proposes To Boyfriend In Epically Epic Fashion
Longtime ComicsAlliance readers will testify that our hearts are frozen, bitter and black. Indeed, only the most epic of romantic gestures can shine a light down through the dark veil of hatred and loathing that we wear over our collective soul. And as all comics fans know, there is no romance more epic than that depicted in the pages of Byran Lee O'Malley's much beloved Oni Press graphic novel series, Scott Pilgrim. Also a film by Edgar Wright, Scott Pilgrim and its eminently relatable cast of youthful characters have served as initial reference points for countless friendships and romances, but perhaps none more awesomely formalized than this couple of O'Malley fans, whose scavenger hunt-style marriage proposal through Toronto warmed our cold hearts.In a post to Reddit, "proposing_gf" explained that she decided to flip the script on the traditional marriage proposal not just by popping the question herself, but by leading boyfriend Dylan on a decidedly Pilgrim-esque quest through Toronto, the setting of O'Malley's classic series. As explained by the author and Edgar Wright, many real-life Toronto sites are represented in the Scott Pilgrim comics and film, and our unnamed bride-to-be made prodigious use of them in her touching proposal. Among the places Dylan was led and photographed with their corresponding O'Malley pages were Dundas Square, Sneaky Dee's, Honest Eds, Pizza Pizza, Lee's Palace, Toronto Reference Library, the Baldwin Steps, and of course Casa Loma, site of Scott's incredible battle with Lucas Lee, and where the big question was popped. Wearing Scott Pilgrim's iconic Plumtree t-shirt, Dylan accepted.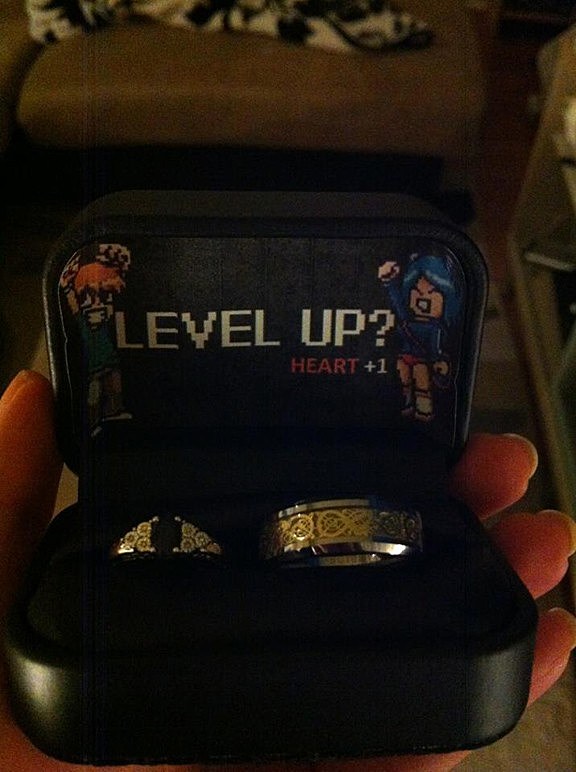 Congratulations to Dylan and proposing_gf from your friends at ComicsAlliance!