 Bryan Lee O'Malley Chooses Winners in 'Scott Pilgrim' Coloring Contest It turns out that over the last couple of weeks cartoonist Bryan Lee O'Malley has been administering a coloring contest based around a black and white drawing of Ramona Flowers, the heroine of his hugely popular and very beloved Scott Pilgrim graphic novel series. This contest -- in honor of the upcoming colorized edition of Scott Pilgrim Vol. 1 -- escaped our notice as it ran through the super busy Comic-Con week and was hosted entirely by O'Malley himself on Tumblr, which in Internet hype terms is practically the dead of night. But that's the kind of cool indie comics/internetty thing that has helped to endear Scott Pilgrim to so many diverse readers, and why O'Malley was still swarmed with hundreds of entries from Tumblr's comics community. O'Malley's chosen the winners and with his blessing we're making you aware of their prodigious talents.
Check out the winners below, as well as O'Malley's remarks about their work and the contest."My work is basically youth-oriented. Tumblr is where the kids hang out these days, so I've been running my blog there for the past six months or so," O'Malley told ComicsAlliance. "There's a level of direct interaction that I really enjoy having, but the site is mediated enough that I feel protected from, like, maniacs. Running a contest all by myself was actually really easy. Tumblr just feels like it's intelligently constructed as a platform.
"The thing about 'tumblr kids' is that the average talent level seems to be really high. I got over six hundred entries in this coloring contest. Probably 200 of these entries are people who could be professionally coloring comics right now if they weren't 17-years-old. The creativity of the entries blew me away."
The grand prize winner of a Scott Pilgrim Volume 1 Collector's Edition -- a $100 item which includes a numbered book plate signed by Bryan Lee O'Malley, art prints, vinyl stickers, embroidered badges and more -- is the Tumblr blogger designated I Hate What I Love, whose work O'Malley described thusly: "This entry is so cool and funny and looks great. It stood out to me. I looked at all the entries again and again and kept coming back to this one. I just love it!"

There were only meant to be two runners up, but the submissions -- tracked with the #ALTRAMONA Tumblr tag -- were so good that O'Malley had to scrounge up some more prizes. The following artists each won a signed copy of the $40 Scott Pilgrim Vol. 1 Evil Edition, featuring Evil Ex-Boyfriend Matthew Patel on the cover. I think it speaks to how relatable the Ramona Flowers character is that so many different people were able to create such distinct looks for her, and using mostly color alone.
azjazo (click to enlarge)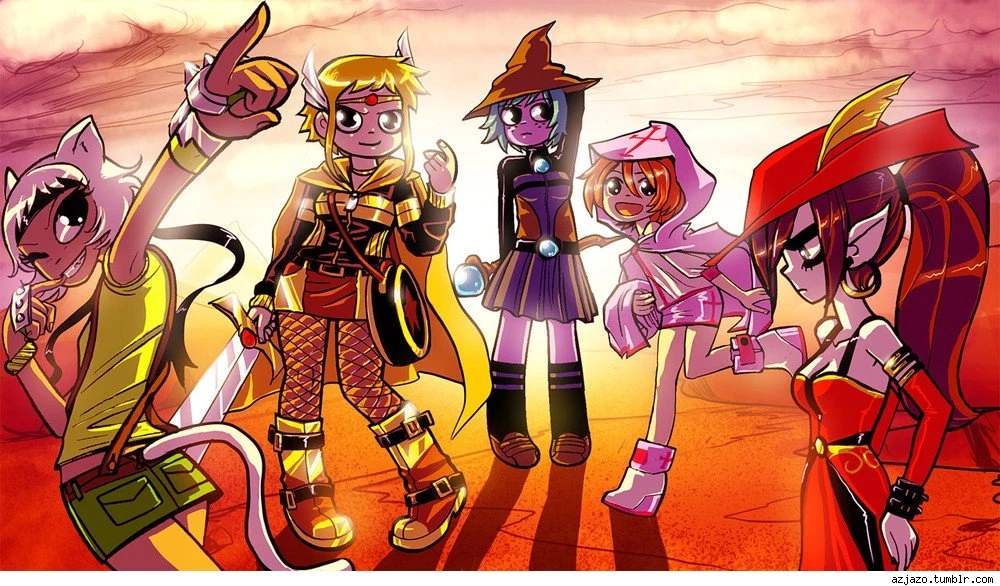 This contest is the kind of thing we really love to see cartoonists do, building community and generating great artwork.
You can view all the entries at the official #ATLRAMONA blog by clicking here.