Spider-Man Musical Celebrates 3 Weeks without Injury with Special 'New Yorker' Cover
This Wednesday marks a full three weeks without reports of anyone being cut, scraped, bruised, broken or otherwise maimed on the set of Spider-Man: Turn Off the Dark, the injury-prone Broadway musical based on the Marvel Comics superhero. In honor of the occasion, The New Yorker has profiled the Julie Taymor-directed show, and wonders whether the consistently high ticket sales for preview performances (the show will premiere properly in February) are indeed a consequence of Turn Off the Dark's reputation as something of a real-life horror show?

In a piece by Michael Schulman, The New Yorker quotes several young audience members -- some as young as nine, some college age -- as actually anticipating disaster. "I hope somebody falls but they're OK," said a 14-year-old girl. A Yale Junior remarked, "If I could see someone fall from the rafters but not go to the hospital - just magically get up - then I'd be down." An area man attending the show with his girlfriend put it plainly: "She wants to see blood."
Unfortunately for those patrons, the Turn Off the Dark performance they attended unfolded without calamity -- which, Schulman points out, is not to say it's actually any good. The piece goes on to discuss the role of Schadenfreude in every day life, and includes remarks from psychologists and other authors on the subject.
On sale now, the new issue of the New Yorker features a cover illustration by Barry Blitt, whose Spidey work we hope to see soon on New Yorker mockery site The Monkeys You Ordered.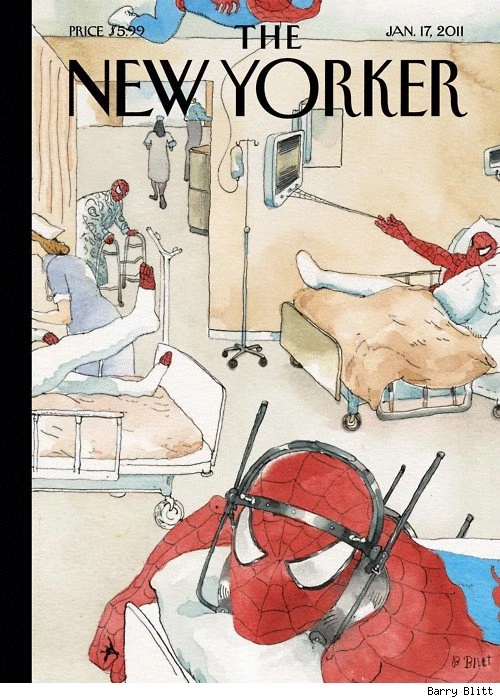 For much more ComicsAlliance coverage of Spider-Man: Turn Off the Dark, just click here.