The 'Suicide Girls' Comic Is Hot But Totally Psycho

Back when I was a kid in the early '90s, there was a video game I liked down at the local arcade called Revolution X. It wasn't what you'd call very good, but what set it apart from similar rail shooters like Time Crisis was the plot, where a sinister organization called the New Order Nation had taken over the world, outlawed rock music and kidnapped Aerosmith, and the only way to make the world safe for Youth Culture was to shoot their dominatrix leader's helicopter with a machine gun that also launched exploding CDs.
I bring all this up because today, I read IDW's new SuicideGirls comic, and it is basically the same story, only crazier and with naked girls.Before I get to the plot, though, I have to say that this book is absolutely gorgeous. I imagine it's extremely important when you're doing a book based on a website devoted entirely to naked pictures of pretty girls to get an art team that's capable of drawing pretty girls very well, but even taking that into account, David Hahn and Cameron Stewart knock this thing out of the park.

The creators have said that the characters aren't based on any existing models -- although the hacker girl with the purple hair is on the cover, which I think means that there's a SuicideGirl cosplaying as a SuicideGirl -- but the designs are distinctive, and the storytelling is top notch. There's a clean, expressive style to Hahn's work that fits the pin-up-meets-action style of the comic absolutely perfectly, and Eisner-winner Cameron Stewart -- who inks the main story and provides a cover, a two-page backup and four pin-ups -- hardly needs me to tell anyone how great his art is. Other than a couple of tattoos that look hastily photoshopped, it's a good-looking comic.
I imagine that's going to be the major selling point for the book, too: If you want to see Cameron Stewart and David Hahn draw some naked ladies (with the occasional photograph of same), then this is the book for you. And trust me, I'm right there with you: The only thing I want to see Cameron Stewart draw more than a naked hipster girl is a fully clothed Batman. Yes, I know, but we all have our own priorities.
Either way, it's beautiful, and honestly, it's worth picking up just to flip through and look at the art. Unfortunately, that art is often covered up with words that make up what is unquestionably one of the most ridiculous stories I have ever read. And for those of you keeping score at home, I'm a guy who's been reading Tarot: Witch of the Black Rose for nine years.
The story, based on a plot by Steve Niles, SG photographer "Missy Suicide" and Brea Grant with Grant providing the actual script, is something I can only describe as "What If Russ Meyer Was a Hipster?"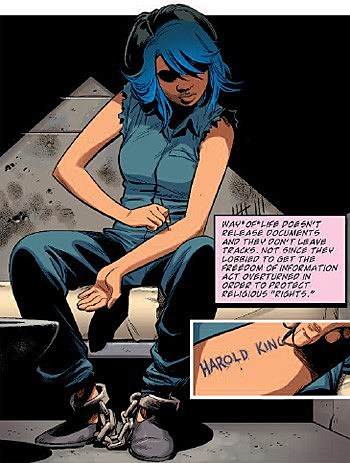 I mean, it actually opens on a hot girl in prison, and in case you miss the reference, there's a girl later on with a tattoo that says "Caged Heat." But this isn't just a regular prison -- no, this is a dystopian future prison run by the sinister (and annoyingly written) "Way*Of*Life" corporation, a right-wing Christian organization that from what I can tell has succeeded in bribing Congress to outlaw hair dye and tattoos. Sorry, I mean "individualism" and "self-expression."
The lady convict in question is named Frank, and while the setup makes sure to drop a heavy-handed reference to the criminalization of nonconformity, she's actually in jail for murdering a bunch of people and having their names tattooed on on her body, which I think we can all agree crosses the line from "being an individual" and into "straight-up supervillain."
It's okay, though, because everyone she killed was working for Way*Of*Life, which is why she's busted out of prison by a team of sexy action movie cliches that are so standard that I hardly even have to go through it: A gun-toting badass ringleader (who looks like a Jamie McKelvie drawing), an explosion-happy demolitions expert, a perky quirky hacker in horn-rimmed glasses and a wheel(wo)man who is actually named Wheeler.
It's obvious that they're shooting for a team of buxom tough-gals along the lines of Faster, Pussycat! Kill! Kill!, but they end up more like Charlie's Angels minus Charlie and plus tattoos. They spout lines so inane ("Who needs doors when you have explosives?") that it's difficult to say whether it's shooting for an ironic parody of '80s action movies or just genuinely awful dialogue. Given how seriously the book seems to take itself, I'm inclined to lean towards the latter, but then the book goes so insanely over-the-top that it becomes impossible to tell.
Because this is where they reveal that the SuicideGirls are actually a warrior woman strike force dating back to Cleopatra.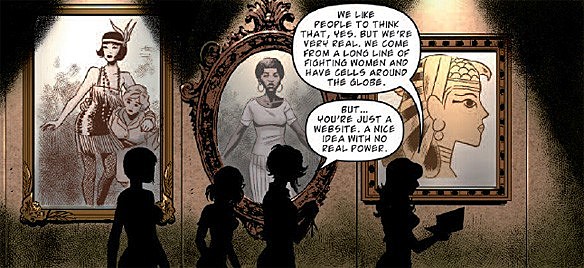 It's even underscored in a two-page back-up story written by Steve Niles where a sexy Native American SuicideGirl helps a sexy Puritan SuicideGirl escape being burned at the stake in 1692 through inexplicable super-magic lock-picking skillz that's so awful right down to its "THE END?" closing caption that it almost has to be on purpose.
But at the same time, everything about it is presented with SG's usual pretentious, more-nonconformist-than-thou not-just-porn deeper-meaning true-individualism veneer shellacked all over it from cover to cover. Even the guy set up to be the book's main villain, Vanderslice, is named after an indie rocker. It's just ludicrous enough to be a literalized action story version of the company line about empowerment taken to its explosion-and-katana-filled extreme, but more than anything else, it proves that a story that's ironically bad can be legitimately bad too.
It does, however, have one major saving grace. At the end of the book, in order to convince Frank to join their cadre of softcore ninja terrorists, the girl with the mandatory Bettie Page haircut gives her back the pair of katanas (because of course she uses a pair of katanas) that she used to murder people, and it's revealed that she uses the ribbon of her corset piercing on her back to carry her swords.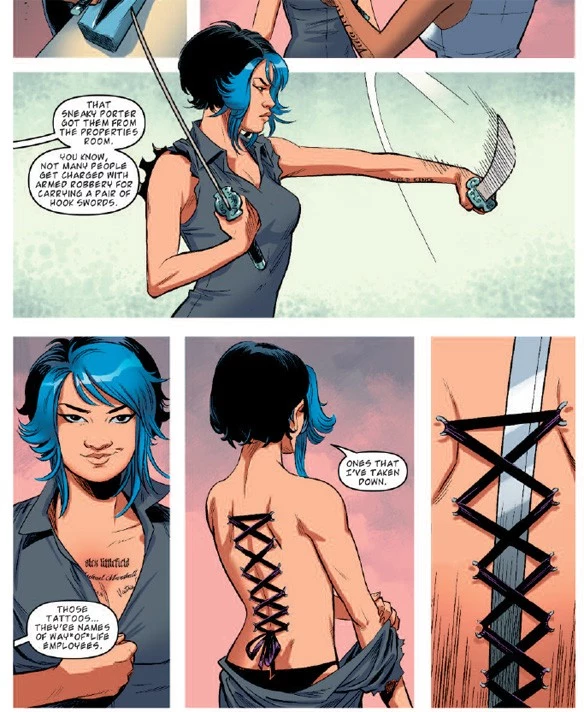 That is fantastic. I'm not even joking: This is the best thing I've seen in comics all week. It's everything you want out of a SuicideGirls comic, and it's so monumentally stupid and brilliant at the same time that I can't help but love it. It's like Axe Cop hit puberty.
It's almost enough to make me want to see how the rest of the series plays out and if it manages to get even crazier as the series goes on, but there's only so much bad dialogue I can take. If they start printing versions with just the art and no text, however, I'll pick up every issue.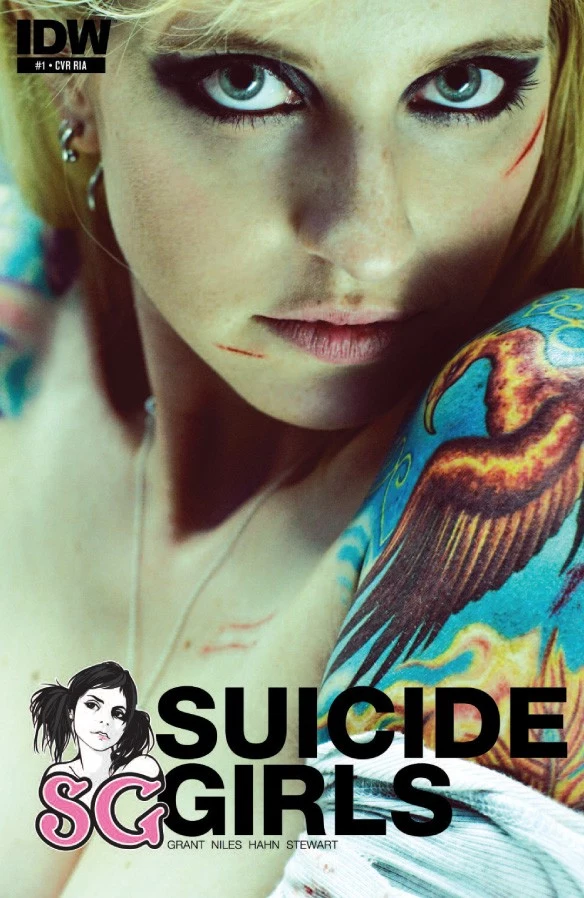 SUICIDE GIRLS #1 (of 4)

Brea Grant (w) • David Hahn (a) • Cameron Stewart (c)

Sexy, mysterious, and more than a little bit dangerous, the Suicide Girls are about to change what you think beautiful girls can do! This wild adventure pits the SG against a deranged killer and a crazed corporate cabal. Written by writer/actress Brea Grant (We Will Bury You) and drawn by David Hahn (Bite Club)-with covers by Eisner-winner Cameron Stewart (Seaguy)-there will be tattoos, piercings, and a whole lot of butt-kickin' girls and burlesque. This is not your mother's pretty-girl comic!

*2 regular covers will be shipped in a 1-to-1 ratio.

FC • 32 pages • $3.99

*Variants:

Suicide Girls photo Cover

Signed variant Suicide Girls photo Cover

• Plotted by Steve Niles, Missy Suicide, and Brea Grant!

• The Suicide Girls's first-ever comic series!

• Available variant Suicide Girls photo covers (and interior bio-pictorials) for each issue!

• Eisner-winning artist Cameron Stewart covers on each issue!