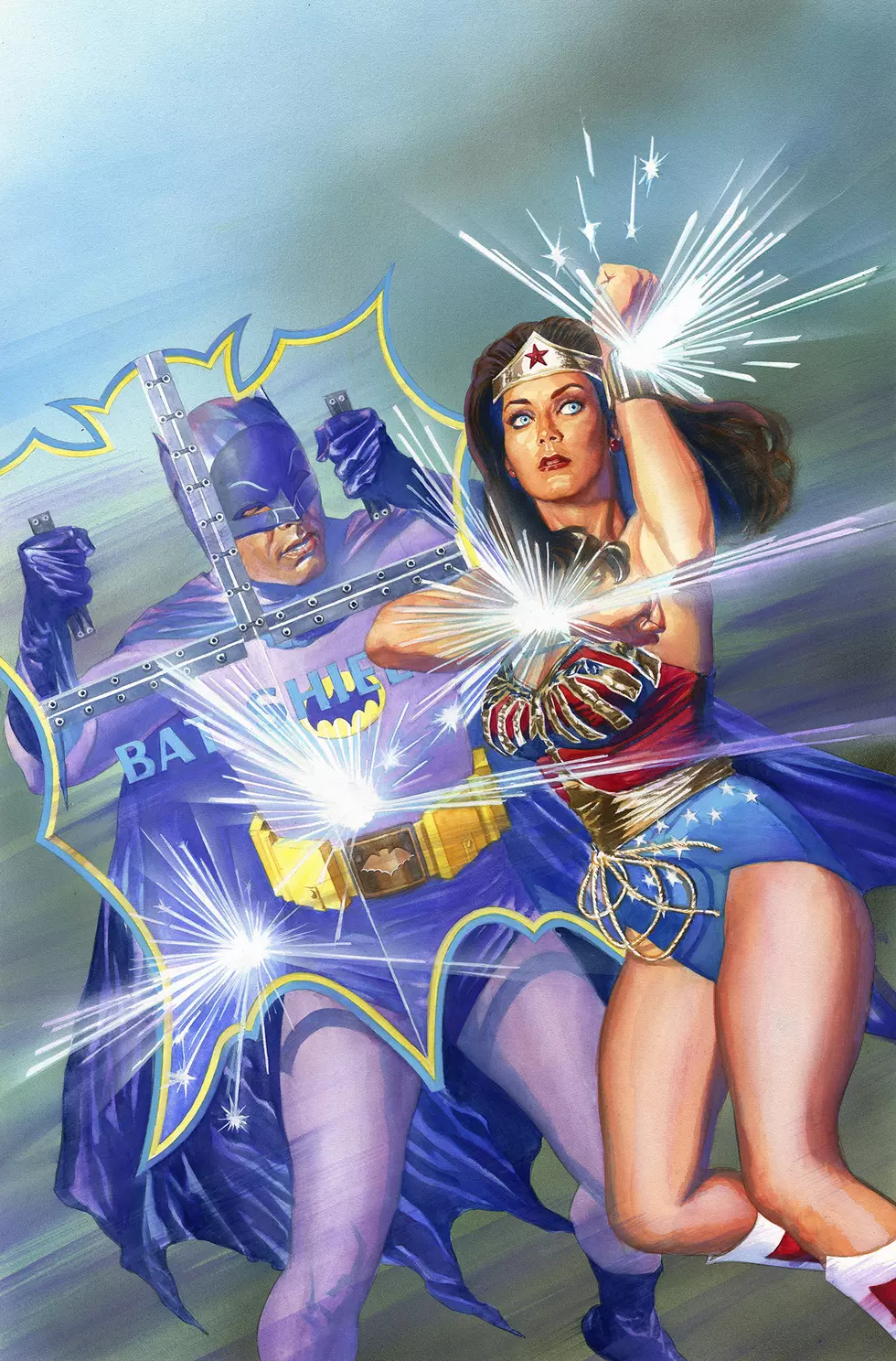 Two Iconic Heroes Meet For The First Time In 'Batman '66 Meets Wonder Woman '77′ #1 [NYCC 2016]
Alex Ross
DC's digital-first re-imaginings and continuations of beloved superhero shows of decades past have not only yielded some great comics in their own right, but recently they've been crossing over with other properties in a similar vein. Batman '66 has met up with Green Hornet and The Man From Uncle while Wonder Woman '77 has been hanging out with The Bionic Woman.
Later this year, thing rocket to their logical conclusion as, for the first time, Adam West and Burt Ward's Batman and Robin team-up with Lynda Carter's Wonder Woman for an epic crossover that could only be called Batman '66 Meets Wonder Woman '77.
The new series not only unites the two time-locked heroes, but it brings back the original writers of their respective series', Jeff Parker and Marc Andreyko. According to Andreyko, it was Parker's work on Batman '66 that inspired him to ask about doing Wonder Woman '77 and according to Parker, it was Andreyko's idea for him to come back to co-write the crossover.
Art for the crossover will be provided by David Hahn and Karl Kesel, with Michael Allred providing covers. The first installment launches digitally on November 23, and will later be collected into a six-issue print miniseries launching in January.
Here's the full solicitation information for the series:
BATMAN '66 MEETS WONDER WOMAN '77 #1
What mysteries are hidden in the book Ra's al Ghul just hired Catwoman to steal? And why does this caper lead Batman down memory lane—to his childhood fight against actual Nazis?! Witness his first encounter with one of the greatest heroes the world has ever known: Wonder Woman!

Rated E for Everyone
Writers: Jeff Parker and Marc Andreyko
Artists: David Hahn and Karl Kesel
Cover Artist: Michael Allred
Variant Cover: Alex Ross

Digital Chapters
The first digital chapter will be available for download via the DC App, Readdcentertainment.com, iBooks, comiXology.com, Google Play, Kindle Store, Nook Store, and iVerse ComicsPlus.
On sale November 23, 2016
US $0.99

Print Periodicals
The first print issue will be available everywhere comics are sold
On sale January 2017
US $3.99