Image Restores 'Tales From Beyond Science' by Rian Hughes and Mark Millar [Preview]
While best known to American comics fans for his work as a designer of such logos as The Invisibles, Batman and Robin and Flex Mentallo, Rian Hughes is admired among British readers for the comic book artwork he created earlier in his career. Among the most popular of that material is Tales From Beyond Science, a short series of variously insane and beautifully illustrated one-off stories that explored concepts such as the Bermuda Triangle and the 13th month. Originally published by 2000 AD in the early 1990s, Tales From Beyond Science features collaborations with legendary 2000 AD writers Alan McKenzie and John Smith as well as another writer whose recent work you might know: Mark Millar.
On sale in December from Image Comics is a hardcover volume collecting all of these much sought after comics illustrated by Rian Hughes, as well as brand new supplements. You can check out a healthy preview after the cut.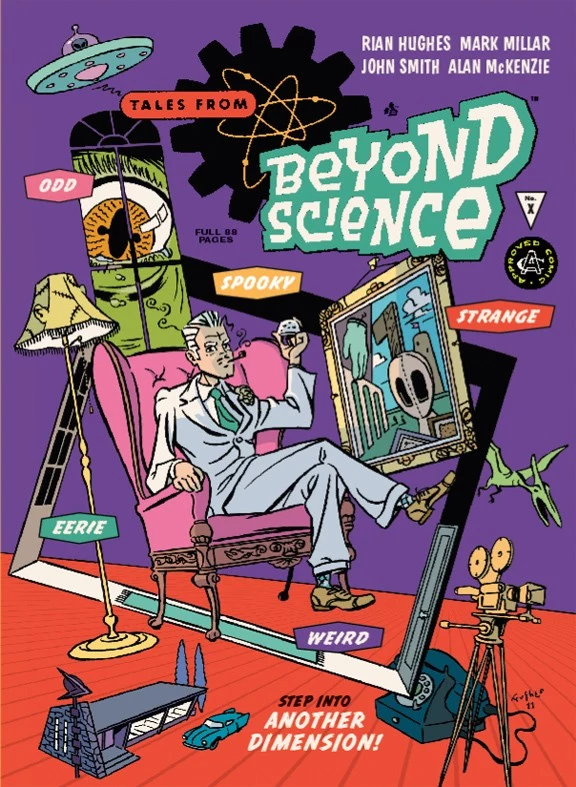 The grand mysteries explored in Tales From Beyond Science are narrated by Hilary Tremayne, a fictional erudite super-scientist. In his introduction to the collected edition, McKenzie writes of Tremayne, "He's a sort of World War II boffin type. Barnes Wallis as played by Michael Redgrave."
There were originally eight episodes of Tales From Beyond Science. All of them have been re-lettered for the Image Comics edition, and some that were black and white have been newly colored. Additionally, Hughes created a new front cover as well as phony advertisements and mock comic book covers, all reflecting the periods and styles that informed his manic yet sophisticated work on the series.
Speaking with USA Today, Hughes said he left comics for the more "seductive" world of commercial art and advertising, but that creating new material for the Tales hardcover in the classic style (which is to say, without a computer) was a pleasant experience and reminded him of his love for working in the medium.
"I've always divided my time between graphics, logo design, type design and illustration, so it's more a case of simply finding the time and the right project. I'm always open to suggestions. I just have to clone myself first," he said."
Tales From Beyond Science is available for pre-order now at finer comics shops, and goes on sale December 21.