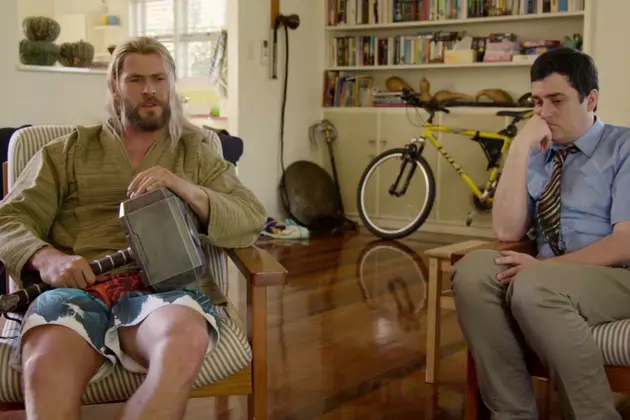 'Team Thor' Sequel Rumored for 'Doctor Strange' Blu-ray
Marvel
In what is surely the most glorious rumor of the week, the Blu-ray details for Marvel's Doctor Strange have apparently leaked online, and among the special features listed is perhaps the most special of all — something titled "Team Thor: Part 2," which appears to be a follow-up to the hilarious mockumentary short that debuted at last year's Comic-Con. Marvel isn't releasing the Blu-ray until February 28, which means our fingers are going to be pretty stiff from all the crossing they'll be doing until then.
Details on the upcoming home release of Doctor Strange were revealed on the Blu-ray.com forums, including a list of special features — this list didn't officially come directly from Marvel, but the site is typically reliable when it comes to new release details:
Gag reel
Intro
The composition of reality
Marvel Studios: Phase 3
Strange Company: Cast & Crew
Strange Soundtrack
Strange Transformation
Stunts & Visual Effects
Team Thor: Part 2
Additional scenes
The original "Team Thor" short, which was eventually released online and on the Captain America: Civil War Blu-ray, was scripted and helmed by Thor: Ragnarok director Taika Waititi and was easily one of the funniest things Marvel has ever produced. Presented as a mock-doc, the short explores what Chris Hemsworth's Thor has been up to while the rest of the Avengers are fighting their big Civil War: Living with a roommate named Darryl, playing Connect Four, and investigating Thanos with the aid of a cork board, a bit of yarn and some hilarious speculation.
You can watch the full short below:
Honestly, I needed something to care about in my free time, so if you need me I'll just be over here wishing and hoping and praying for the further adventures of Thor and Darryl.
Thor: Ragnarok hits theaters on November 3.