 Todd Klein & Steve Rude Bring 'Hope' to Fans of Lettering and Design [Art]
Master of comic book lettering Todd Klein has announced a new addition to a series of works created in collaboration with some of comics' most superlative talents. "Hope" is a new, limited edition print illustrated by Steve Rude with complimentary design and lettering by Klein, who took inspiration from the text of Emily Dickinson and Nathaniel Hawthorne. "Hope" goes on sale in June with some proceeds going to the American Red Cross.
You can check out the full image and the rest of Klein's collaborative series after the jump, including work by Alan Moore, Neil Gaiman, Alex Ross, Mark Buckingham, Bill Willingham and J.H. Williams III.Perhaps best known for his work on The Sandman, Todd Klein has lettered almost countless comic books and created memorable logos for titles including Batman: Year One and the entire America's Best Comics line, and has won more awards for lettering than any other professional. His work has consistently demonstrated the inherent artistry in lettering and typography, and the prints Klein has created with his collaborators celebrate that fact.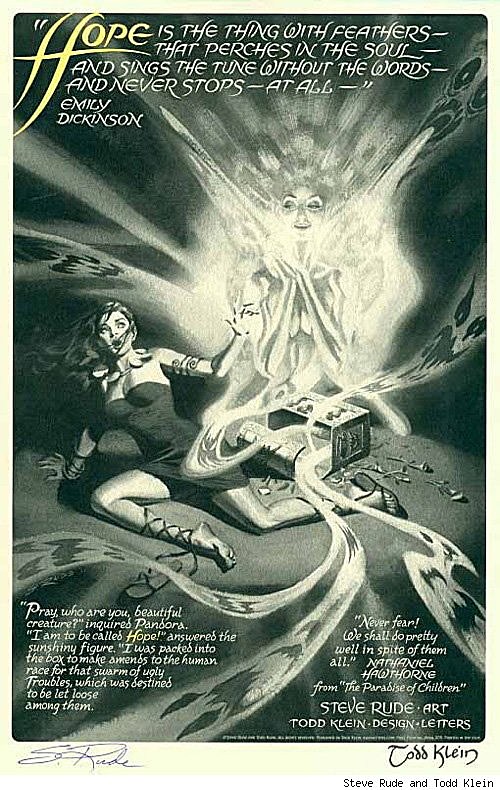 Illustrated by Steve Rude, "Hope" is the seventh in Klein's series of collaborative, limited edition works, and features Pandora. Klein spoke to The Beat about the piece.
Pandora has just opened a box she was not supposed to open, releasing a swarm of Troubles into the world. Last to emerge is the spirit of Hope. In text from the retelling of the myth by Nathaniel Hawthorne, Hope says, "I was packed into the box to make amends to the human race for that swarm of ugly Troubles, which was destined to be let loose among them. Never fear! We shall do pretty well in spite of them all."
"Hope" goes on sale June 1 at Klein's website for $20 and comes signed by Klein and Rude. $2 from every sale will go to the American Red Cross. The following works - in the alphabetic sequence ("G" is forthcoming, Klein says) - can also be purchased at Klein's site.