Vasilis Lolos Eulogizes Hellboy In Excellent Five-Page Fan Comic
I'm a big fan of Vasilis Lolos, the artist whose most recent work you can check out in Dark Horse's Conan the Barbarian. Like the Brand New Nostalgia artists we spotlighted earlier this week, I think Lolos' images express a very youthful, high-contrast style that's extremely striking, but his comic book storytelling demonstrates a care and sophistication that I think might have more in common with some of the medium's great veterans than with many of his more playful contemporaries. One of those masters is Mike Mignola, whose magnum opus Hellboy is obviously a favorite around these parts, and of pretty much every comic book artist and illustrator I've ever asked about it. Lolos is no exception, as he made plain with a five-page fan comic that recounts succinctly and beautifully the epic of Hellboy from his arrival on Earth in Seed of Destruction to his passage into the beyond in The Storm and The Fury.It's really impressive how seamlessly Lolos combines his style with that of Mignola's. You've got the dramatic Lolos touches like Hellboy and Roger standing against the outlines of coffins, which is paid off on the final page, alongside the trademark Mignola "close-up" shots of seemingly disparate yet mood-enhancing symbols and other imagery scattered about the pages. We took a really close look at Lolos' linework when we published his first Conan pages in every stage of development, so it's clear here how he played with his line to strike a balance between his own more detailed approach and Mignola's minimalism.
The artist told Robot 6 that he's never spoken with Dark Horse about drawing a Hellboy story, but his qualifications to do so are made very obvious in this great little fan comic.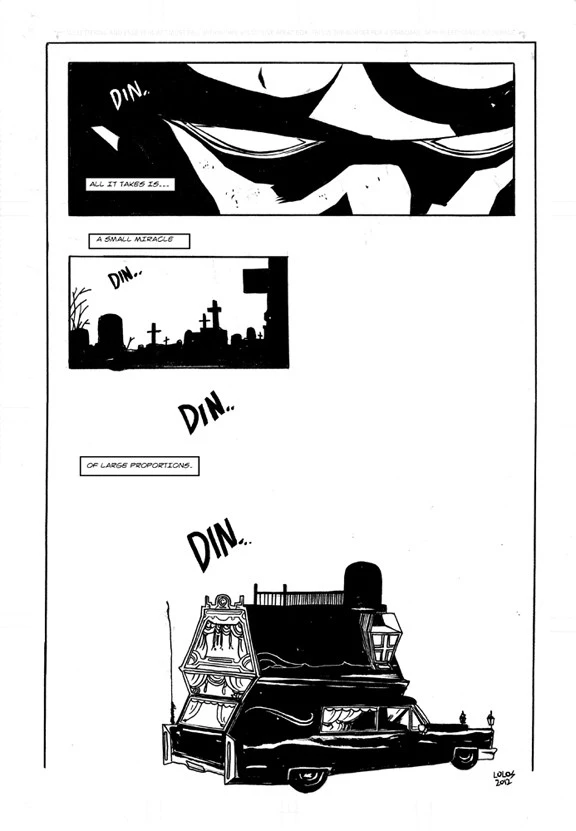 You can see Vasilis Lolos' next work in Conan the Barbarian #9, on sale October 10 in finer comics shops and digitally from Dark Horse Digital. Mike Mignola and Hellboy return with Hellboy in Hell #1 in December. Both can be pre-ordered from the Dark Horse website.