Viz Media May Have the Best Digital Distribution Yet in Comics [Review]
The manga industry sorely needs a workable digital distribution model. Manga piracy has become deeply ingrained in the culture of its readers, and publishers need to attempt to offer solutions for the people who pirate manga because the volumes they want aren't available locally or in a format they enjoy, rather than those who pirate just to get free manga or despise the official translations. With Viz Media's recent introduction of VizManga.com, a very nice Flash-powered manga reader, they've taken the biggest step yet in the right direction.
Viz's library of over 300 titles -- including the mega-popular Naruto series -- is now available on both the web and their iPad app, where purchased titles can sync between platforms. We've reviewed Viz's digital comics readers, and interviewed Brian Piech, the Vice President of Digital Publishing for VIZ Media.

THE READERS

The best word for VizManga is "clean." The site puts what's important front and center: the comics. If you open one of the many free previews available on the site, such as the one for Eiichiro Oda's One Piece, you'll see a strip at the top of the site with the logo and minor navigation features, and then the comic directly below that.
You can navigate the pages with your keyboard or by clicking on the translucent arrows that appear when you mouse over the edges of the book. For the best reading experience, you have to mouse over the upper edge of the manga. This reveals a menu bar that lets you go full screen, which is the best way to read manga on the site. Pages appear as spreads, rather than singly, so reading on VizManga feels similar to reading a print book. You can also set bookmarks, which are synced on both the web and iOS app, to save your place.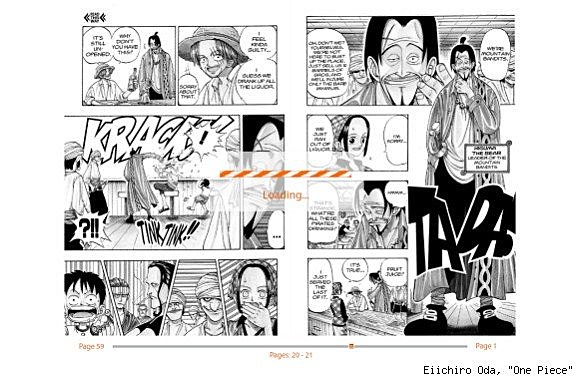 The web reader is simple and easy, with one relatively small hitch. Instead of downloading the manga, you stream it off Viz's servers, and it appears to only buffer a page at time in advance. If you read particularly fast, or if you are skimming through a manga, you're going to see several floating loading bars. They go away quickly, but it's still something that will pull you out of the reading experience.
Regardless, VizManga operates with a minimum of fuss. It's great for catching up on a book over lunchtime, and you can purchase volumes on the web and read them within seconds.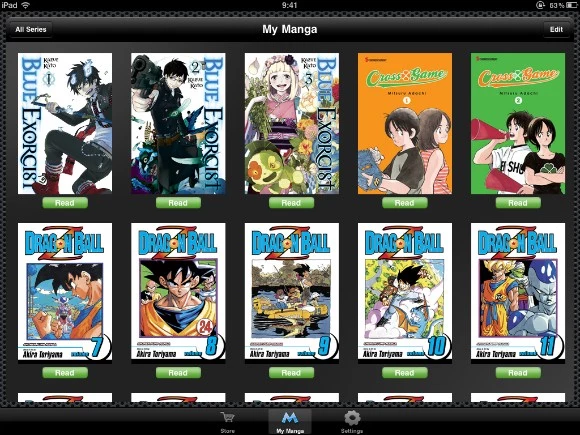 The iOS app, which I tested using an iPad, is still a better reading experience. Having a dedicated device is nice, and makes reading digital manga more of a discrete experience onto itself, rather than something that happens between switching from Facebook to an Excel sheet. You can set push notifications on a per-series basis, too, so that you are updated as soon as new books are added to the store.

You can read manga in both portrait (where it appears as a single page) and landscape (where it appears as a two page spread) orientations. Portrait gives you a larger page, which is very nice, but landscape feels a bit more natural to me. They're both quality ways to read manga, and it's easy to adjust your reading experience to your preferred orientation.
Page turns on iOS happen with a swipe. Short swipes work fine for turning pages, but I would greatly enjoy the ability to tape the edge of a page to turn, as well. Currently, tapping anywhere brings up the navigation, which allows you to scrub to a specific page, set a bookmark, or leave the manga. When you finish a manga, it pops up with a summary of the next volume, when available.
Essentially, both of Viz's applications do exactly what they need to do. They're very simple enterprises that get out of the way of your reading experience, which is the best possible way to do digital comics. There is no guided view, either -- you view pages as they were originally intended, visual continuity and all.

Viz's pricing is pretty good. It seems like it's divided up according to page count, with exceptions for certain titles. Most manga, such as the popular Shonen Jump or Shojo Beat titles, will run you $4.99. These books run in the neighborhood of two hundred pages, give or take a couple dozen pages. For $5.99, you can purchase longer works, from 200 to over 300 pages. This includes many of Viz's SIGIKKI books, several of which we've talked about before. These books tend to be aimed at a more mature audience than Naruto or other shonen titles.

Things get a little more confusing from there. Natsume Ono's not simple is $5.99 for 321 pages, but Daisuke Igarashi's Children of the Sea is $6.99 for around 318 pages per volume. Omnibus volumes, such as Cross Game (376 pages in volume two), cost around $6.99. Rumiko Takahashi's Inuyasha is being released in a digital Vizbig format -- a special edition with three volumes in one -- for $8.99 (576 pages in volume 1), but only on the iOS devices. Finally, Inio Asano's one-shot graphic novel solanin is 428 pages, but $8.99. Complicating matters is a new price introduced just this week: $0.99 per chapter for certain manga that will be serialized weekly. Right now, the only manga offered as a serial is Neon Genesis Evangelion: Stages.
In short, the pricing doesn't break down into exact tiers of 200 pages, 200-300 pages, 300-400 pages, and 400-500+ pages, but it comes close. The more you pay, the more you get, with $4.99 being the baseline price. When viewing manga in the store, these prices make sense, and being roughly analogous to "half retail price" is a very good selling point. Bolstering that are the free single chapter previews for every series in the store. These range in size from twenty-four to an absurd seventy-two pages, giving you a chance to get a thorough taste of a manga before you begin buying the series.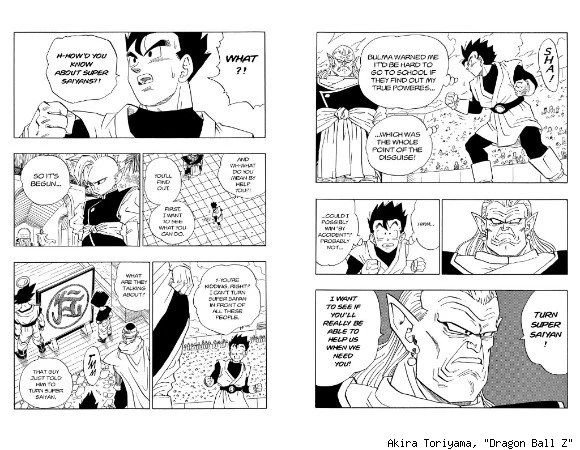 Viz has one of the strongest libraries in the manga industry, with perennial sellers like Naruto and newer hits like Bakuman. VizManga puts all of it, with one exception at the moment, right in your web browser on your non-iOS phone or your desktop computer. They're just a few entries short of having fifty series up on VizManga, and the books run the gamut from basic adventure comics to light horror.
New volumes are released weekly, and Viz has been pretty good about releasing several volumes of their longer running series, such as Masashi Kishimoto Naruto or Eiichiro Oda's One Piece, per month. Naruto is roughly six volumes behind the print releases, and One Piece is a healthy eighteen volumes behind, but each new week, more or less, sees another entry in the series. They're moving toward a day-and-date release schedule as well, judging by the fact that the third volume of Kazue Kato's Blue Exorcist hit the online store just days after its print release.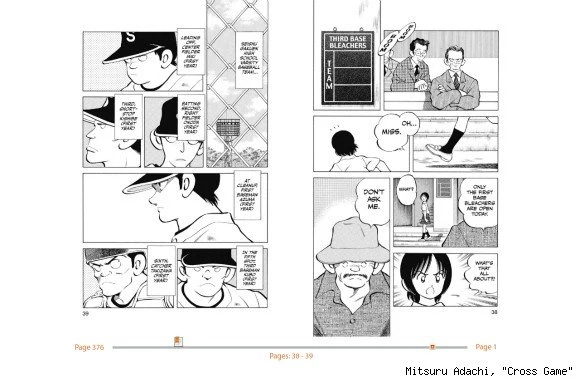 The speed of Viz's releases and depth of its library are going to be the things that make or break Viz's digital efforts, and right now, I think they're in good shape. There's a ton to enjoy, no matter what genre of manga you prefer to read, and the fact that they offer a free chapter of each series makes it easy to try new things. The free previews for Blue Exorcist and Cross Game hooked me, and I quickly ended up with every volume for each.
All is not roses, however. VizManga.com is region-locked to North America, leaving the English-speaking manga fans elsewhere out of luck. On top of that, the Viz app on iOS is set for readers 17 and under, leaving more adult fare out in the cold, including heavy hitters like Naoki Urasawa's Monster or Takehiko Inoue's Vagabond, because of their 18+ ratings. Right now, Viz's digital efforts best serve fans of action and children's manga, but to be all it can be, Viz is going to need to offer these mature titles to their digital readers.
You cannot sort by genre (barring the usual macro-genres like shonen or shoujo) or release date in the web store, either, leaving you looking at a list of four featured manga, series sorted by imprint in a sidebar, and a long alphabetically-sorted list at the very bottom of the page. You can search, but that only goes so far. Finding new manga is easy if you know what you're looking for, but the curation on the site could use some work.

I think it's fair to say that, at this point, Viz has the best official online manga reader for the iPad and web, and probably one of the two best online comics readers, period. It's simple, the selection is very good, and it's a very strong foundation for what could potentially be a long-lasting and worthwhile endeavor.
Saying that Viz has the best reader only goes so far, however, when you take a look at their competition. Yen Press's online manga magazine Yen Plus includes Hideo Azuma's Yotsuba&!, the most adorable comic ever, but the view is tiny and clunky. Even worse is Yen's iPad efforts, which feature a good selection, but incredibly high prices. Square Enix has a web viewer for its manga, but as Brigid Alverson points out, it's incredibly lackluster if you're a generous person, and outright horrid for everyone else.

At the same time, I don't mean to damn Viz's apps with faint praise. I have never had such an easy time reading manga. I have a couple dozen volumes on my iPad right now, including free previews, and burning through five volumes of a series is as easy as pie. The short flick to turn pages works, as much as I do genuinely prefer a tap, and the iPad app makes it very easy for you to purchase the next volume. If you've been thinking about making the leap to digital manga, or to manga in general, VizManga and the Viz iOS app is a great bet. Hopefully other manga companies follow suit and pursue the same simple, but robust, methods that Viz employed.
I'm curious to see if the different formats Viz is currently offering are part of a ploy that will let Viz know what type of digital manga their audience wants. If you think about it, there are a few formats for sale on the Viz store: regular, omnibus, Vizbig, and serial. Regular volumes are exactly what you'd expect, omnibuses collect two to three volumes, Vizbigs collect three volumes and should include certain bonus material like color pages, and serials are single chapters offered for $0.99.
Each format and price point has its own benefits and drawbacks, and I'm not sure which one I'd prefer. The serial format would let series like One Piece catch up to their Japanese counterparts even quicker, but reading manga 500+ pages at a time in Vizbigs is something I'm very fond of. Which format will win out in the end? Is it even a competition, or will Viz be employing each of these formats as needed on a per series basis? It may be too soon to tell.
At the moment, Viz is lacking a weekly newsletter to inform fans of new and upcoming releases, a way to add multiple manga to a cart before purchasing, and 18+ manga. There's plenty of room for improvement. But looking at what they have so far, they've got something that's pretty great. If you have comments on the site, make sure to leave feedback via the button on the left side of the page. Viz won't grow in a way that we can enjoy if we're silent, so be vocal.

Before our review, we reached out to Brian Piech, Vice President, Digital Publishing for VIZ Media for a quick interview. This interview should serve as background for you if you haven't heard of Viz's digital media efforts yet.
ComicsAlliance: Just to set the stage for our readers, can you tell us how often the VIZ Manga app and VIZManga.com update and around how many volumes are available for purchase?
Brian Piech: We are constantly working on two fronts: content and technology. VIZManga.com and the VIZ Manga app have new manga added weekly, and there are over 40 series and over 350 volumes available for purchase at this time. On the technology side, we've been averaging about an update every two to three months thus far. We are improving the user interface with each update, but our eyes are definitely on the content offering as the most important element.
CA: VIZ Media has a strong library of titles for adults, perhaps most particularly the works of Naoki Urasawa and Takehiko Inoue. Will we see these manga on the VIZ Manga app, or a VIZ Signature app since the VIZ Manga app is currently limited to books rated Teen Plus or below?
BP: We are definitely excited about getting our library of titles onto our digital platform. We are thinking about the best way to get these titles to our fans. On one hand there is the age-gating component, but more than that we want to make sure the entire experience is built around that content too. So there'd be at least some level of deviation to our current platform to reflect the content, making the content front and center.
CA: Which series has been the strongest performer on the VIZ Manga app? Are there any series that have performed over and above what you expected, or have digital sales been within your estimates?
BP: We've been happy that it has been a mix of titles that has been driving our digital sales. Shonen hits that have strong sales in the physical graphic novel market such as BLUE EXORCIST, BAKUMAN。 and ROSARIO+VAMPIRE are doing quite well on our digital platform, but also some of our shojo titles are showing a very strong performance, titles like OURAN HIGH SCHOOL HOST CLUB and BLACK BIRD, for example. Our estimates for the business keep evolving as we see different results per device or genre, but on a macro level we are very pleased with the direction it is going, and it's safe to say our device launches thus far have surpassed initial expectations.

CA: When the VIZ Manga app was first released, SVP and General Manager of VIZ Media Alvin Lu described digital publishing as something that was "largely unmapped and fast changing." Now that we're around nine months past the launch, has VIZ Media managed to map out their gameplan? Has the program been as successful as expected?
BP: The program has been more successful than anticipated. We've learned an awful lot in the past nine months, and our challenge now is to make sure we incorporate that learning into the digital platform moving forward. Our gameplan has evolved in response to what our customers have told us and to the results we've seen thus far. The period over the next 12 to 18 months is going to be the most exciting time to be in publishing from our point of view. So much is changing in this landscape and we are excited to be in the thick of it.
CA: Have you received feedback from readers and fans, beyond the feedback inherent in sales figures? How has the response been to the VIZ Manga app and VIZManga.com?
BP: We just wrapped up a pretty comprehensive customer survey and are soaking in the feedback from our digital manga readers. We're thrilled about the high satisfaction scores in regards to the experience we are offering, and it's been interesting to see the differences with our digital audience in relation to some of our other customer groups. We're getting to know our customers in ways that just weren't possible a few years ago, and we are very mindful that we have to pay attention to what they are telling us.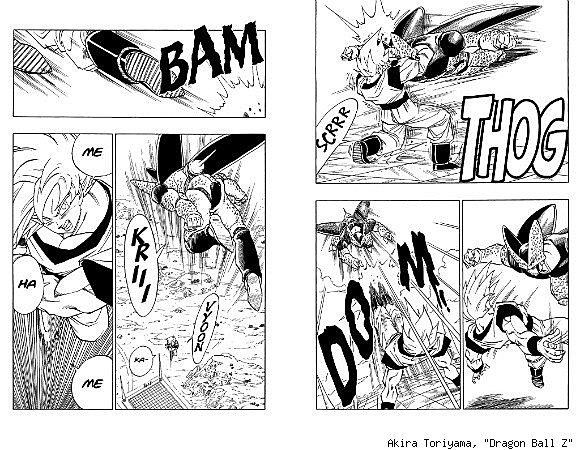 CA: VIZ Media launched VIZManga.com just before San Diego Comic-Con, which beat the flood of new digital news out of the convention. Do you have any projections on how legal digital manga may change the manga business? Are digital-only manga releases a possibility in the future, for series that have a fanbase that may not be large enough to support a printed volume?
BP: Thanks, we're very pleased about the response we got with our launch. What makes VIZ Media so enthusiastic about digital – and why, as a company, we are fully supporting the transition to digital – is for the possibilities it opens up for serving our fans the best experience possible. The future is what we make of it; digital-only is definitely one of the directions we are exploring.
CA: VIZ Media has several quality titles that hit just before the manga boom or didn't quite find an audience in print. Will we be seeing classic material on VIZManga.com or the iPad app?
BP: I can't say anything specific at this time but rest assured that we are very excited about getting our fans access to our classic content.