WeLoveFine Introduces 'My Little Pony' Hooves and Hologram-Projecting Jemstar Earrings

We've talked about the pop-culture t-shirts at WeLoveFine pretty often here at ComicsAlliance, but today, the company introduced two pretty amazing new products that are particularly relevant to our -- or at least, my -- interests. As part of their ongoing deal with Hasbro, they're going beyond t-shirts to bring you wearable My Little Pony Hoof-Hands and Jem's Jemstar Earrings that Actually Project Holograms!


With the My Little Pony Hoof-Hands, WeLoveFine is giving a whole new, far more family friendly meaning to "Pony Play." Much like our beloved Hulk Hands, they slip over the wearer's fists to give the feeling of having your own blunt, friendship-fueled hoof:
The next level in My Little Pony fan fashion, WeLoveFine are proud to introduce My Little Pony Hoof Hands, available in pink (Pinkie Pie) and blue (Rainbow Dash) colors! Finally a fluffy marshmallow-like hoof shaped glove to cover your human hands - because dexterity is overrated, anyway! Now you and your friends can bro-hoof like pros, kick up some dirt and go buck-wild! The hands retail for $20 per pair.

Hoof-Hands are the perfect accessory for all those important brony-tastic moments when a simple handshake just won't do. Clop on these equine-extensions and you are ready to go! Hoof-hands are appropriate for any and all social situations: They are great for when riding actual horsies, negotiating important business mergers that requires an extra dose of FRIENDSHIP! - or just plain horsing around.

The Hoof Hands are a limited edition web exclusive, so head over there and get them before they're gone. And before we start dwelling on how the Internet will invariably find them used for truly unspeakable purposes.
Probably best to just move on to the earrings:

Patterned after Jerrica Benton's own Jemstar Earrings, WeLoveFine's Projecting Earrings aren't just a handy cosplay accessory. They're fully functional hologram projectors that allow you to step into the shoes of the world's most glamorous, glittering, fashionable and famous rock star, and you don't even have to have a sentient computer/pipe organ to take advantage of them:
She's got the power! And now you do, too, to make your truly outrageous dreams come true. Fashion, glitter, glamour and fame, simply by touching your earring and saying "Showtime, Synergy!" - we are thrilled to announce a wondrous advancement in costume jewelry technology with Jem & the Holograms official Projecting Earrings! They retail for $39 per pair. (Software included.)

These perfect replicas of Jem's high-tech pink starburst earrings are synced up to your computer via Bluetooth technology! Once you have installed the Synergy software, simply give the program your measurements, a photo of your ideal guy and preferred limousine color (interior optional), and voila! You're ready to pain the town pink with your best friends - via HOLOGRAM TECHNOLOGY!

WeLoveFine.com not responsible for any incidents involving, but not limited to: jealous boyfriends, and rival bands hiring goons to kidnap you or burn down your mansion. When traveling abroad, please be wary of losing your earrings and having thousands of non-hologram-projecting copies on the black market.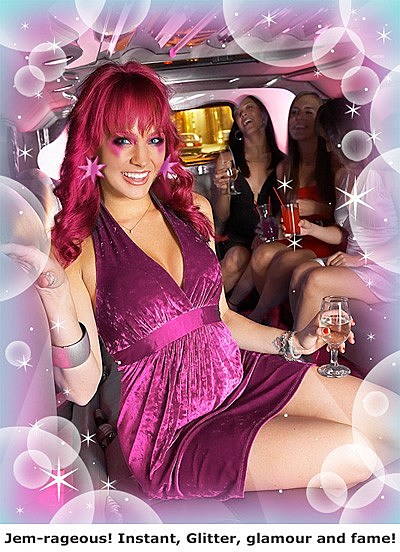 Either way, I'm planning on picking up both for myself, but if you're going to do the same, try not to use them together. A lack of opposable thumbs and a pointy earring are a recipe for disaster.
UPDATE: April Fools! These items aren't real, but if you add them to your cart any time before the end of April 2nd, you'll get a 15% off discount on your entire order!